My entire journey today was on 5&20, and this will continue for several days. I knew when I started that I would be staying with Brian and Amanda at the end of the day. Brian is the nephew of a man in my home church and the son of a man that I sang with once in a barbershop octet. He saw my plea for places to stay on Facebook and very kindly agreed to offer his house for the night, even though he had to drive quite a distance to pick me up. So when I started, I just knew I could go as far as possible until I got picked up.
Before I left I had the Clark Motel receptionist take my picture in my new Tractor Supply Company toque and class 2 vest: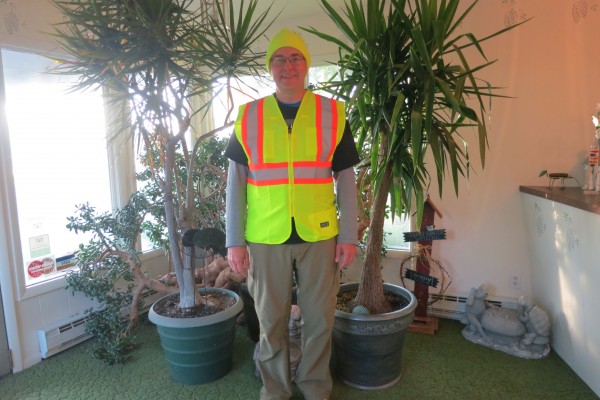 What I had been dreading about the next few days is that 5&20 looks so straight on the map and I knew that I was entering much flatter countryside, so I was anticipating long, flat stretches. Indeed, when I started, I could see a long way ahead: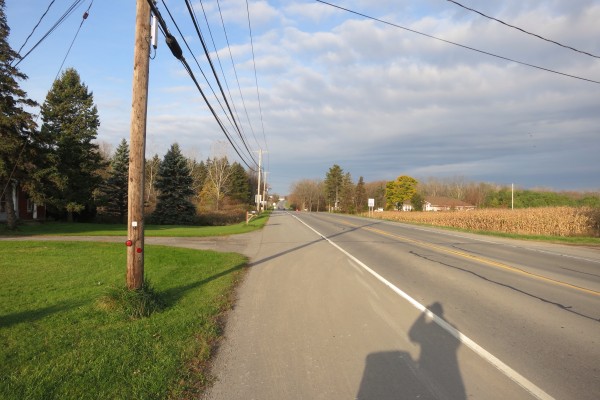 But my fears turned out to be (largely) unfounded, as there are always interesting things to see when you travel at a slow pace. Early on I noticed an interesting cloud formation to the north and low on the horizon: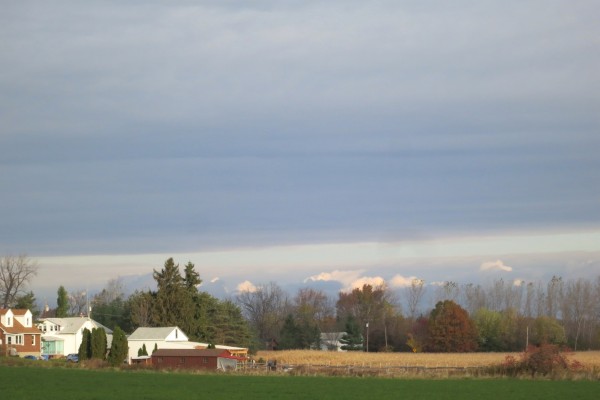 I wondered if this bank of clouds was hovering over Lake Ontario, which is only 25 miles north of me. Certainly the lake has a huge effect on the climate in this area, "lake effect snow" being the most well-known example.
Here's a place that sells all sorts of masonry supplies: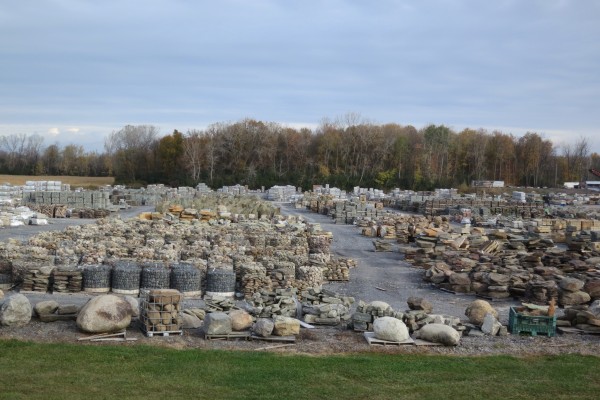 The road did turn out to have curves — they just don't show at the scale of a map of all of New York: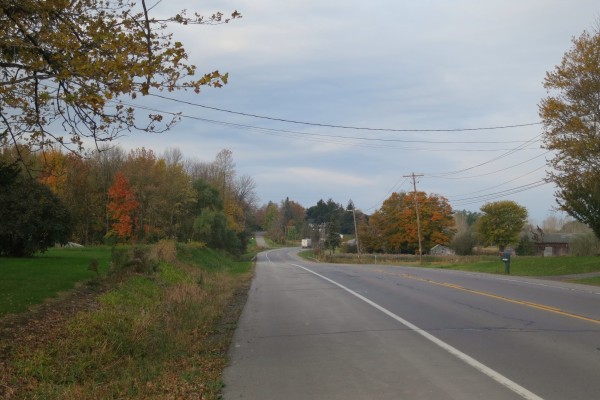 Some people get embarrassed when they find that their gutter neglect results in plants growing in the gutters; these people seem to be cultivating a garden in their gutters: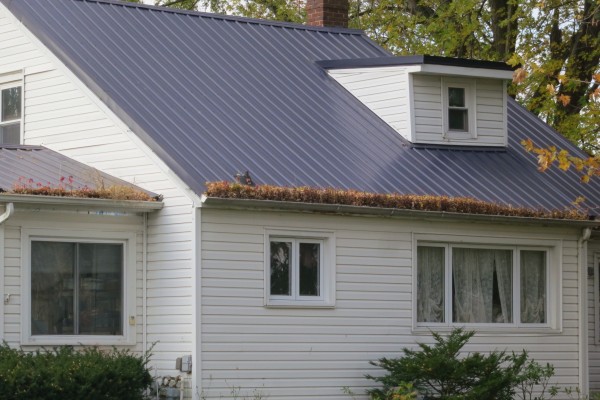 Bales of hay and more color: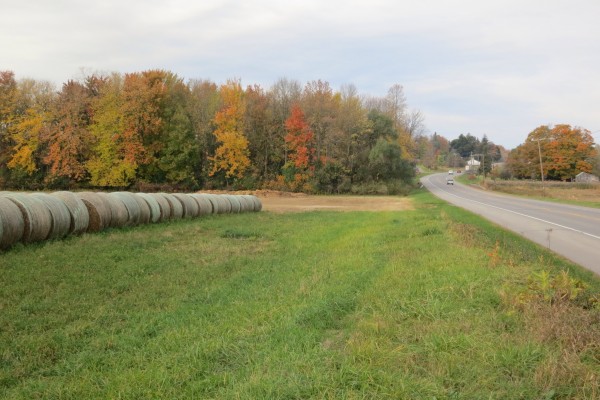 Gulls enjoying this new planting: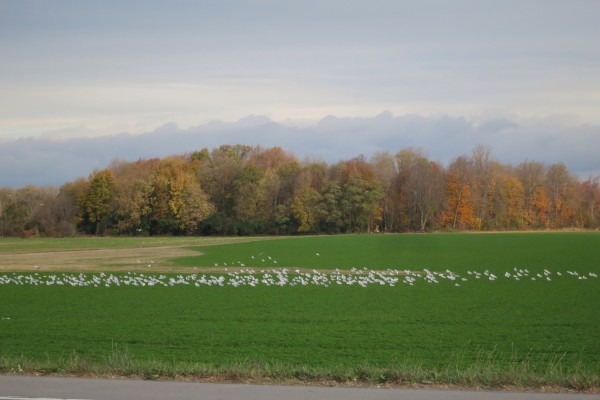 This is the Ontario Country Solid Waste Management Administrative Offices; hard to believe this is not a repurposed building; I can't imagine taxpayers putting up with building something like this just for waste management paper work: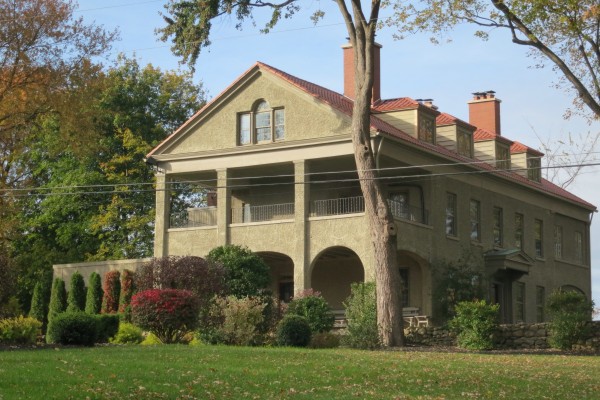 Not much left of this tree after trimming to accommodate the many wires: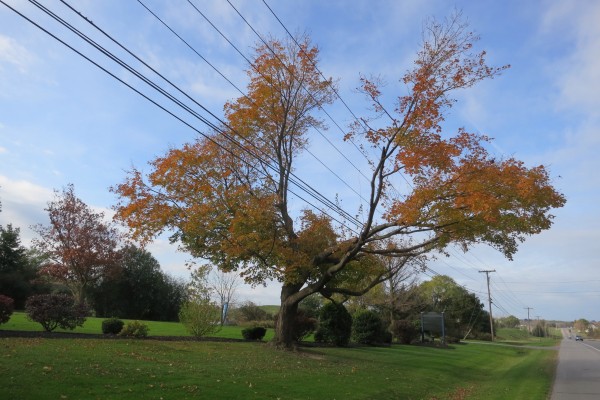 After about five miles I ran across Sweet Sue's Diner — cool!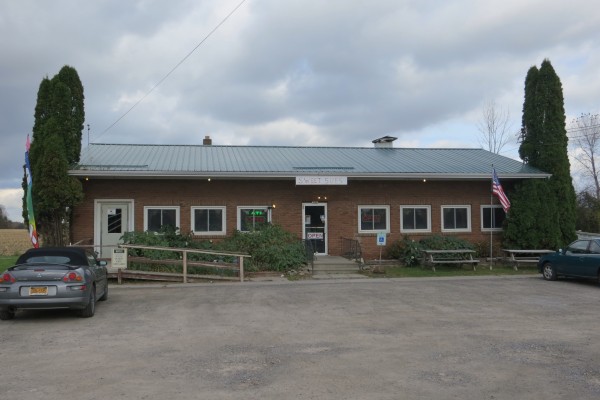 I ordered a big breakfast, including a "full" portion of home fries. It was such a huge pile of home fries, when it came, that I felt I couldn't even take a picture of it — too embarrassing! Sweet Sue herself cooked up the food; here she is: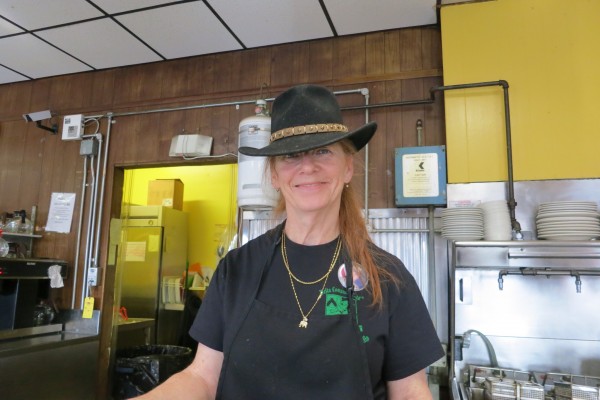 She's been doing this for over 35 years, still loves it, and isn't even remotely ready to retire. Several of her family members were there, including her grandson Andrew, who served me. Another great, local diner where everyone knows everyone!
This is … well … a pumpkin house. Hmmmm.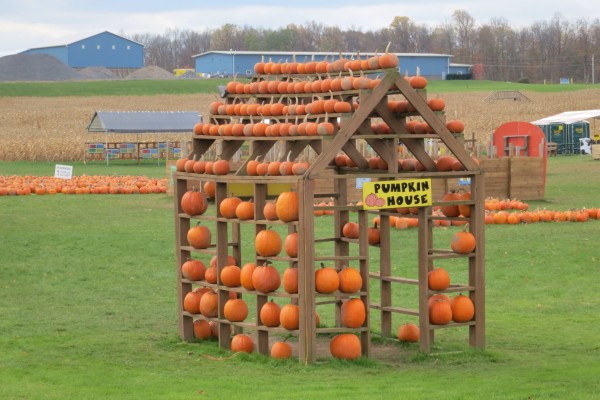 More color: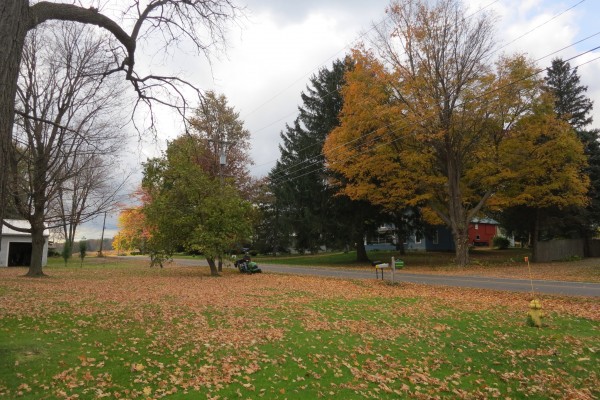 Several houses had this structure on the top — I think I knew what it's called at one point but I forget now — does anyone know? Isn't it for looking at the weather?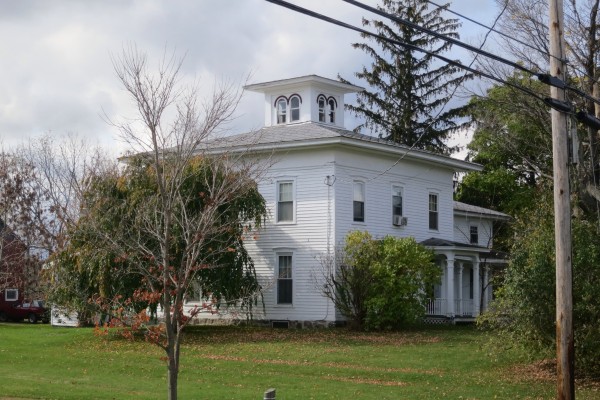 Here's another house that I passed. It appeared abandoned (the upper windows are glassless and maybe with some evidence of a fire). It was quite evocative; I could imagine what it was like when it was active and full of people: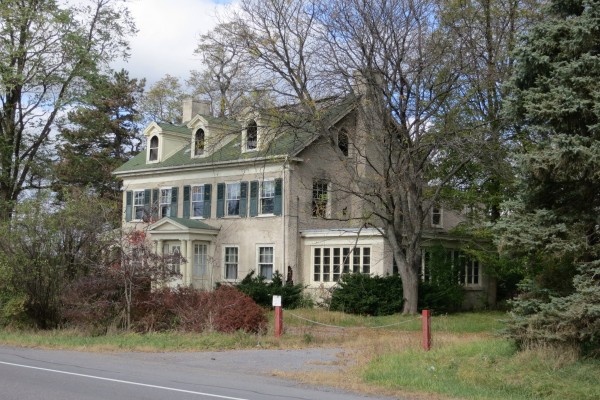 On my way into Canandaigua was this lovely willow and a stream: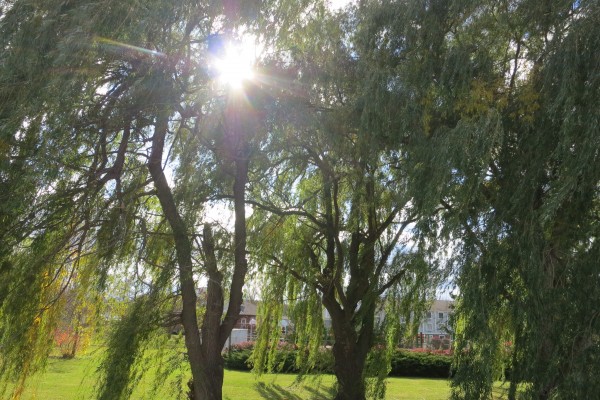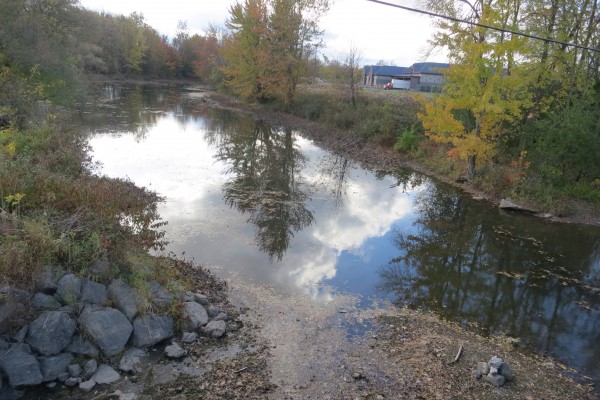 I was really hoping to get some good views of Canandaigua Lake, but I was disappointed; this is the best I could get as I came into town: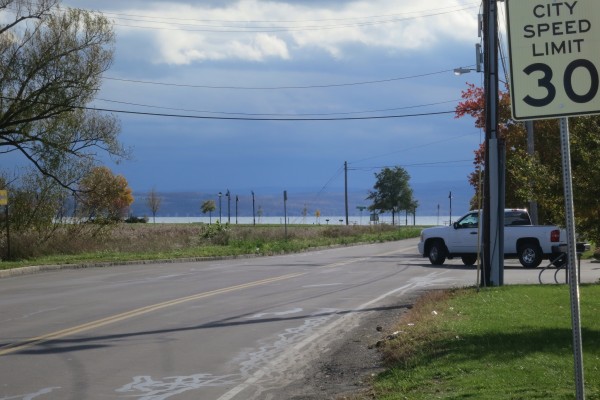 Tim Horton's! Canada, here I come. Tim is still playing second fiddle to Wendy, but once I cross that border …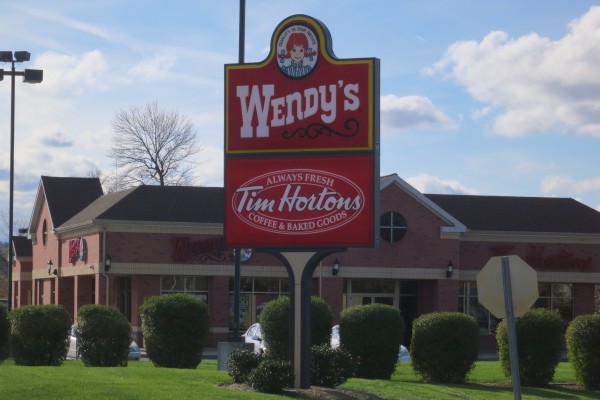 Here's another lovely stream emptying into the lake, on the way out of town. I was struck by how beautiful this was, compared to the scenery around it, and how even at a walking pace it was only visible for a few seconds. All the heavy traffic on the highway was completely missing it: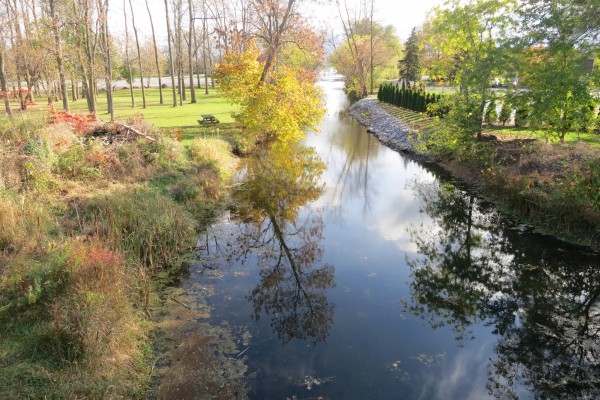 I did get another peak at the north end of the lake on the way out of town as I climbed a long slope: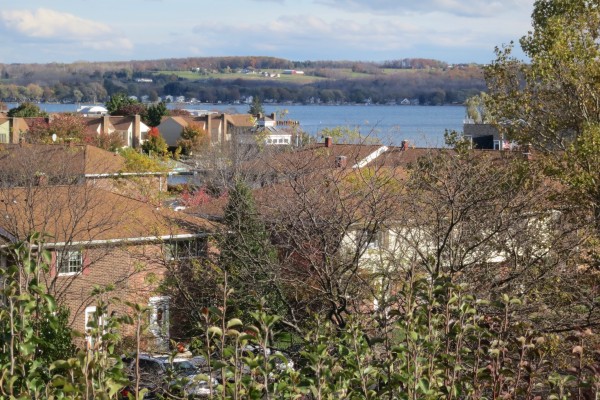 From that point on I was a walking machine, mostly walking directly into the sun, trying to get in as much distance as possible before being picked up by Brian. I just paused just once to take this picture — nice because of the late afternoon sun: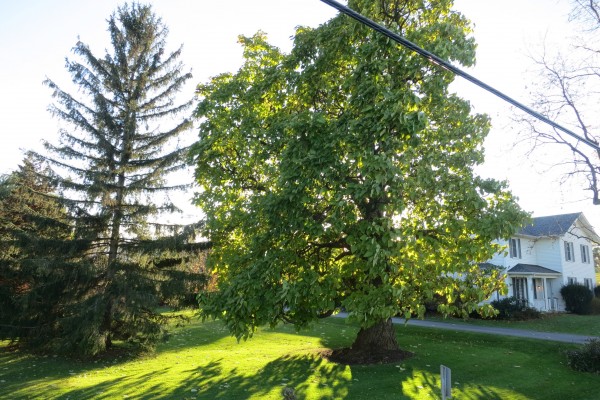 It was a relief to be picked up by Brian and it has been a great pleasure to stay with him and Amanda: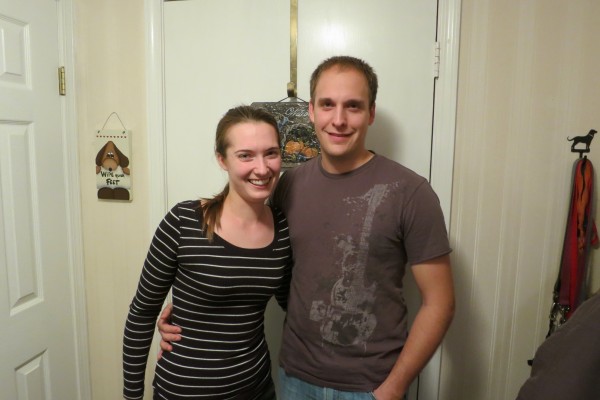 I would like to conclude with the lyrics of a 3000 year old song that my wife and I have enjoyed, in reference to the safety and security I have experienced throughout this trip:
I lift up my eyes to the mountains—
where does my help come from?
My help comes from the Lord,
the Maker of heaven and earth.
He will not let your foot slip—
he who watches over you will not slumber;
indeed, he who watches over Israel
will neither slumber nor sleep.
The Lord watches over you—
the Lord is your shade at your right hand;
the sun will not harm you by day,
nor the moon by night.
The Lord will keep you from all harm—
he will watch over your life;
the Lord will watch over your coming and going
both now and forevermore.
Psalm 121