It was a different sort of walk today. I went a good deal of the way from Binghamton to Owego — 8 miles left to do first thing tomorrow. Most of it was flat, on sidewalks and urban. There were a few suburban bits and a longish highway stretch at the end, which was quite tedious, but mostly it was sidewalks and no hills — quite interesting and different.
I continued to interact with the Susquehanna River. Soon after I started this morning, I crossed from the south side to the north side: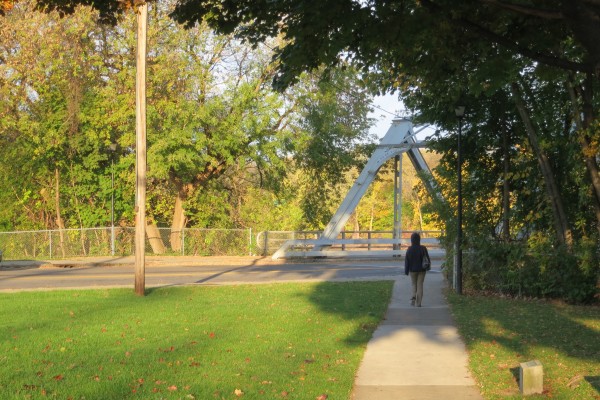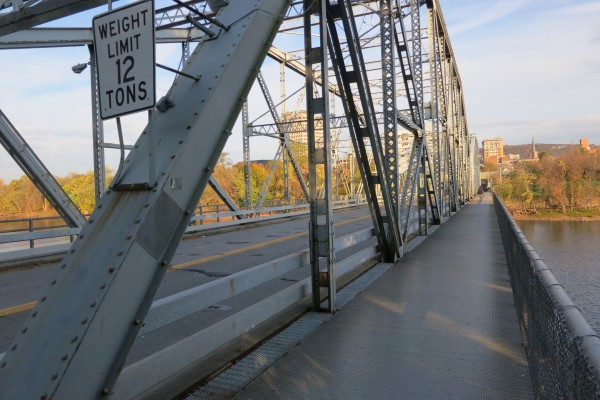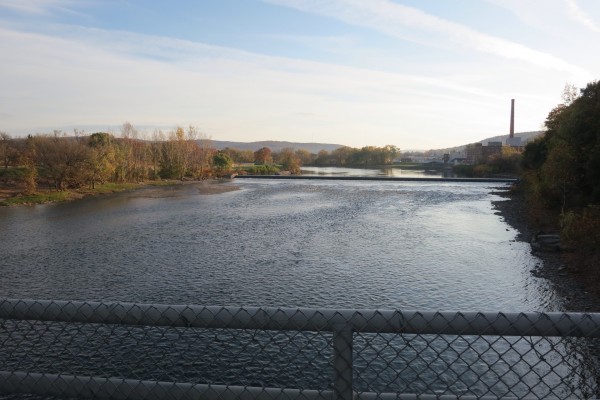 This was google maps' idea, in order to get me on a northwest diagonal to Ithaca. But when I talked to a guy in the auto parts store (while trying to buy some highly reflective tape to make my bin more visible) he suggested that going west to Owego and then north was longer but had far gentler hills. OK, sounds good to me.
So I re-oriented google maps to point to Owego and later in the day crossed to the south side of the river again, as is evident later in this post.
While walking through Binghamton I saw some interesting architecture (thinking of you, Joe M.):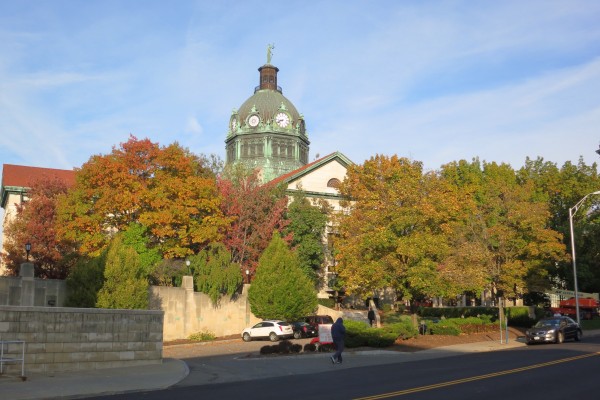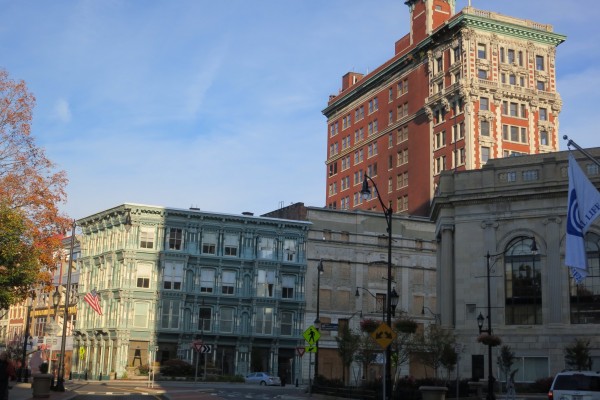 One of the fun things about living in Binghamton must be how you turn down a side street and see gently rolling hills — constant little surprises: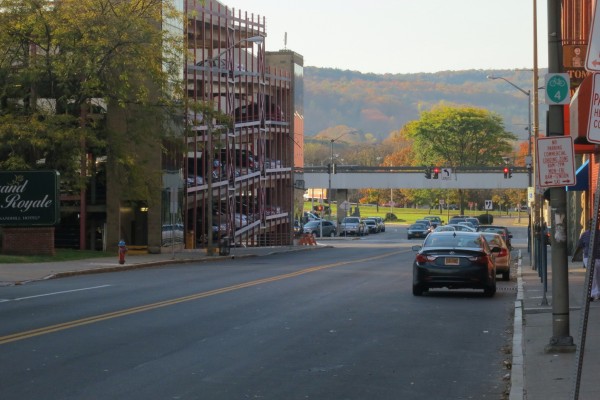 I crossed the Chenago River, which comes in from the north and dumps into the Susquehanna: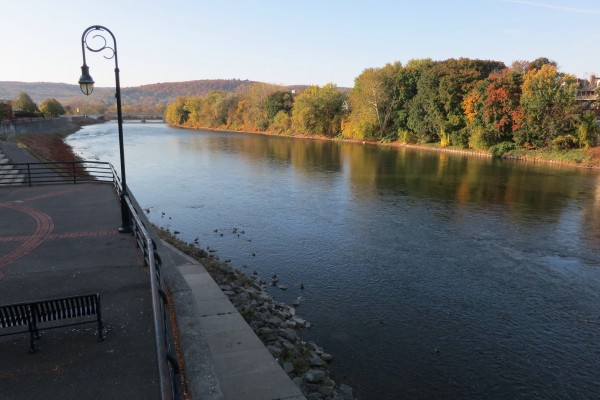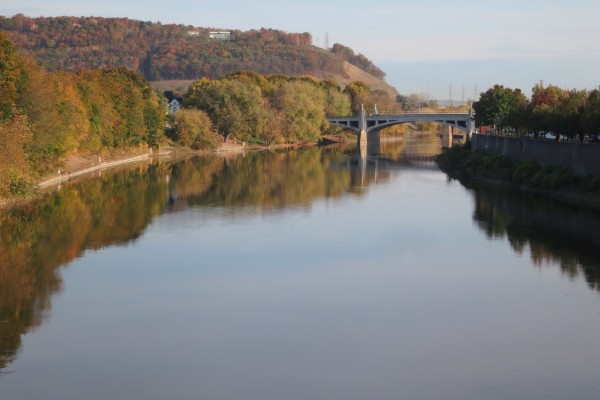 The fact the funeral homes are almost always immaculate and sometimes beautiful says something about the exploitation of grief: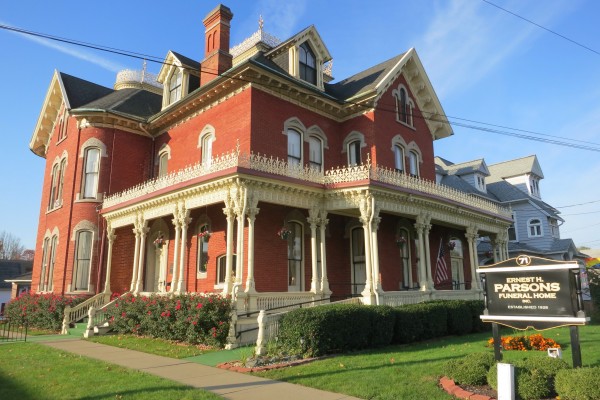 Here's a bit of architectural excess: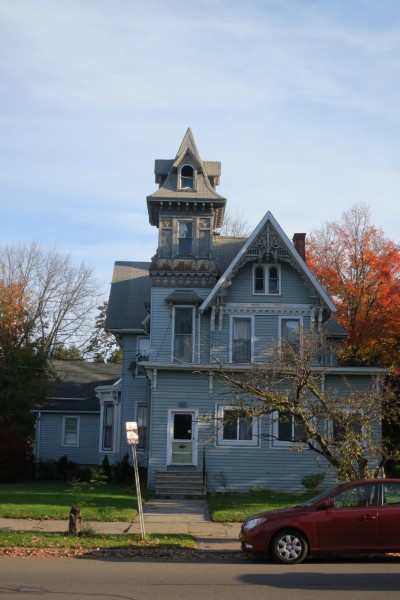 No ordinary sign when you enter Johnson City: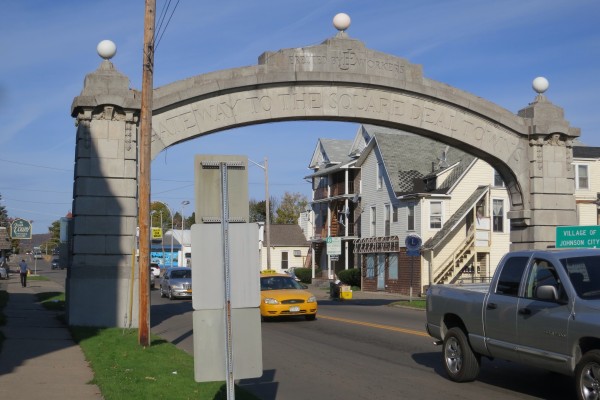 I interacted with two sweet old-timers today. The first was Tom, with his closest friend Donny: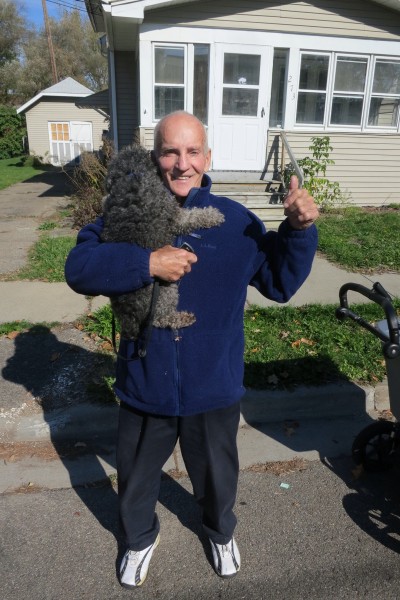 Every time I told him a detail of my trip he said "Oh my God! Oh my God!" I guess he was impressed. I won't repeat everything he said because some of was sufficiently fanciful that my mental polygraph needle was getting some exercise. He did say that the houses on this street were 80% unoccupied because of the 2012 flooding of the Susquehanna, in which the water was five feet off the ground in this part of town: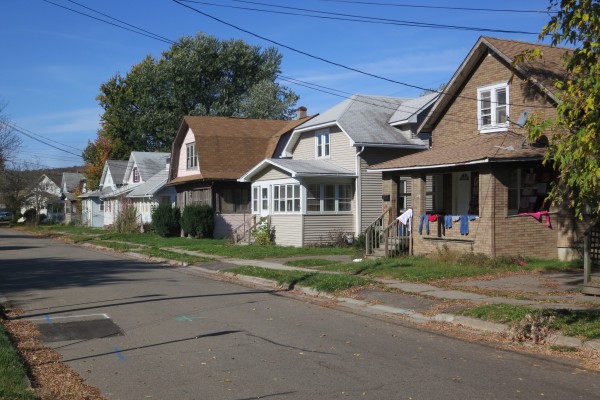 This is the first animal stuffer that I've passed (to my knowledge):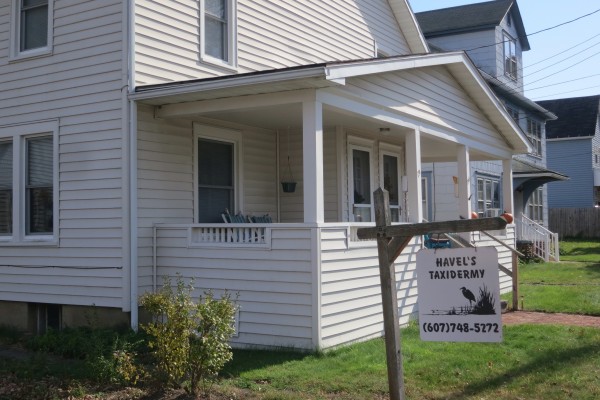 When I came to this little green spot I decided it was time for a wee nap: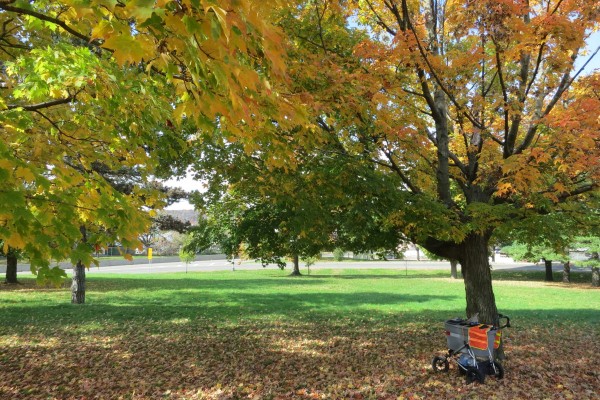 This is the last thing I saw before I fell asleep, lying in the leaves: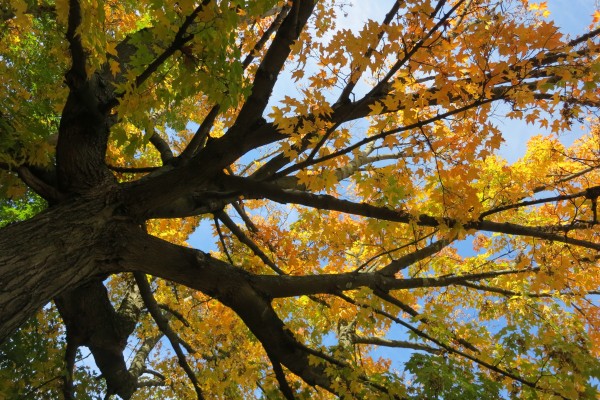 In Endicott I passed an elaborate monument to the fallen in war; it was hard to capture the whole thing: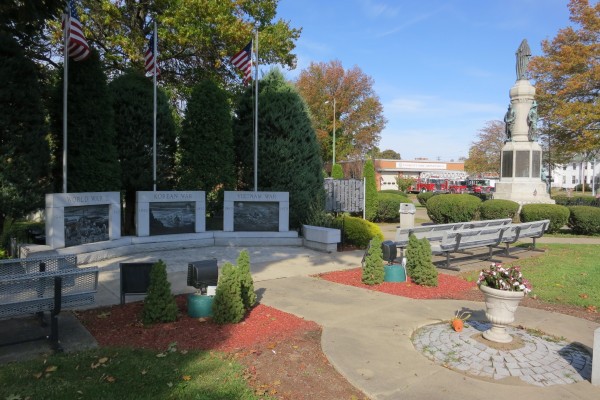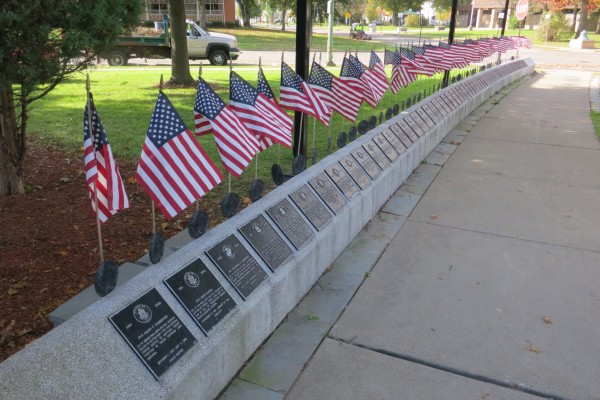 Shortly after that I met the second of the two sweet old-timers. This is Mel (no kidding!):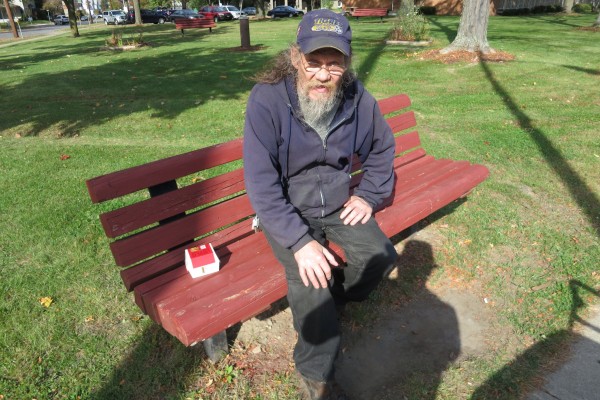 He is a Vietnam vet and lives on his veterans pension and welfare. He was a gentle, soft-spoken man who seemed fairly alone; his brother and sister are in Louisiana and Texas, but he can't move out of state (he says) without losing his welfare check. I sat with him for a bit and tried to encourage him.
Eventually I crossed the Susquehanna a second time, from north to south: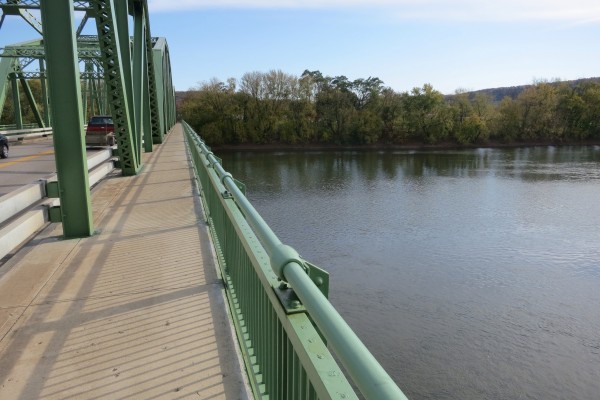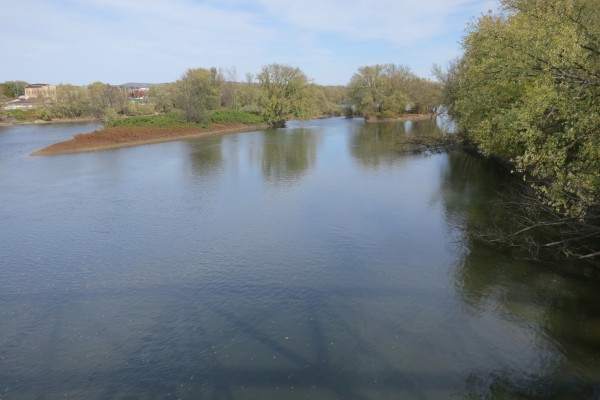 and then had to endure five miles of this, westward into the sun, until reaching a hotel for the night: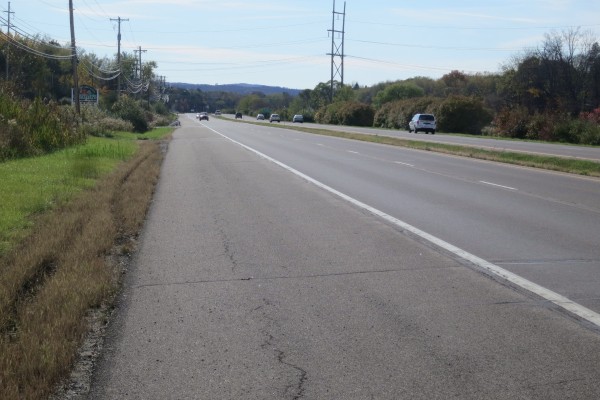 I have to do another eight miles of it tomorrow in order to reach Owego and finally turn north towards Ithaca. I might be able to reach Ithaca by Wednesday night.