I spent the whole day, with one small exception, on Route 6 today.  It was hilly so I got some good exercise going up up up from the Delaware valley.
Before leaving the campground behind, however, I should mention that after finishing my blog entry yesterday I met my neighbors on either side of me. Here is a picture of Dwayne and Stacy: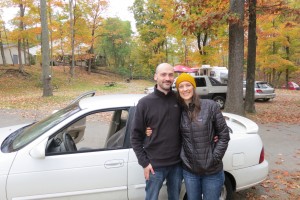 I didn't get a picture of Sultan and Mina. Both couples fed me, so I didn't have to subsist on bars and dried fruit. I had pizza, hot dogs, garlic bread, grilled chicken gizzards — quite a feast. Thank you to all four of you!
Dwayne works for a retail company I won't name on high retail crime, basically organized crime shoplifting. Who knew there even was such a thing. Stacy sells pre-fab green houses. Sultan is a construction project manager in Queens and Mina is a home care companion. So interesting to meet these people.
It was well past dark when I finally crawled into my tent. Ear plugs blocked out the sound of I-84 and two long-sleeved shirts kept me warm
in my three-season sleeping bag.
I was off by about 9 AM; the temperature was 46 degrees but that was fine — great for walking! I took a few pictures as I walked back through Milford (yes — three miles of backtracking, for a total of six miles to get back to where I had been yesterday at the Dunkin Donuts).
It's quite a pretty town: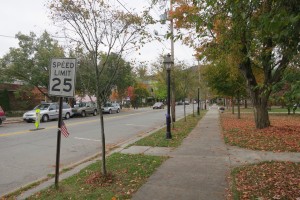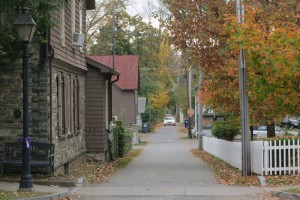 with some interesting street art: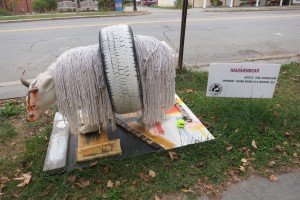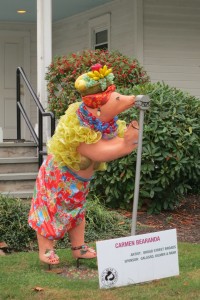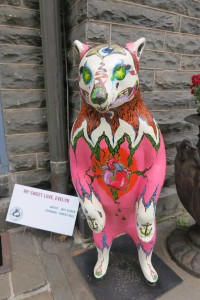 a multi-purpose building: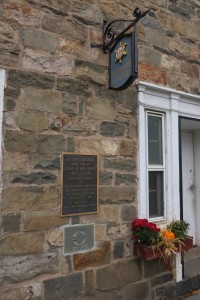 and a garage for antique cars: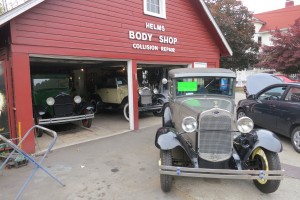 The one exception to Route 6 today was a short stretch on the outskirts of Milford that cut off a curve of Route 6 and that had no traffic on it — quite delightful compared to the whole rest of the day with cars whipping by. The road less traveled goes to the left in this picture: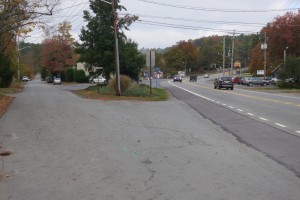 I saw a little stump sculptures on this stretch: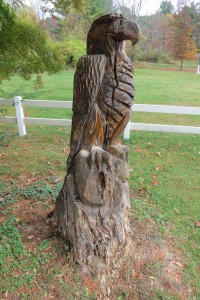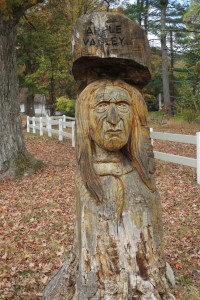 Not much happened the rest of the day. My legs are getting stronger, I think, and vaseline on my feet helped as well. In the afternoon I stopped at the only eatery on the trip — the 6 West Bar and Grill: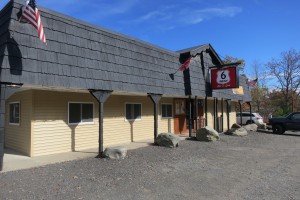 It turned out that the barmaid: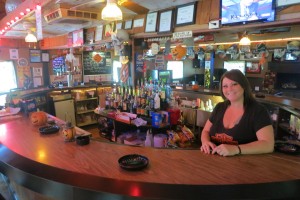 lives in Hopatcong and I walked right past her house before beginning my mini-adventure the other day. She remembers the Devil's Footprint very well from her youth and wasn't surprised to hear that there were beer cans strewn about. We had a nice chat about my walk and they gave me a 6 West Bar & Grill t-shirt, which I wore for the rest of the day.
As I refreshed myself with a Guinness on tap, another couple at the bar suggested that I was just three miles from a place I could camp — a state park. I had been a little worried about where I would stay tonight so I was glad of this news. With high spirits I headed for the park only to find a "Strictly No Camping" sign — sigh. There is not much around here so I started to think I was going to have to walk another 15 miles to Hawley, arriving after dark — bad idea.
However, after another mile or two I saw some pickup trucks pulled into the Lone Pine Hunting Club: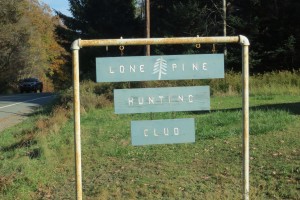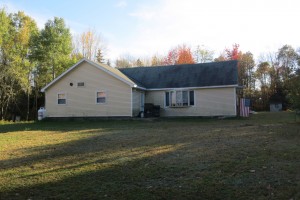 I went up to the first one I saw and found myself talking to David, the president of the club. He and the vice-president, Joe, were just packing up to leave and had no problem with me camping on the property. They warned me to tie my food up before retiring, due to the presence of bears!
So here I am basically in the middle of nowhere, hoping I sleep most of the intervening time until sunrise.
Total for Day 6: 14.91 miles
Total so far: 85.36 miles
Total "in the bank": -4.64 miles
Estimated remaining: 371 miles
Estimated date of arrival: 2013-11-07