First I need to say something about last night. After quickly writing the Day 6 post (protected against the mosquitoes by deet), I retired to my tent. That was at about 18:30. By the time I had my little house set up inside I was feeling quite tired, perhaps aided by the release of tension in finding a place to stay. I lay my head down for a short nap and slept essentially until morning — longest sleep I've had in a very long time.  Here's a picture of my setup just before I retired (I forgot to post this yesterday):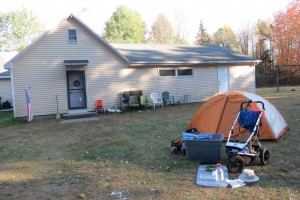 Well it wasn't uninterrupted sleep. I did wake up a couple of times with howling off in the distance. I don't know what it was — wolves? coyotes? but I was a little scared. I rooted around in my bin and got out my Fox 40 whistle (thanks Ken!) and my pepper spray (thanks Paul!) and hung them around my neck. It occurred to me that there were no humans nearby and I felt quite isolated and exposed. At another point in the night I thought I heard some small animal noises nearby.
Anyway, the morning light was welcome and it didn't take me long to deconstruct my camp. I was on the road shortly after 08:00. I spent all day on Route 6. It was very pleasant, with lots of ups and downs (though nothing, I suspect, to what lies in wait when I cross the Pocono Mountains). Here are a few random snaps: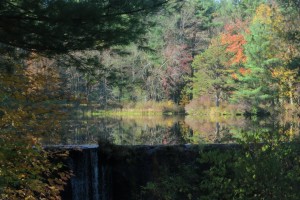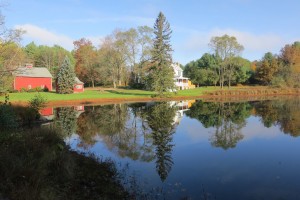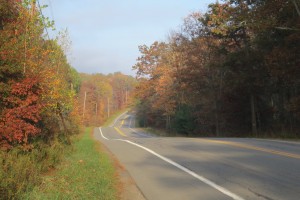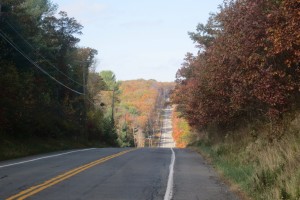 At one point I passed this sign — the only one of it's kind that I saw: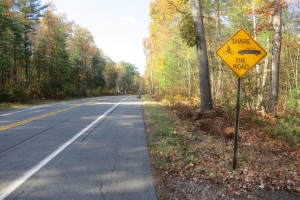 Shortly thereafter I saw this little monument (roughly where the cart is in the first picture):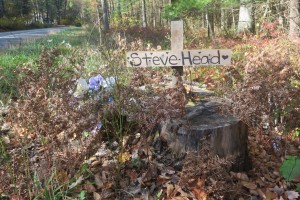 One suspects that cyclist Steve Head lost his life here because of a careless motorist. I wasn't able to find anything on the internet about it. The date on the simple monument was 2005-04-22. It made me sad for a little while, especially thinking about Tom Samson, my son's best friend, who died last year in such an accident.
On a lighter note, here's an honest sign: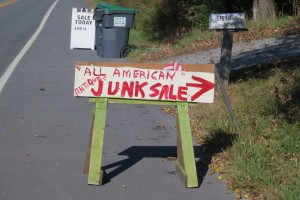 My goal for today was to get to Hawley — about 15 miles. It's amazing how dirty and smelly I was getting camping, no showers, absorbing road dust. So I decided that I would get a hotel and clean up. I tried to make a reservation on the way but the first place I called was closed on Tuesdays (!) and recommended a B&B, which didn't respond to my calls. But I headed there, via google maps, anyway. I knew I was getting close when I saw Lake Wallenpaupack: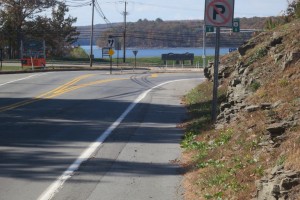 Coming out of the northern end of the lake is this monster pipe: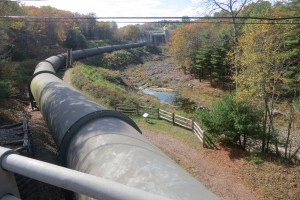 It's easily visible in google maps satellite view, but I couldn't figure out what it was for.
Anyway, I finally made it to the B&B just as my front tire got a flat! I knocked on the door and no one answered. Two blows at once. I realized that I couldn't do anything without a working tire so I set to work repairing it. I had a spare tube and a repair kit with me but it was quite hard. It's difficult getting a small tire off a rim and it's even harder getting it back on. I probably didn't have the right tool. I think I may have pinched the new tube because it wouldn't inflate. OK, I thought, trip scuttled. Call Fiona and get a ride home — there can't possibly be a cycle shop in this remote place.
However, I decided I would limp along to a hotel anyway. After calling around a bit I found one quite close to where I was — the Ledges Hotel. I managed to get there and found out almost immediately that there are two cycle shops in town. I was ecstatic and took this picture of the reception crew: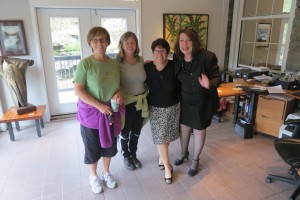 So I took a shower — never more welcome! — and headed over to the Settler's Inn, the MUCH more expensive sister hotel to the Ledges. After a lovely burger and bowl of soup I was feeling pretty good! I had solved four problems: busted inner tube (hopefully tomorrow), dirtiness, homelessness and hunger! I have decided to take a day off from walking tomorrow to get the tire fixed and to do laundry. Besides it's supposed to rain the next two days; might as well only walk in one of them.
By the way, Matthew has added a couple of new features to the MAP tab. It should show my route so far in alternating colors and then a blue line from where I am to my destination, as computed by google maps. Also, I now have an app on my iPhone that when I press a button a text message is sent to a phone of Matthew's which he processes with a Perl script and automatically shows my location on the map. I shall try to press that button periodically. It would be nice if I had an app that could do that automatically at a specified frequency. If no one knows of such an app, maybe someone could write one. Ches?