Remember the Iron Kettle Farm from Day 14 and Day 15? My goal today was to reach the home of George and Sheri. Their son Daren is married to Bonnie, one of Skip and Jeannie's children. When Skip and I were discussing my route on the morning of Day 15 he had suggested that it might be possible at least to camp out on the property of George and Sheri when I got that far. They live near Penn Yan (Pennsylvanians and Yankees — seriously).
So last night Skip phoned George and left a message about this crazy guy that could use a place to stay. George called back in the morning and got the scoop on me and agreed at least to meet me. As an aside here, let me just say how wonderful has been the way I've been cared for by Skip. He loaded me up with food when I left his farm, he has checked in with me by phone. He had some cookies for me the next day but missed me on the road by just a few minutes. And he arranged this meeting with George. Even though we are pretty close in age I have experienced him like a father.
Anyway, I set out this morning with a 21-mile walk ahead of me and I was determined to complete it, as I had no other viable options on the way. I asked Carol at the front desk if there was a breakfast place nearby and she mentioned the Crossing Diner "just" five miles north. I thought five miles would be a good first break so I set off.
I passed many wineries, like this one for wine snobs, immediately next to the motel: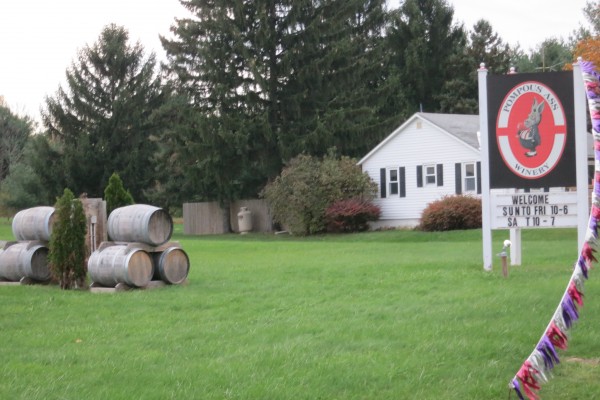 A little further along I scared a gaggle of Canada geese: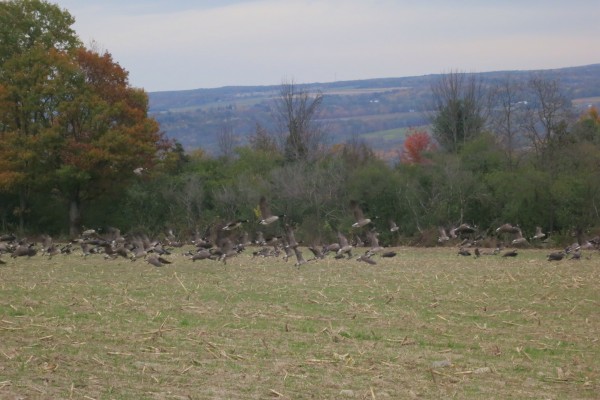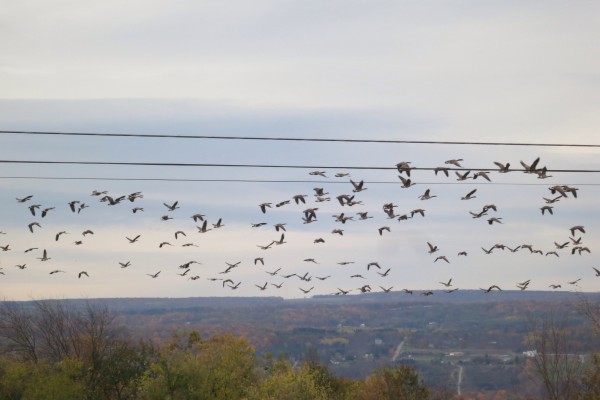 State Road 14 was very straight: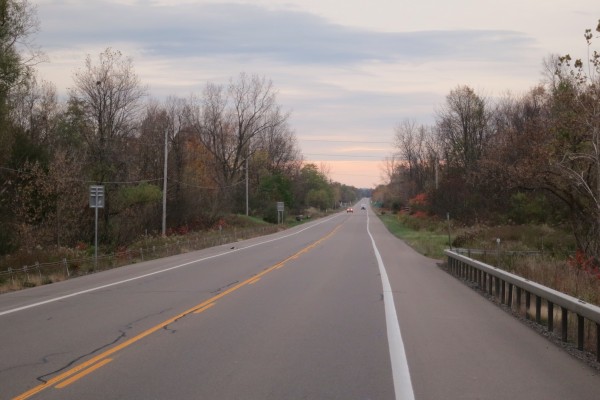 Remember this later when I go on and on about curvy roads. I walked for many miles with Seneca Lake on my right and countless beautiful scenes like these, with grapes everywhere.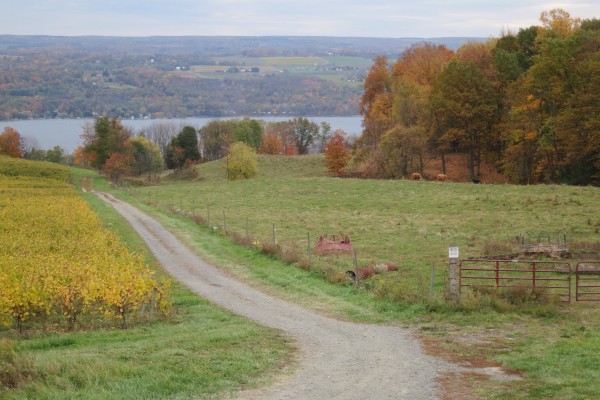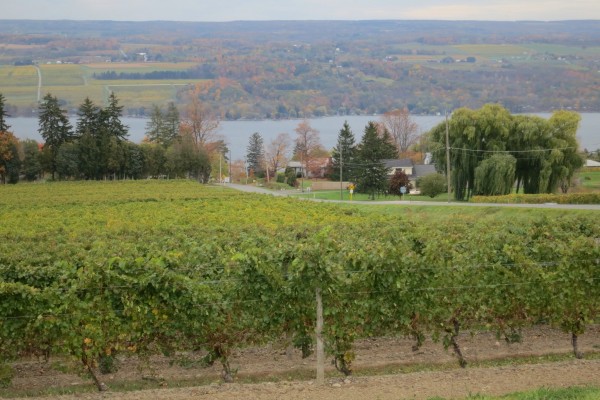 Not only was there many a winery, there was even one wienery: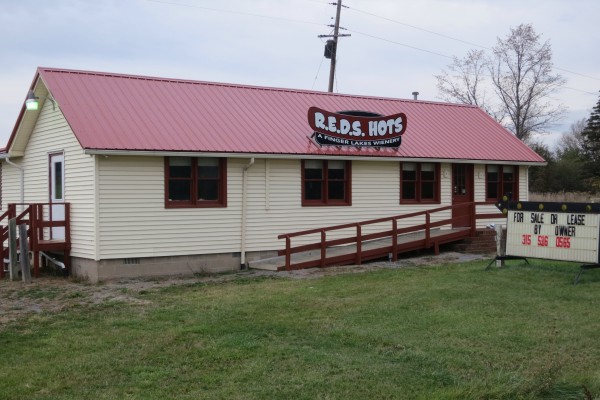 Eventually I reached the Crossing Diner, hungry as a horse. I love little diners like this where everyone seems to know everyone else. It wasn't long before the staff knew what I was up to. When I had finished the delicious food, Tara, the owner, told me that the breakfast was on the house — wow! Here's Heidi (Tara's daughter), Katie (who has New Jersey roots!) and Tara: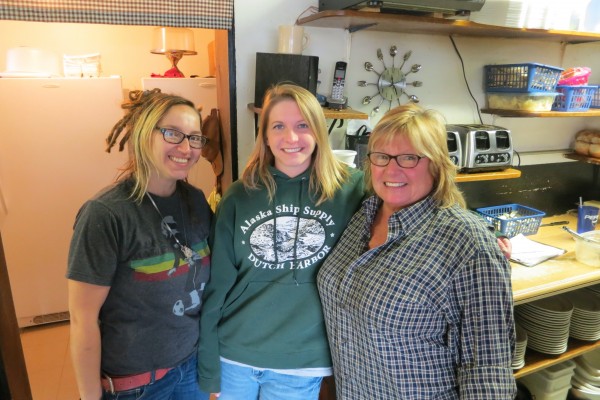 Another random shot down to the lake: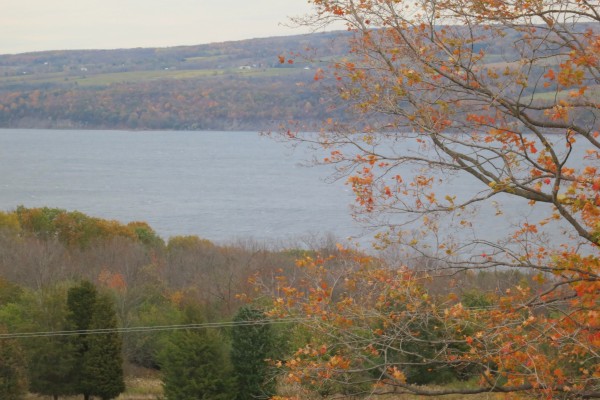 Finally after maybe eight miles, I finally got to turn off onto curvy roads: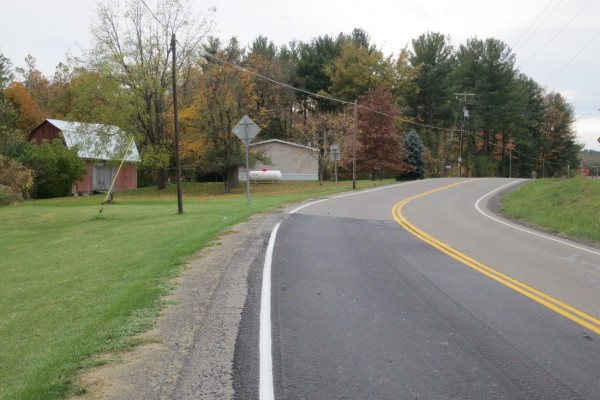 There was even more color (and grapes) in this new section of the walk: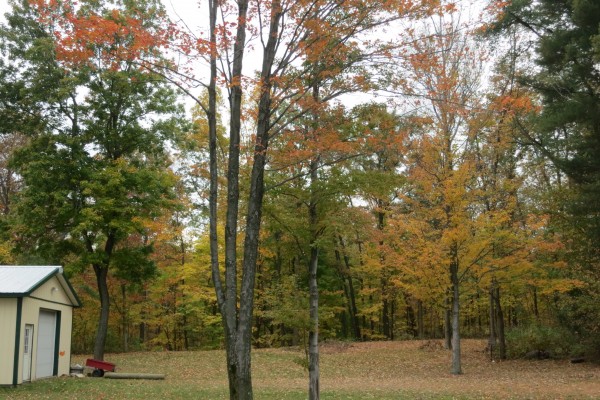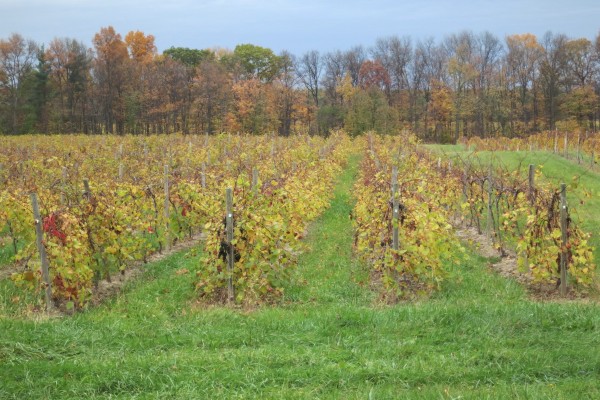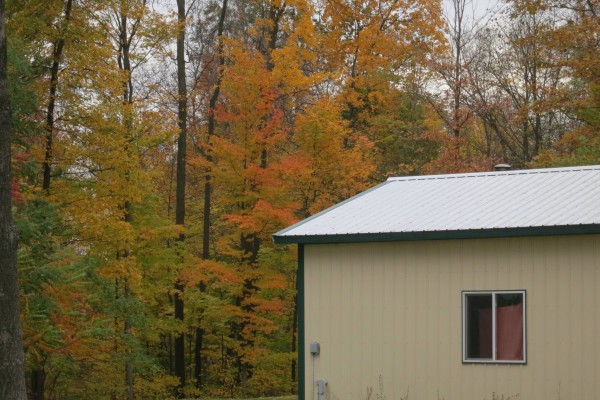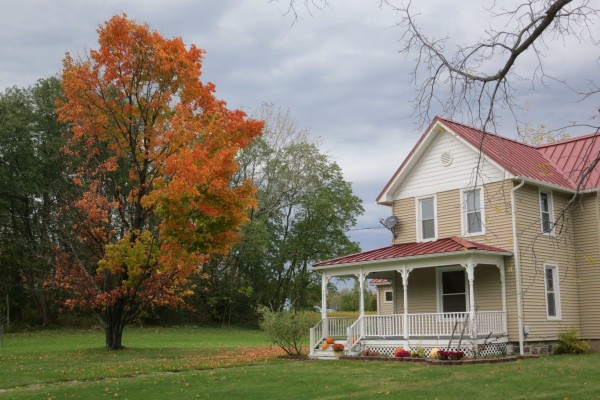 More curviness: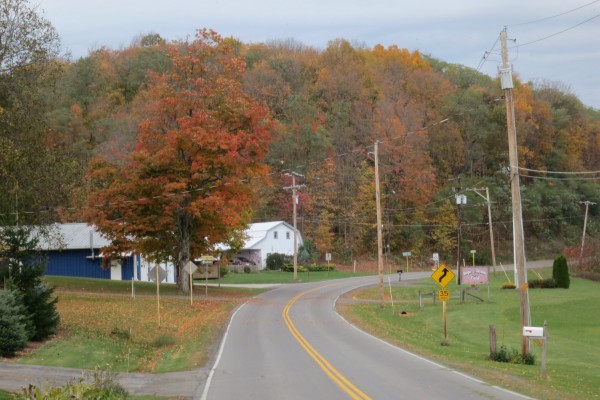 More color: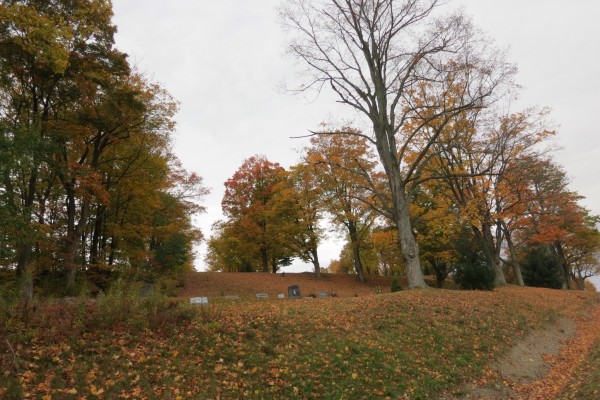 Away from the lake now, grapes became fewer, though the land was rich for crops, some of it owned by Mennonite folk who have an increasing presence in the area: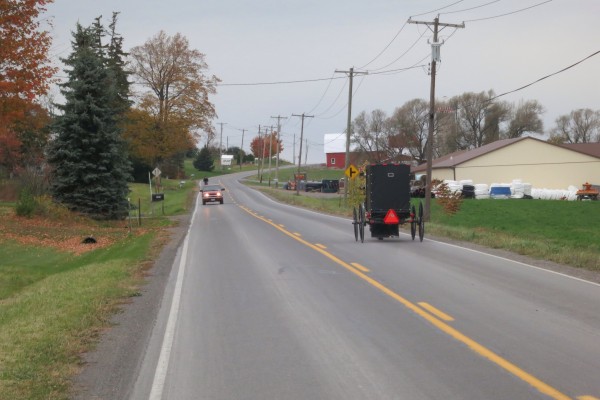 It was just quintessential autumn harvest time, with farmers doing what they do; cutting: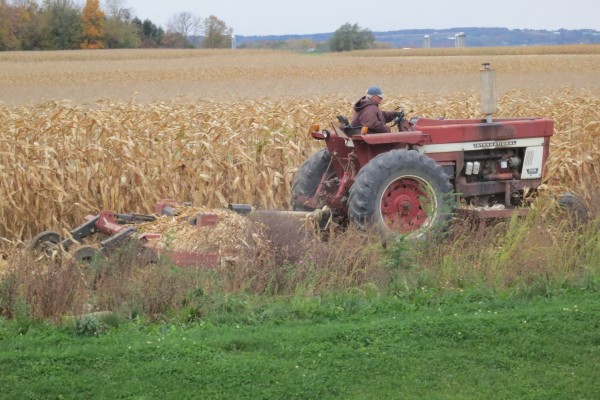 raking: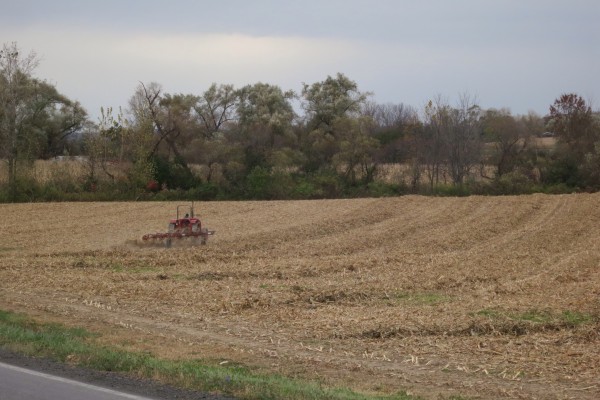 and drying: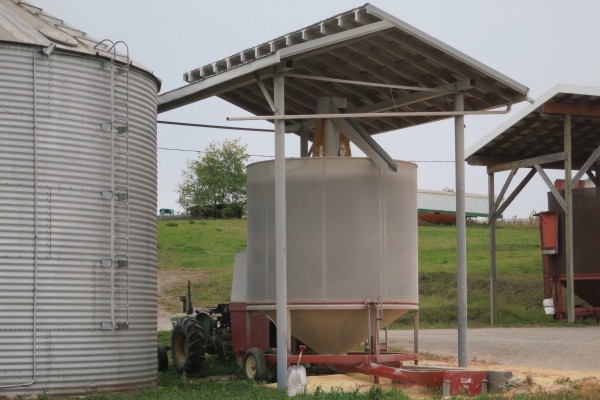 By the time I had done about 18 miles I was getting pretty weary, but not so much that a little sumac couldn't clamor for my camera's attention: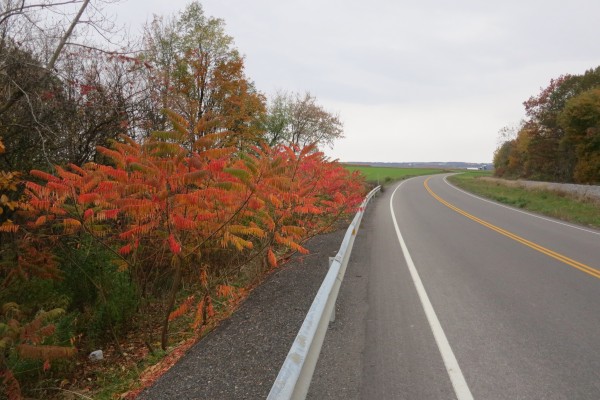 Just when I felt that I was almost there, I dutifully followed the google maps directions to make a right and this is what I saw: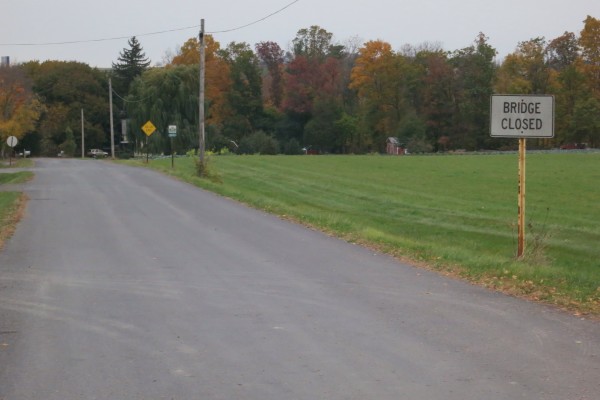 Could I pass or not? If I decided not to go down this path it would add a couple of miles to my already long day. I walked down to the end of the short road: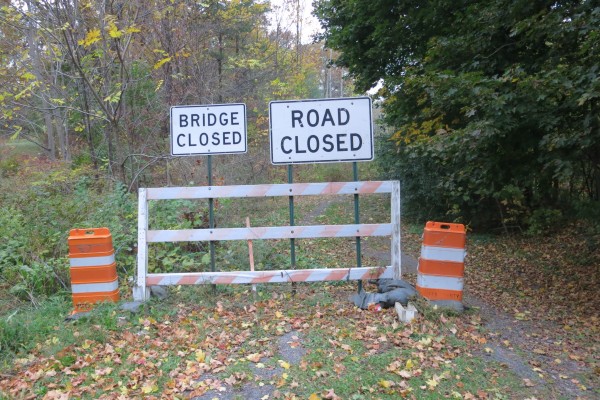 Shades of my mini-adventure on Day 3! I didn't want to go down what was obviously a hill and then have to push all the way back up again because of an impassable barrier. There were two houses, one to either side of that depressing sign. No answer at one but a woman at the other said it was fine for walking. I ventured down the path to the river: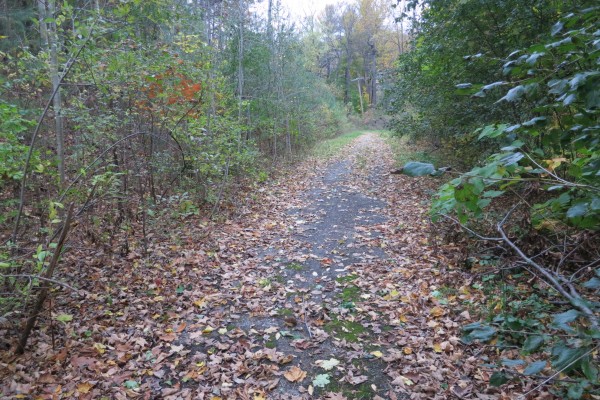 and came to an easily surmountable barrier: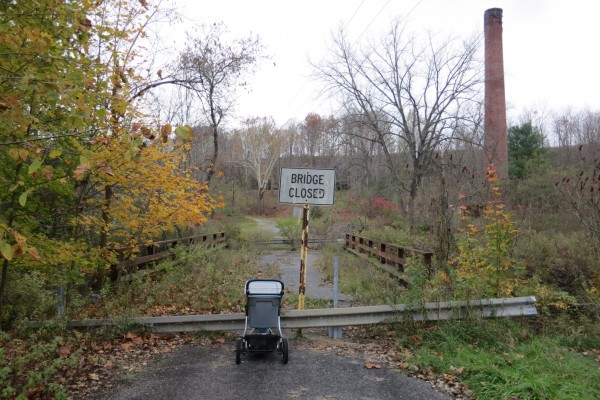 The stream was not otherwise crossable: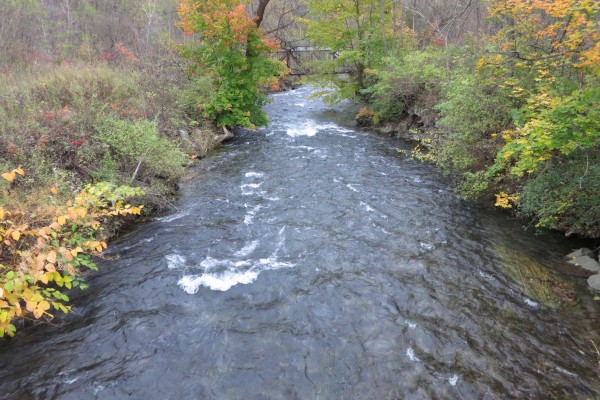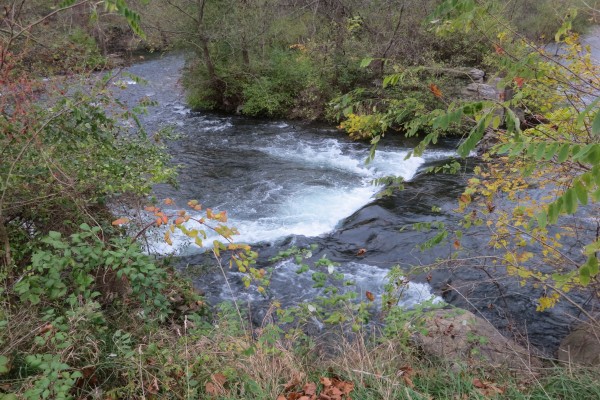 I later learned that this stream is high because of a controlled lowering of Lake Keuka for the winter. On the way up out of the stream's valley I got to this hill, which was pretty well as steep as anything I have encountered so far: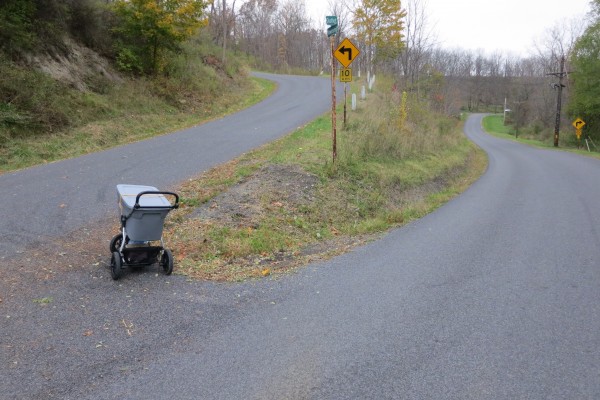 By this time it was getting dark (with clouds, not setting sun), rain was threatening, and the cold wind was picking up. I was soon in sight of my goal up on the hill: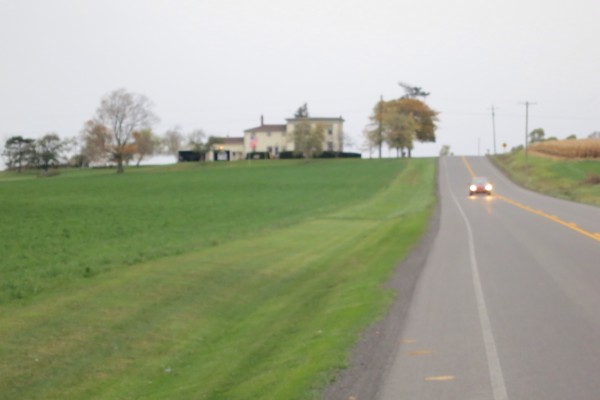 George welcomed me into his beautiful house and it was a blessed relief to rest my weary feet. Sheri was out of the house on a family matter but came back later after George had fed me a delicious dinner, set me up in a spacious bedroom and allowed me to have a hot shower. This is George and Sheri: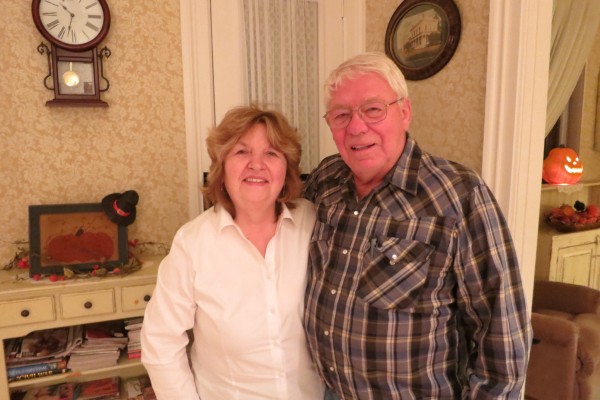 I had a long chat with George and learned all about his Danish roots. He has essentially lived in this house for his entire life, and his roots in that area go back two generations. He was a dairy farmer but retired from that and now looks after three mentally handicapped wards of the state, who live in his house. George and Sheri are amazing, sacrificial, loving people, and I feel very privileged to have gotten to know them a little this evening.