I've never understood why Nabisco doesn't market Shreddies in the USA. I grew up on Shreddies, a great breakfast cereal, and was delighted to have it as part of my breakfast this morning with Phil and Marilyn. Here they are at the drop-off point in Coronation Park a little later: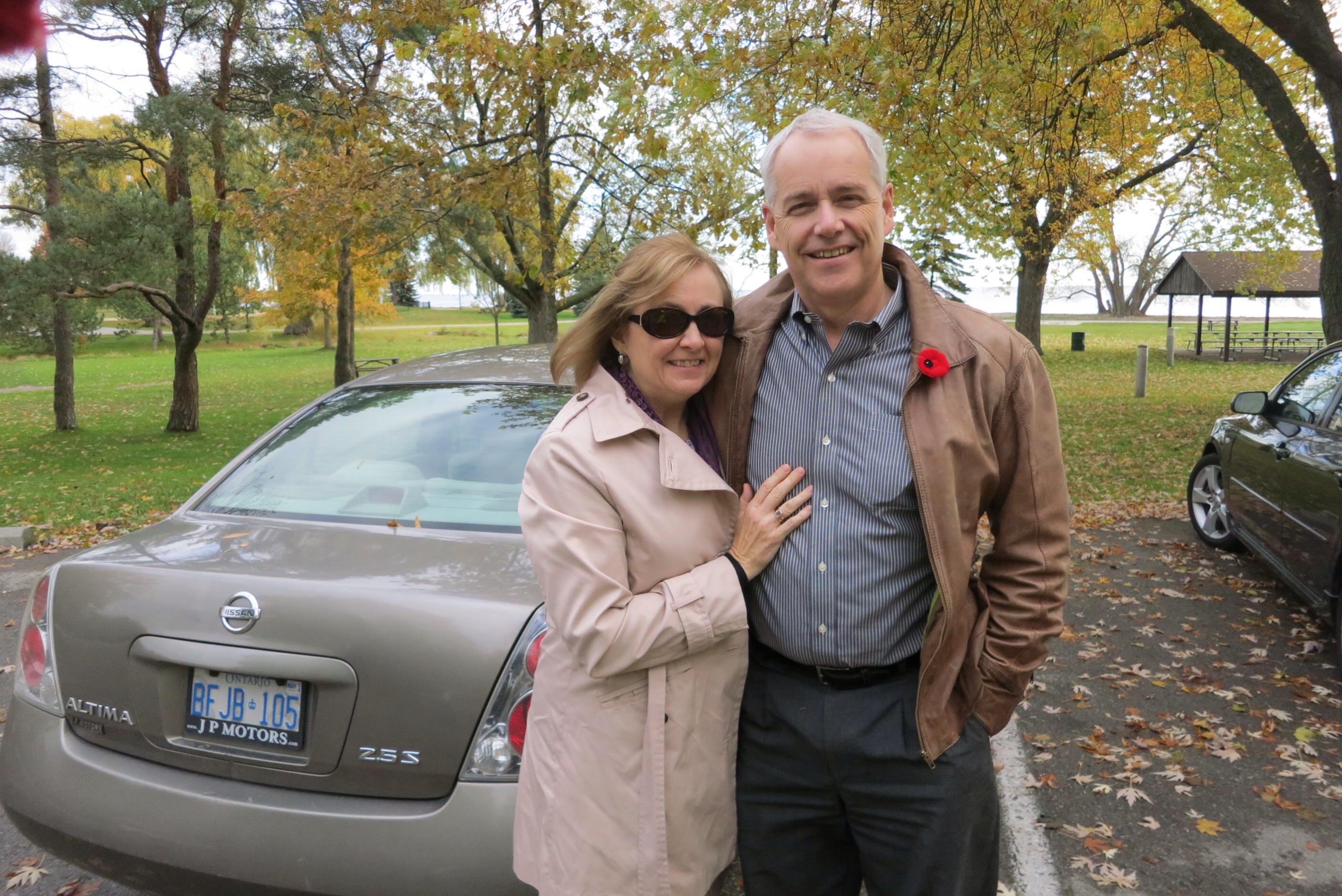 As I got started, I took a couple of pictures, one of the coastline of the lake: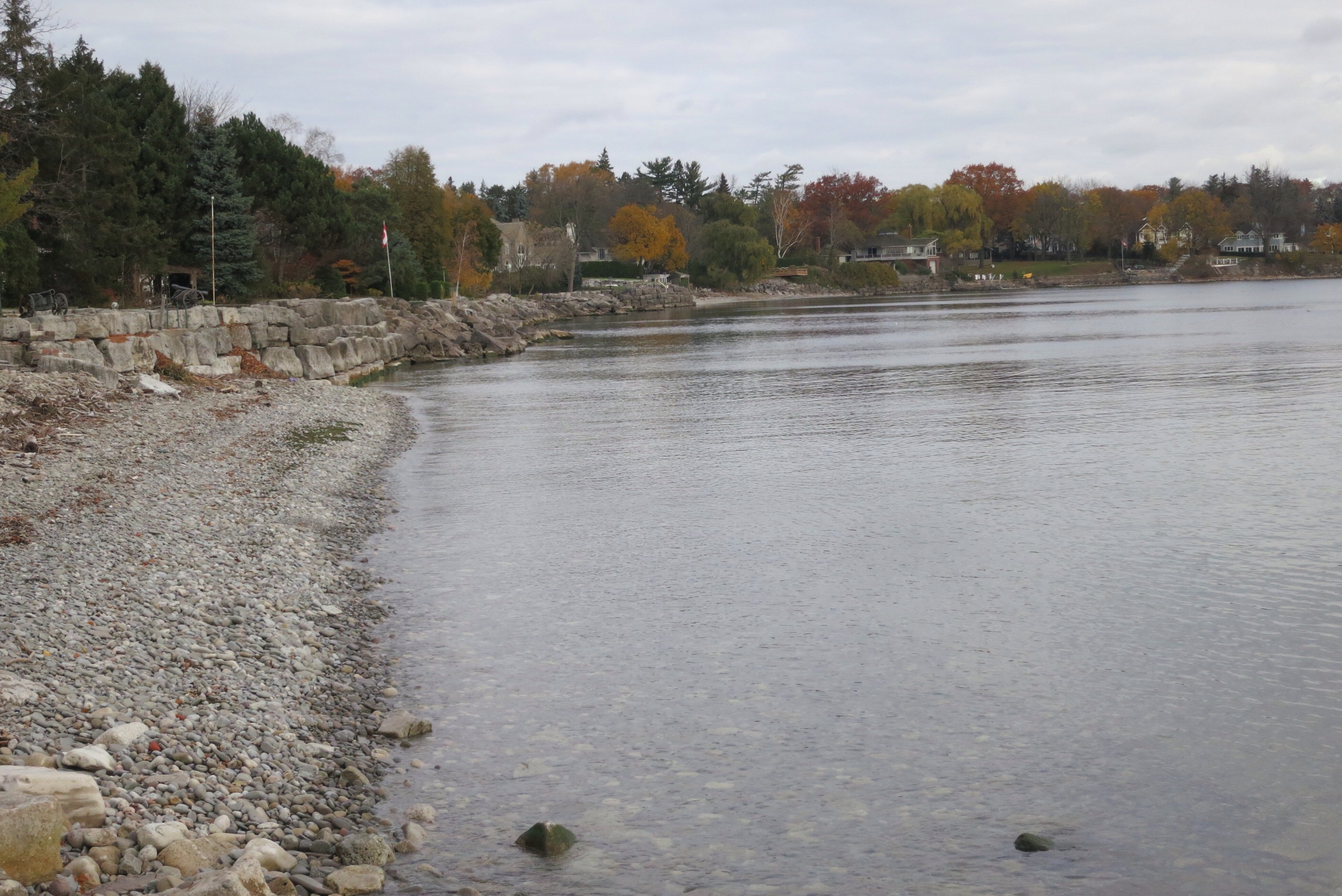 and one looking over to the Toronto skyline: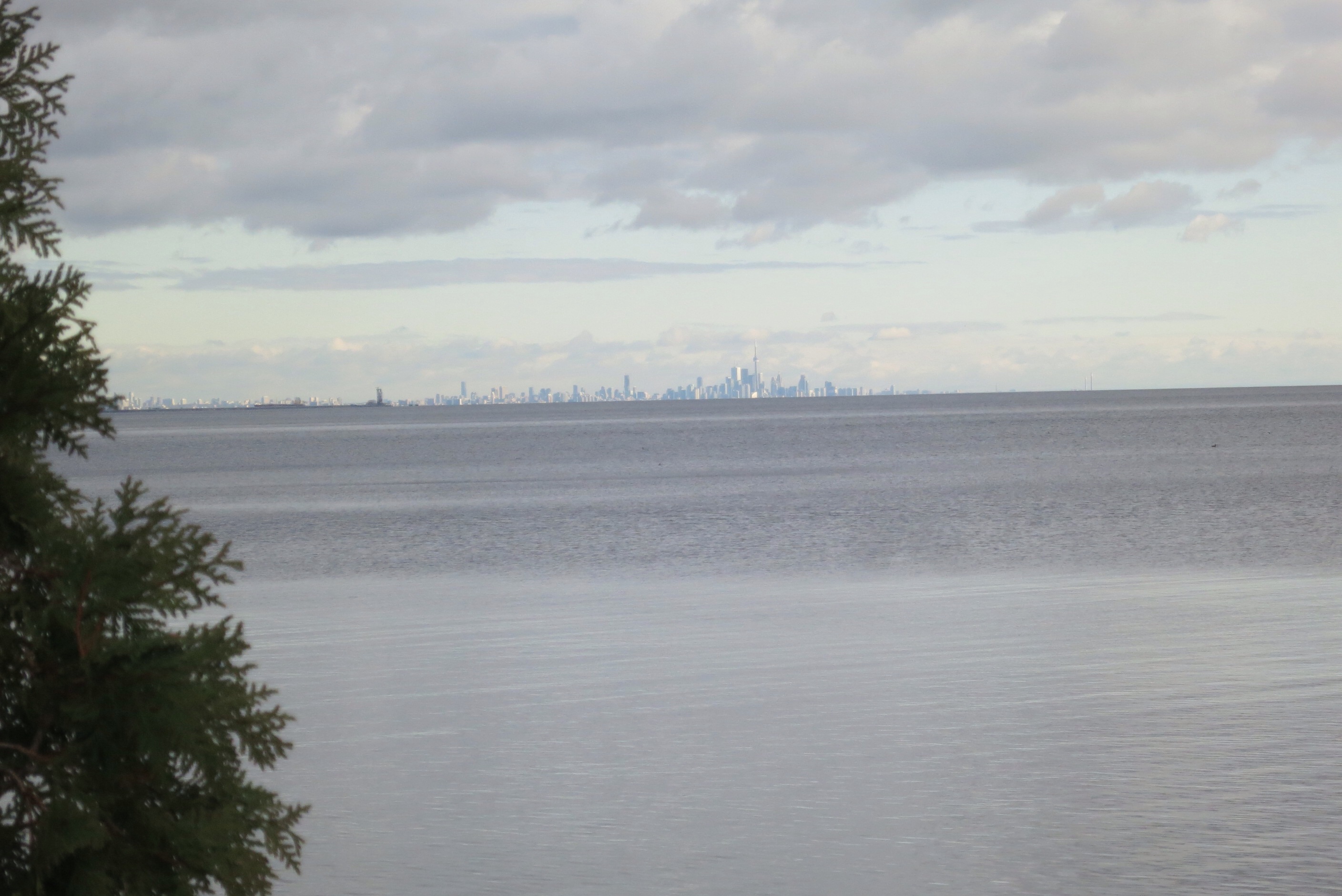 I spent the whole day on Lakeshore Road. The first segment, still in Oakville was really beautiful. There were large houses: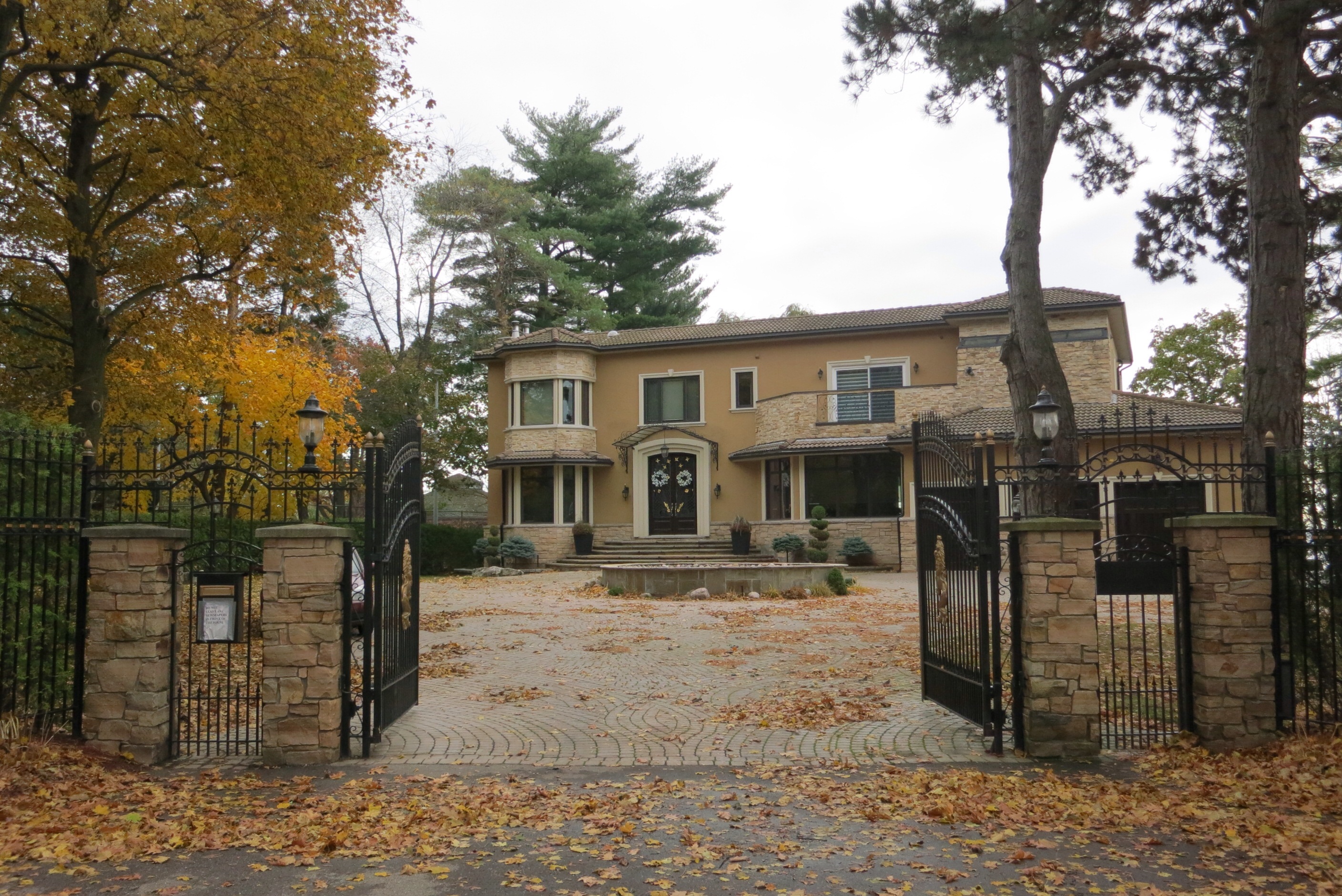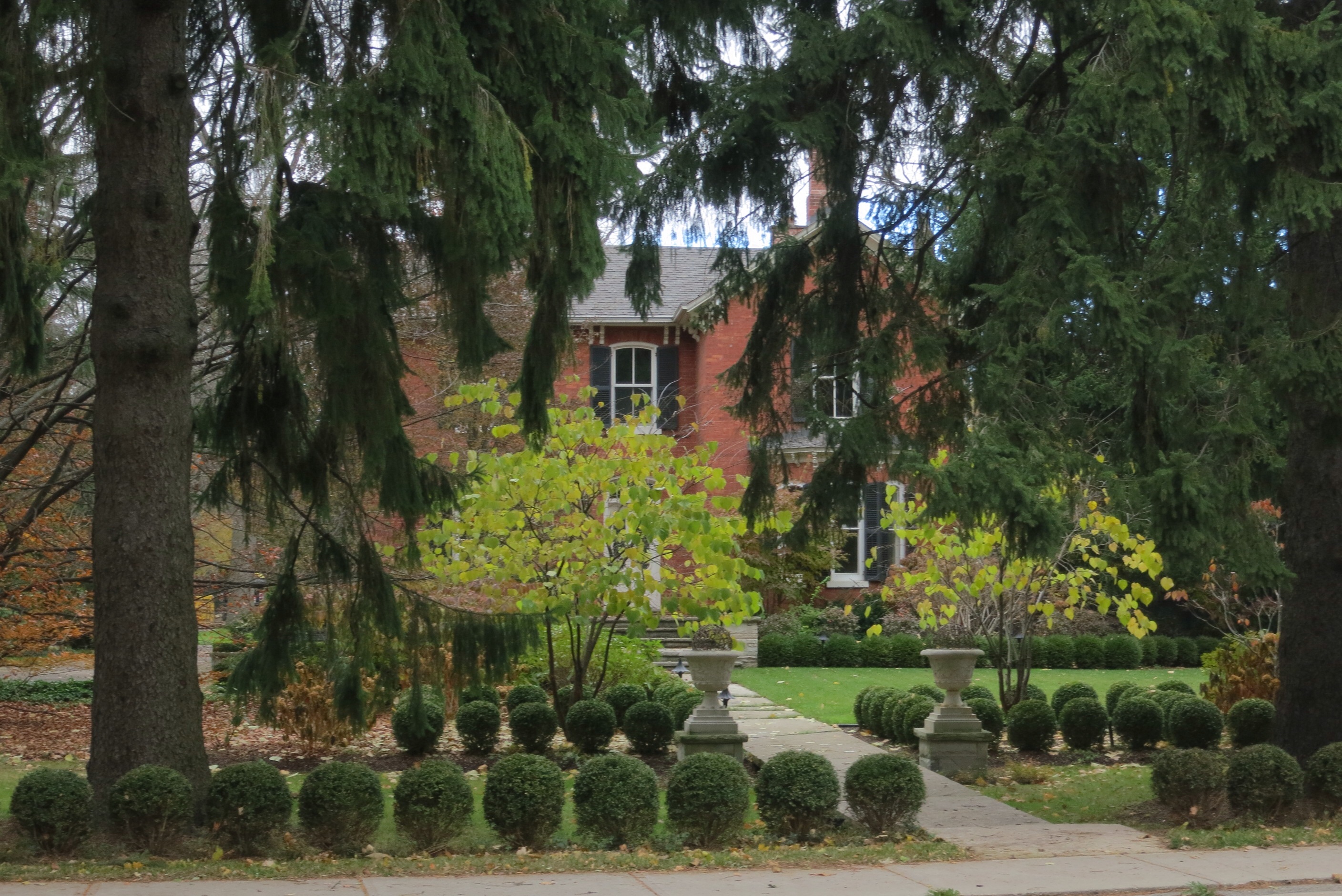 and lots of color: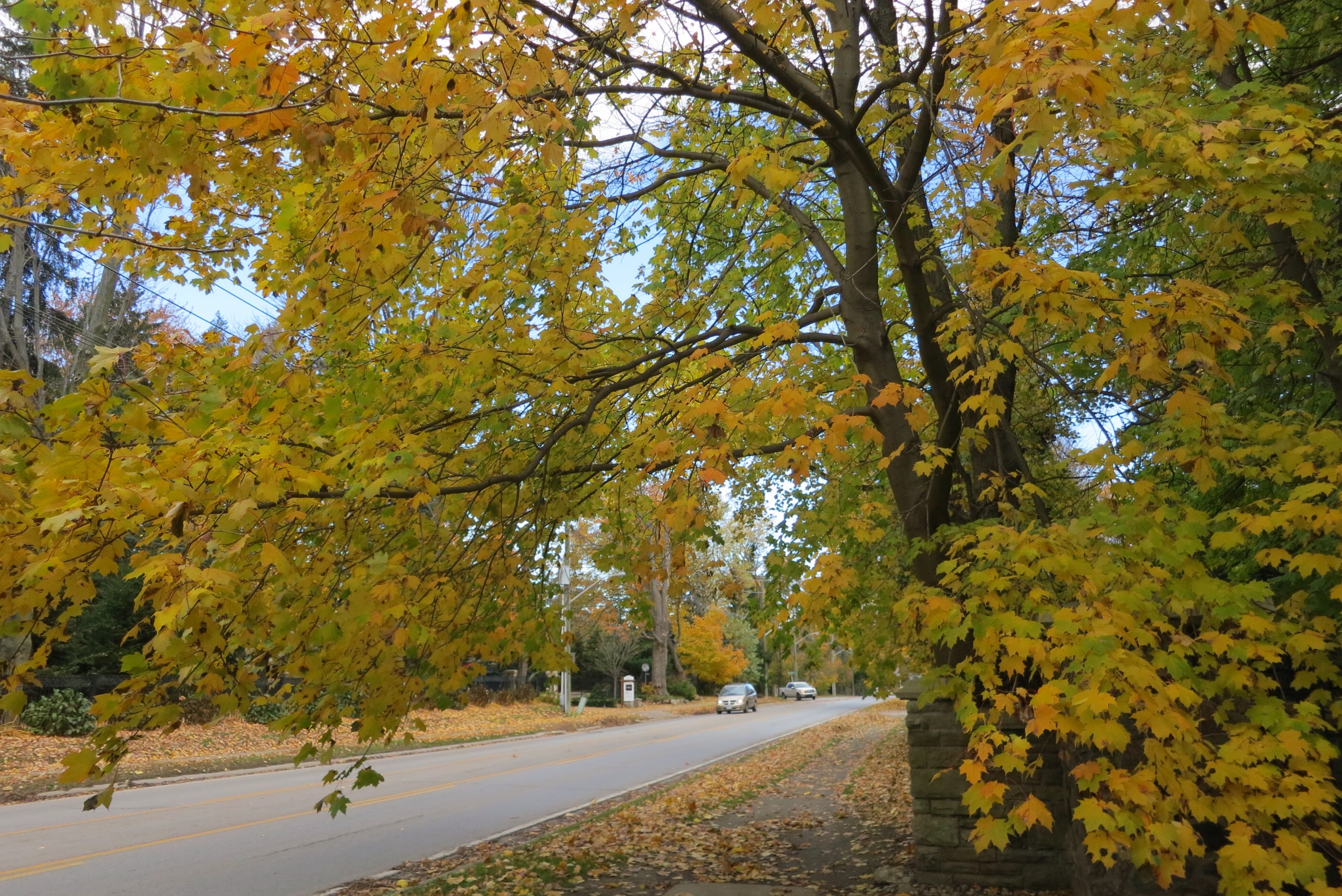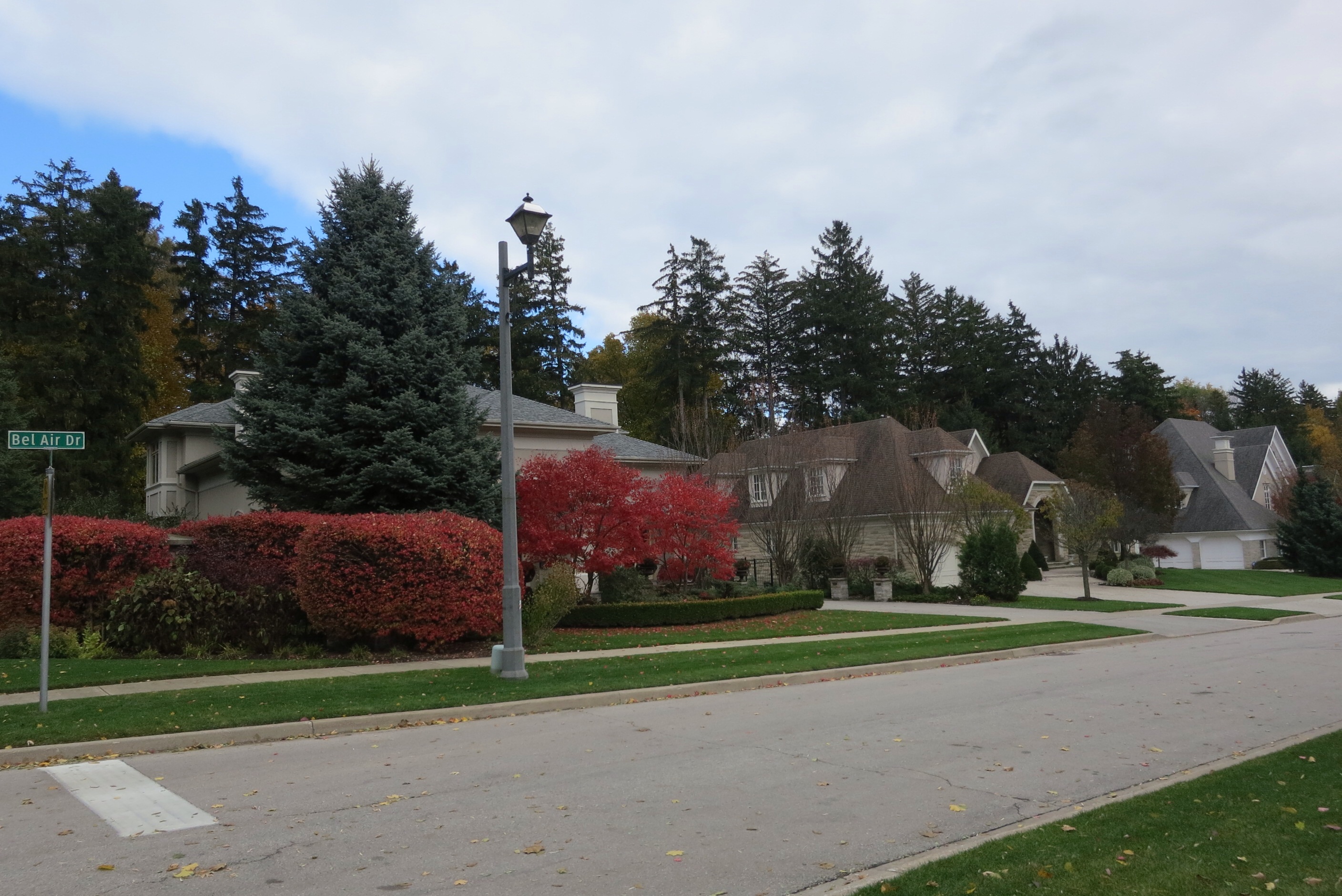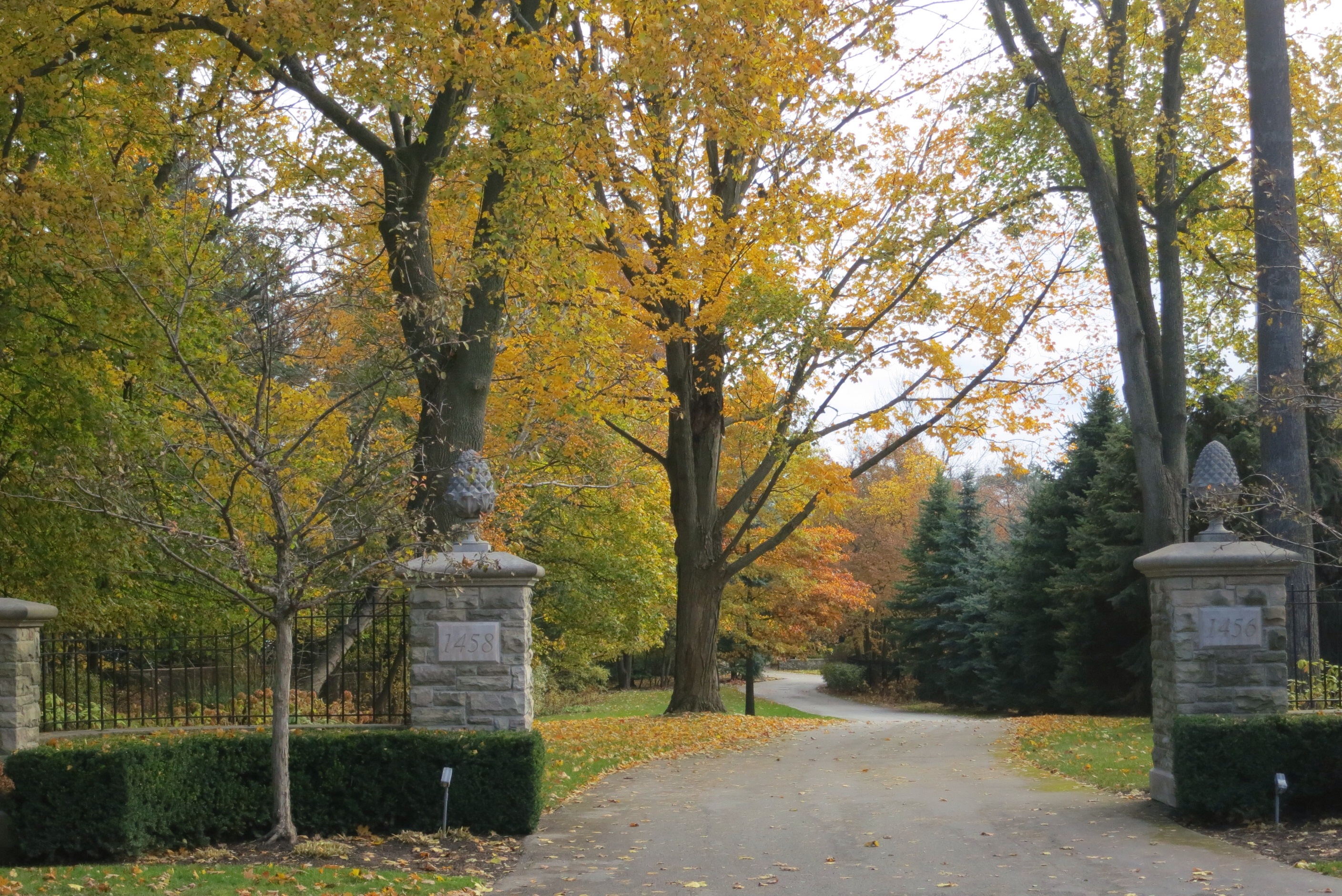 A glimpse of the lake: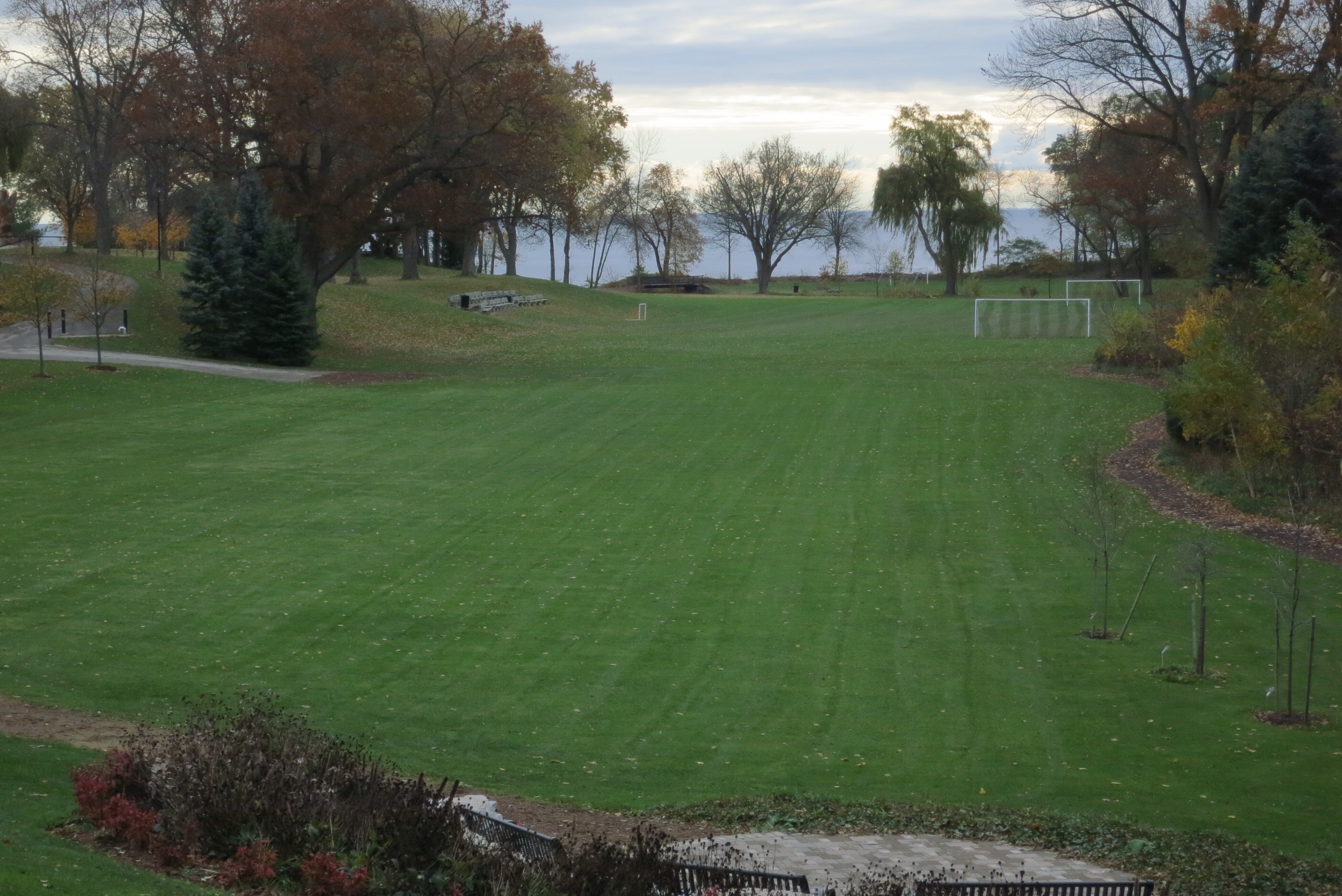 and another with an interesting, dark sky: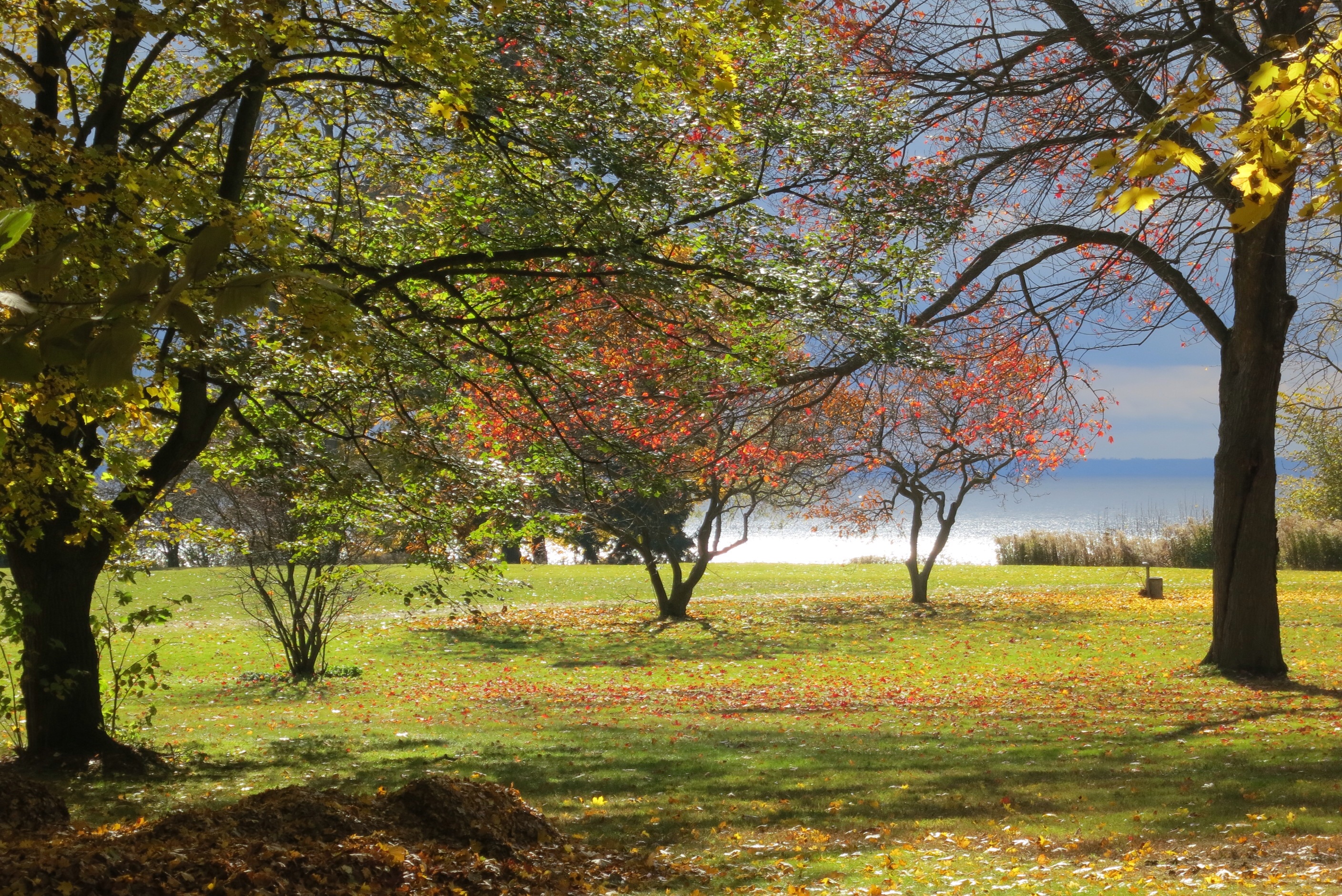 At one point, as I was entering downtown Oakville, someone was shouting at me from behind, and it turned out to be my dear mother-in-law: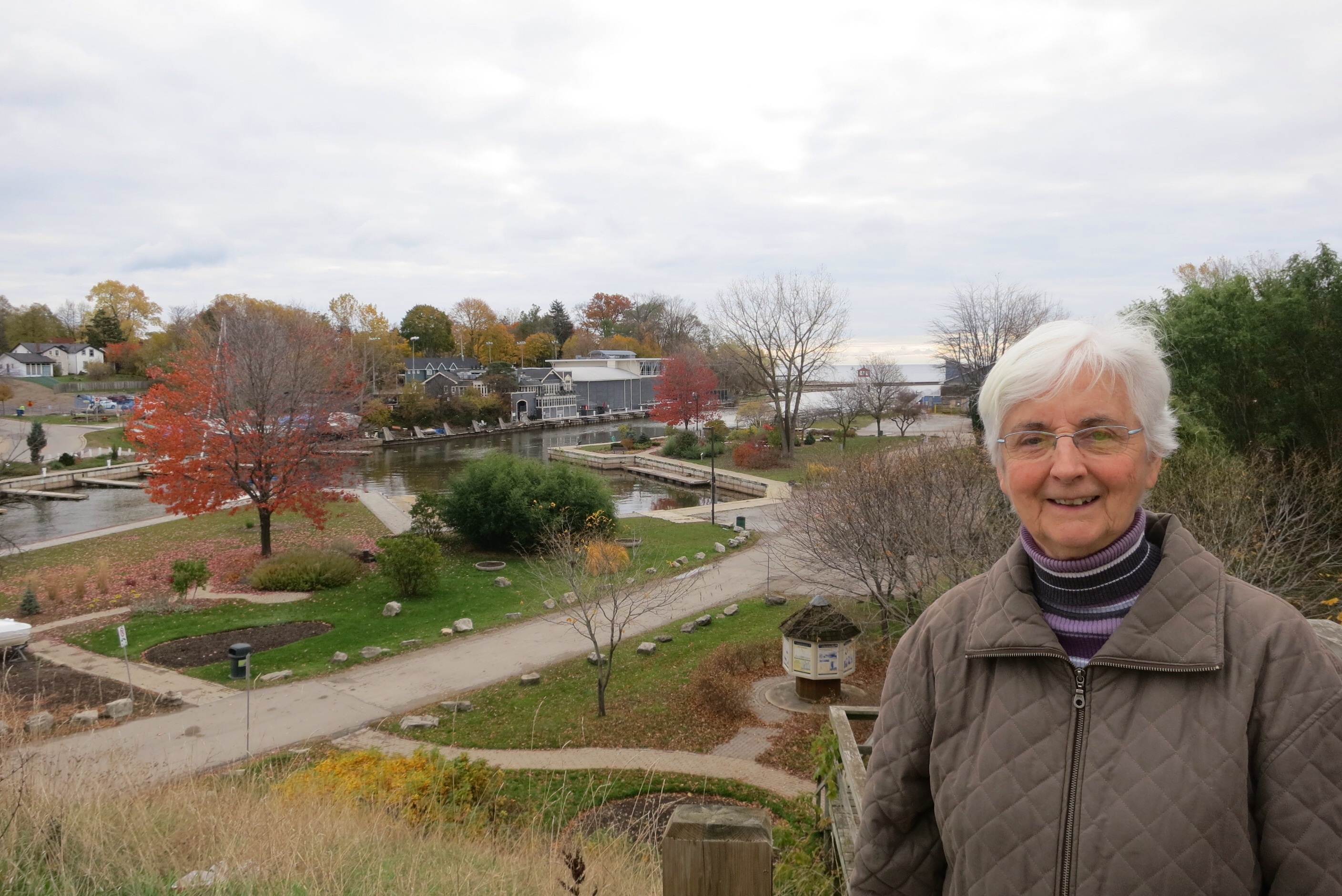 She had found me with the SIGHTINGS tab on my website and walked with me for a little while. It was so wonderful to see a familiar face and have company on the road.
By the way, if you would like to own one of these properties: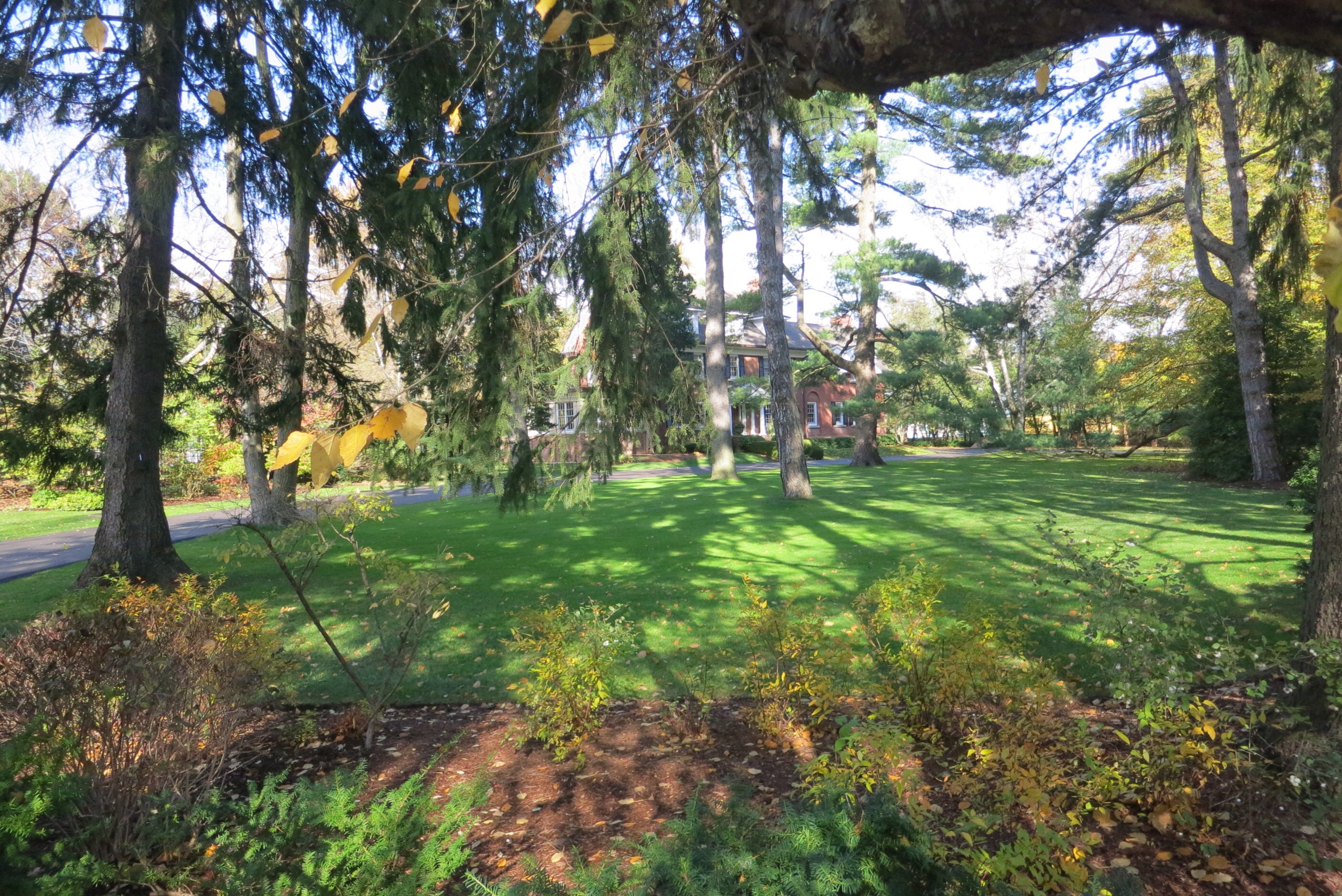 there is a deal going on; you can get one for as little as $1.2 million: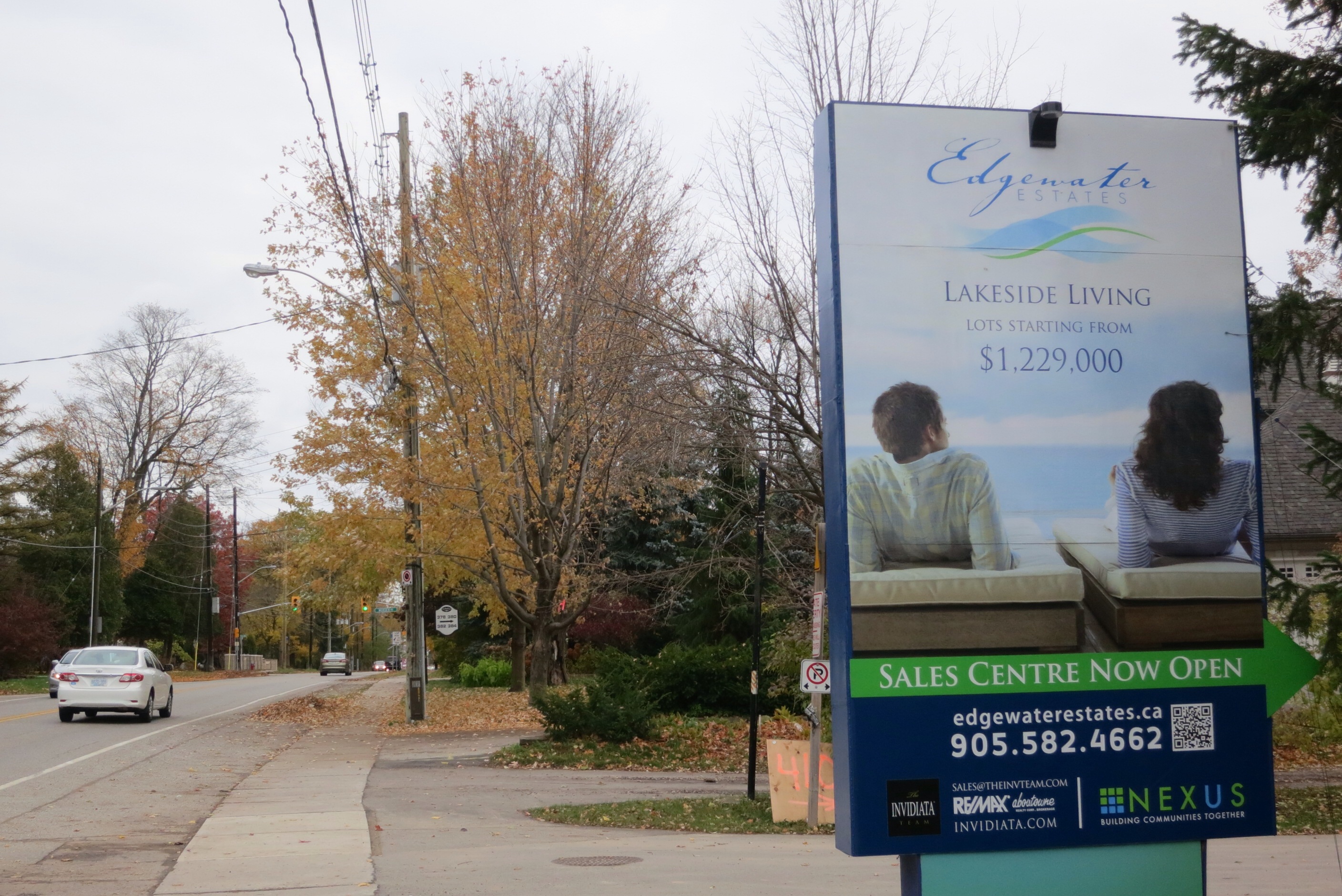 More color: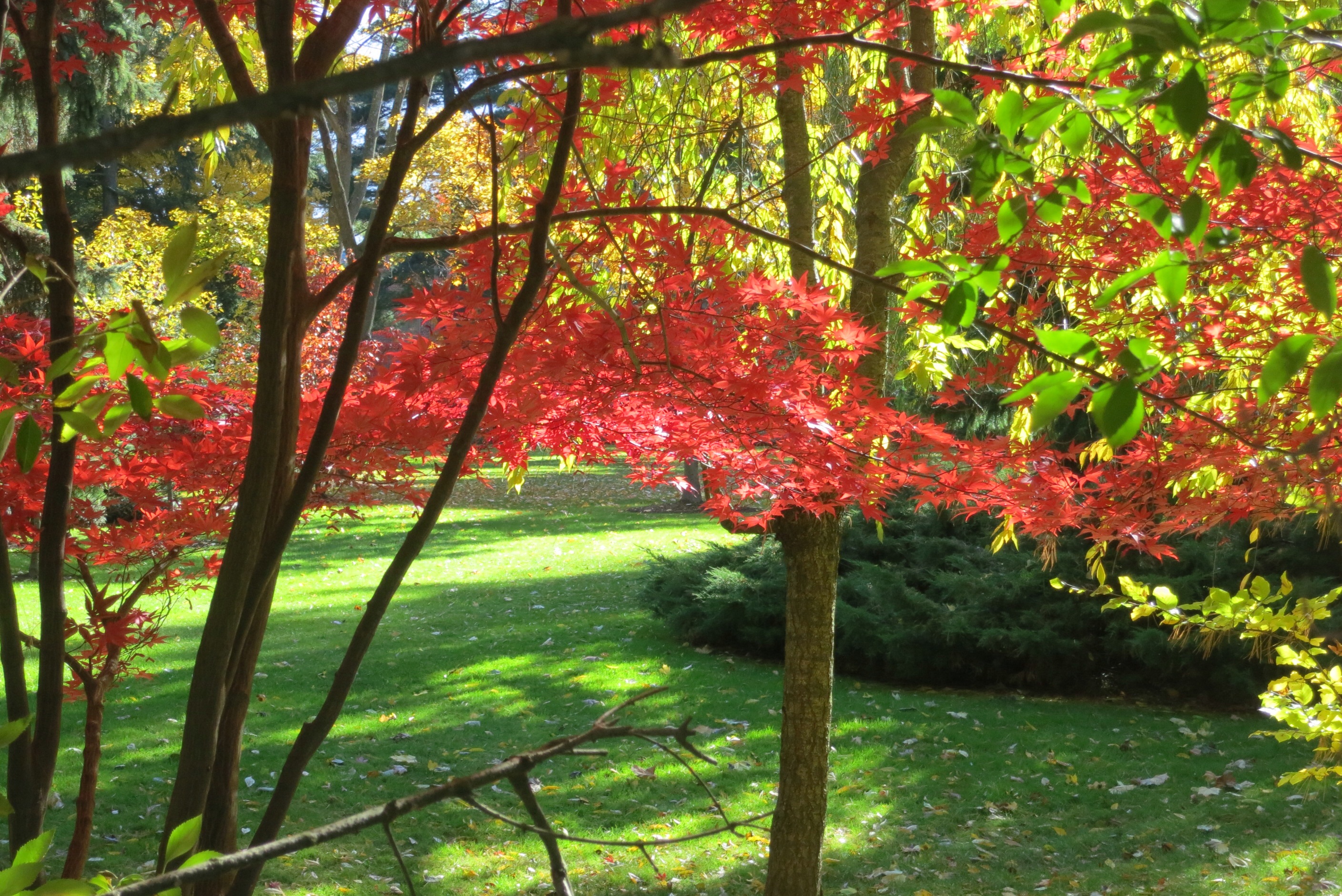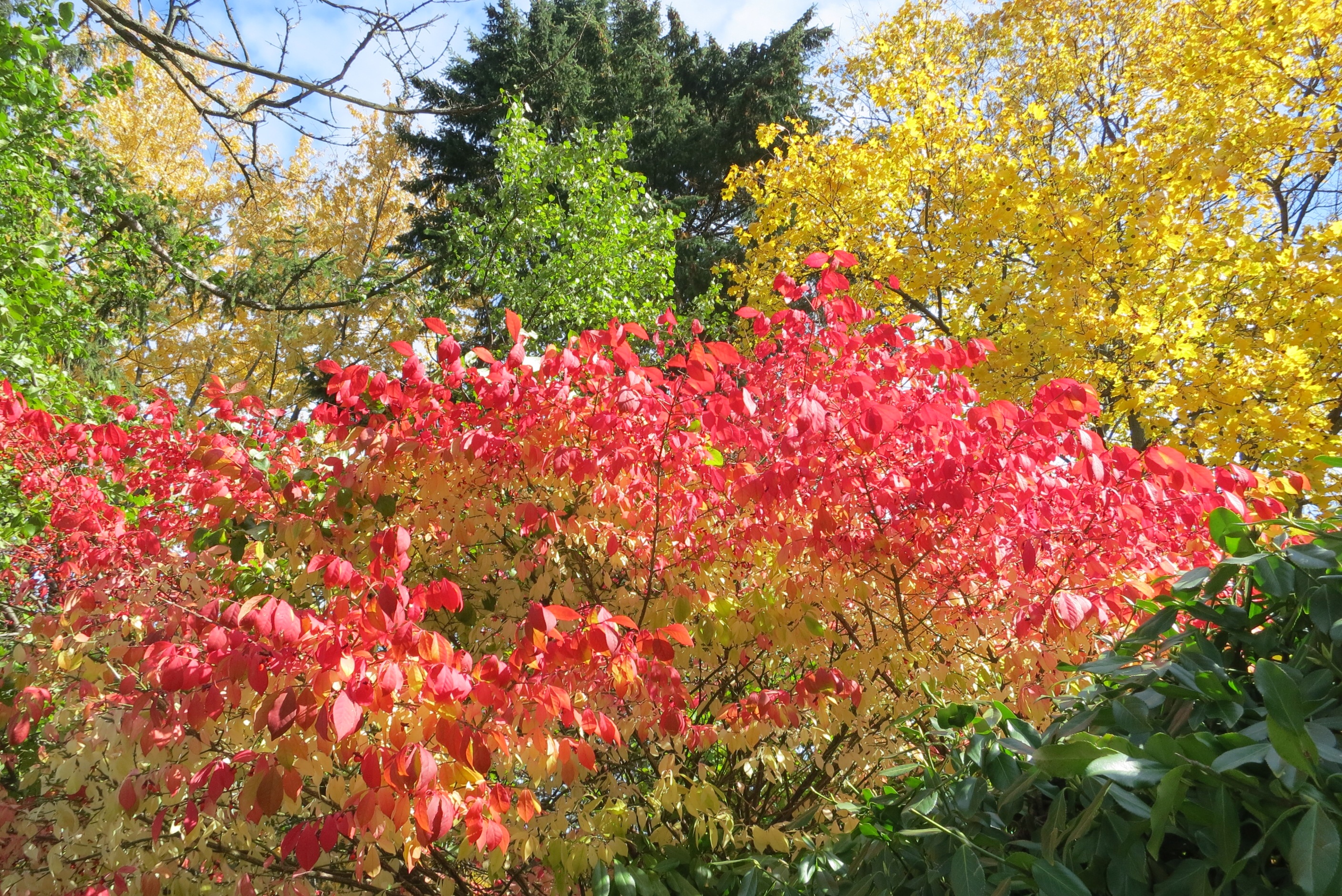 and a custom fence: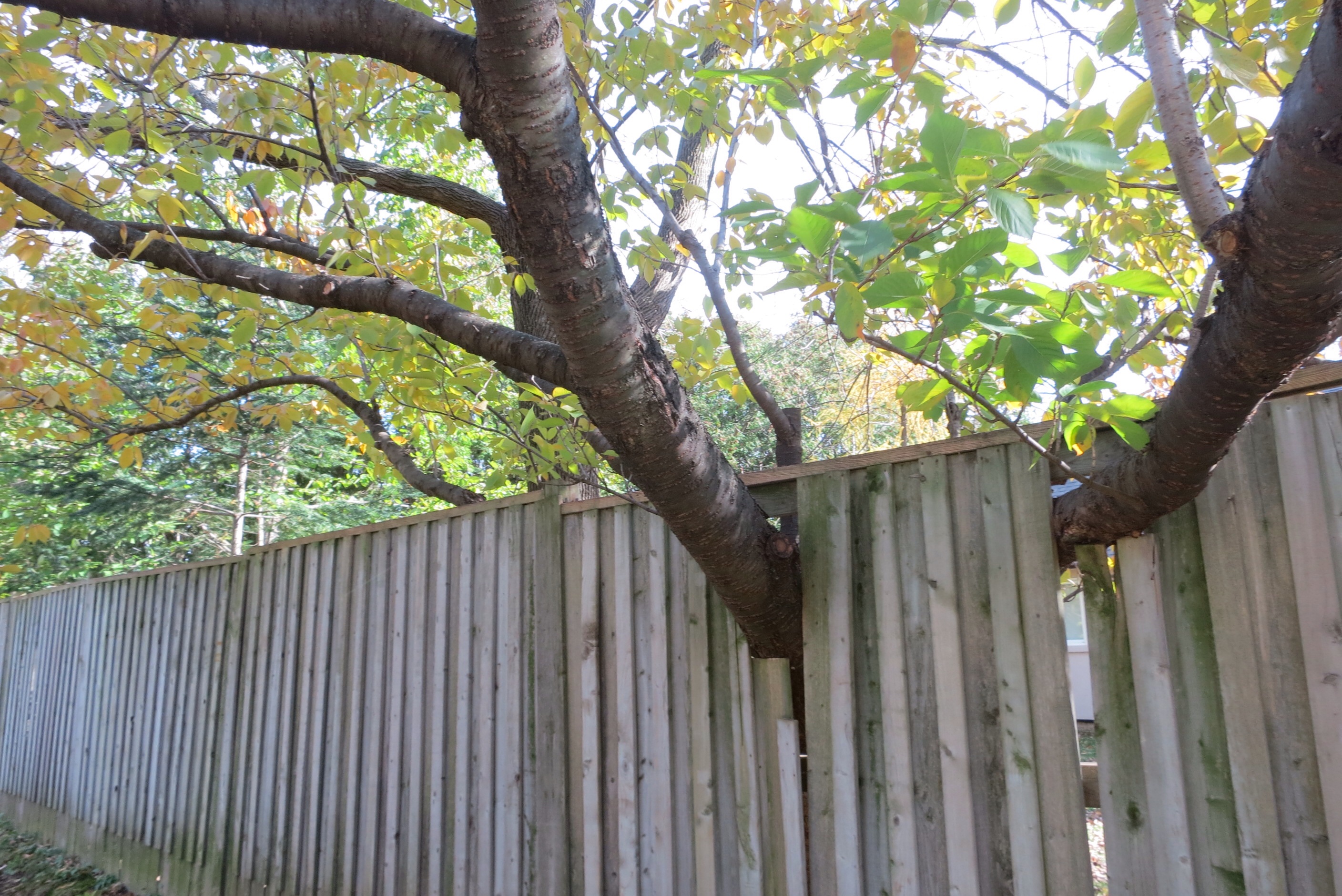 Eventually I came to the end of Oakville and entered Mississauga:
The change was dramatic, from spacious residential to commercial. Here is a laker: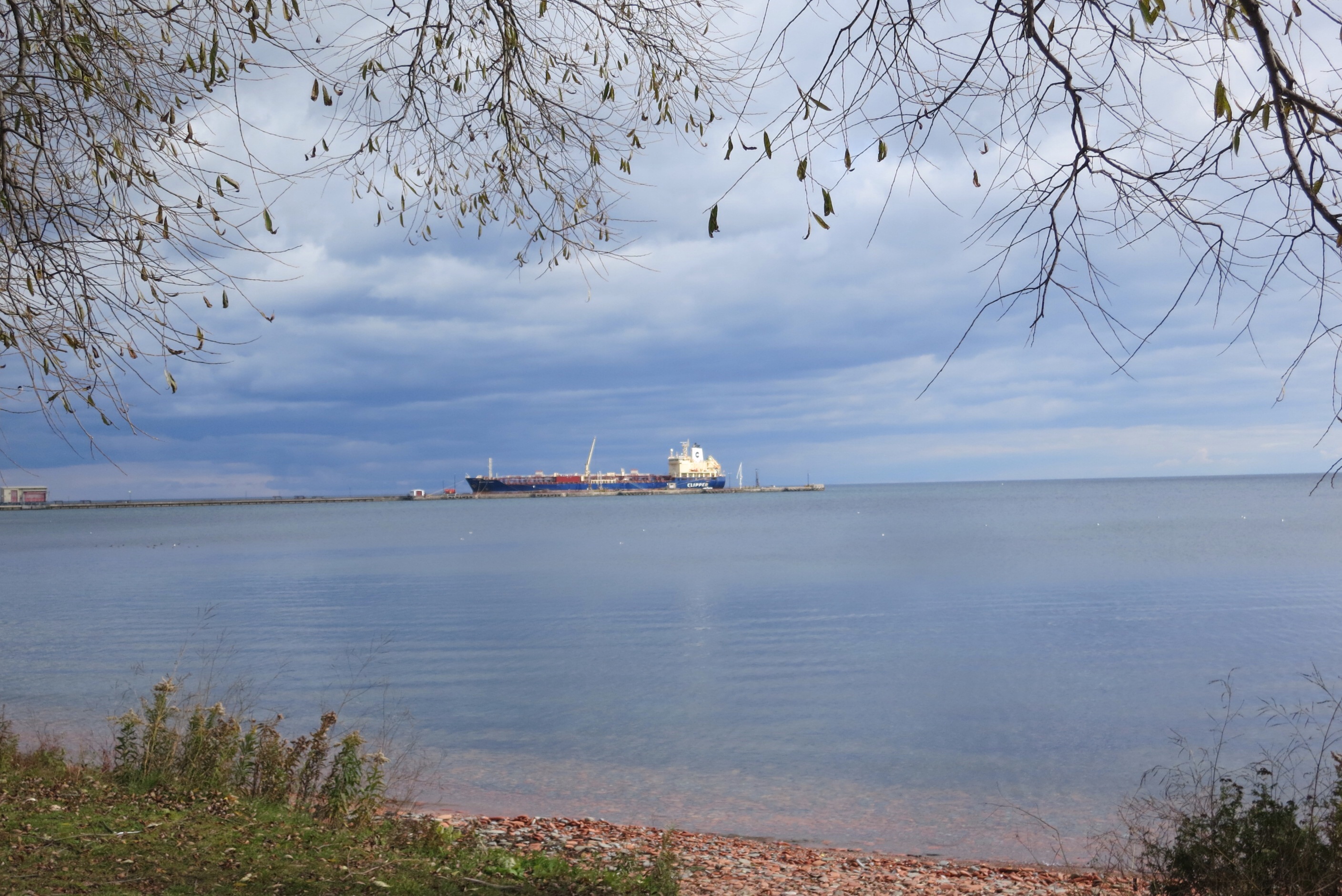 and an ugly, smelly, noisy chemical plant (Suncorp Energy):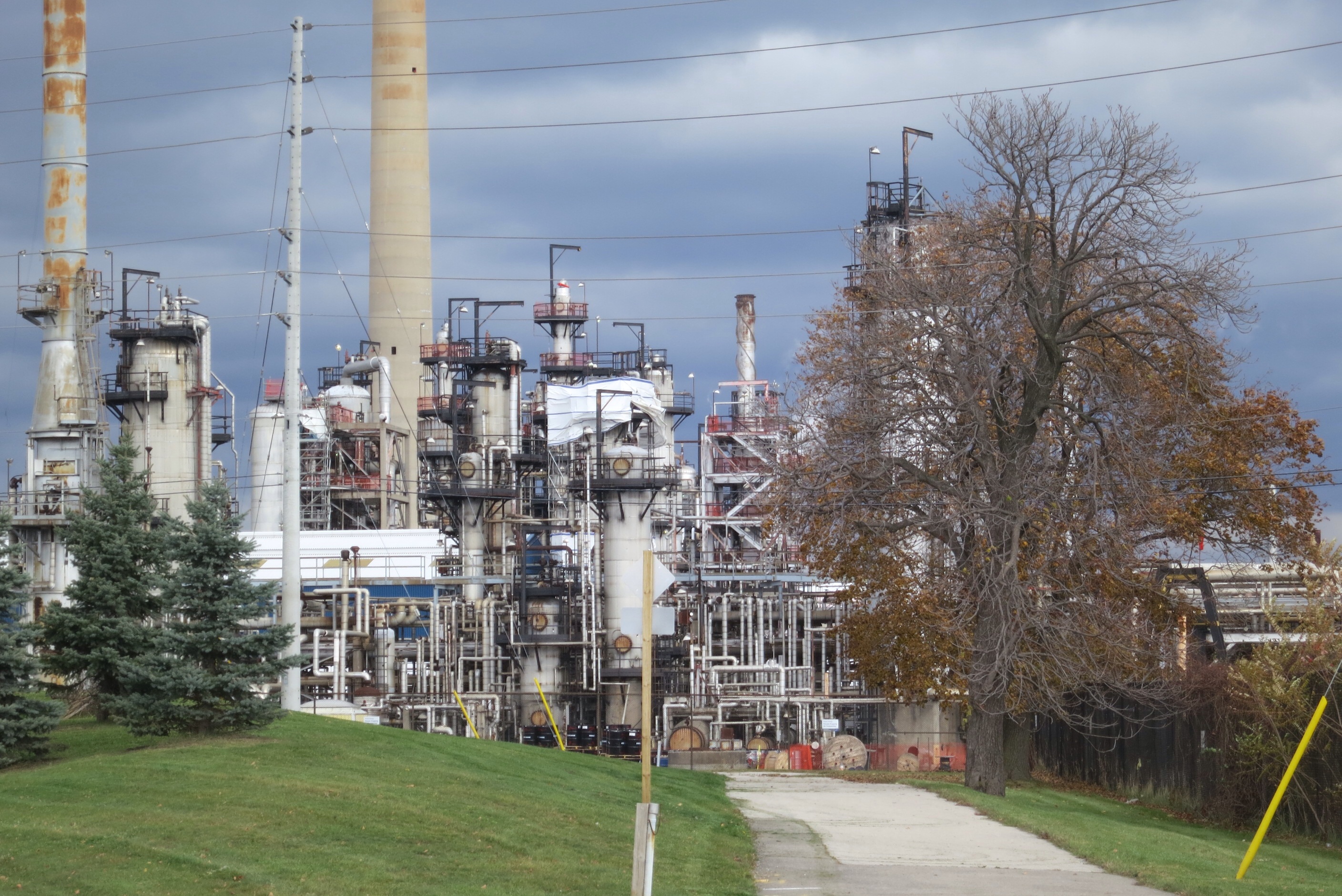 The plant was huge and reminded me a lot of the Bayway refineries in New Jersey, for which that state has a poor national reputation. I walked quickly through all that ugliness and eventually reached a portion of Lakeshore Road where I was able to get a Tim Horton sandwich and a few blocks away visit an art gallery, the Harbour Gallery. I went in there because Sandy (Day 26) had told me he had some art hanging there. I took a picture of the owners and their daughter in front of one of Sandy's paintings: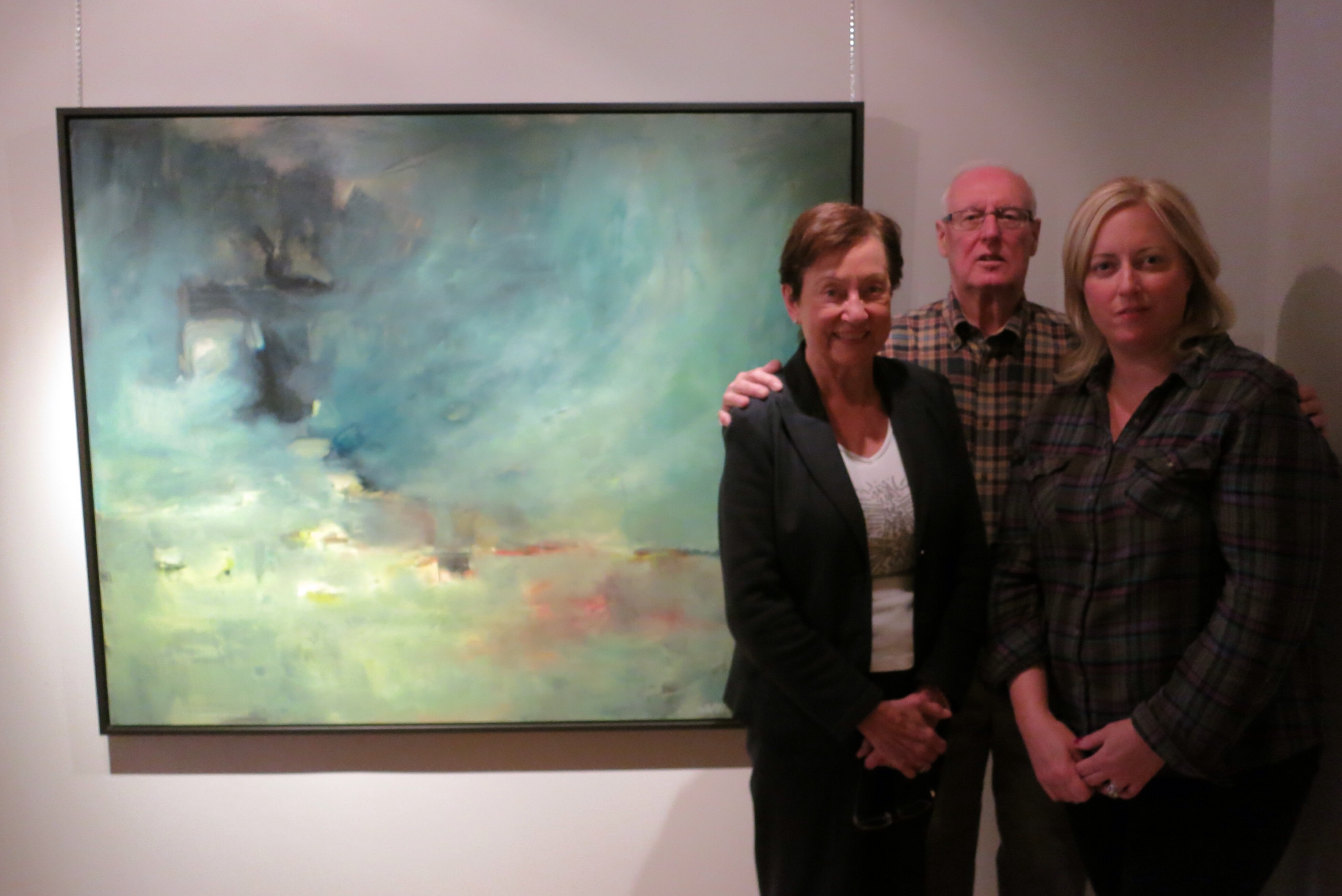 That's Jackie, Denny and Jenna, from the left.
Not too long after leaving there I heard another shout behind me and lo and behold, it was Marnie, an old church friend from my youth: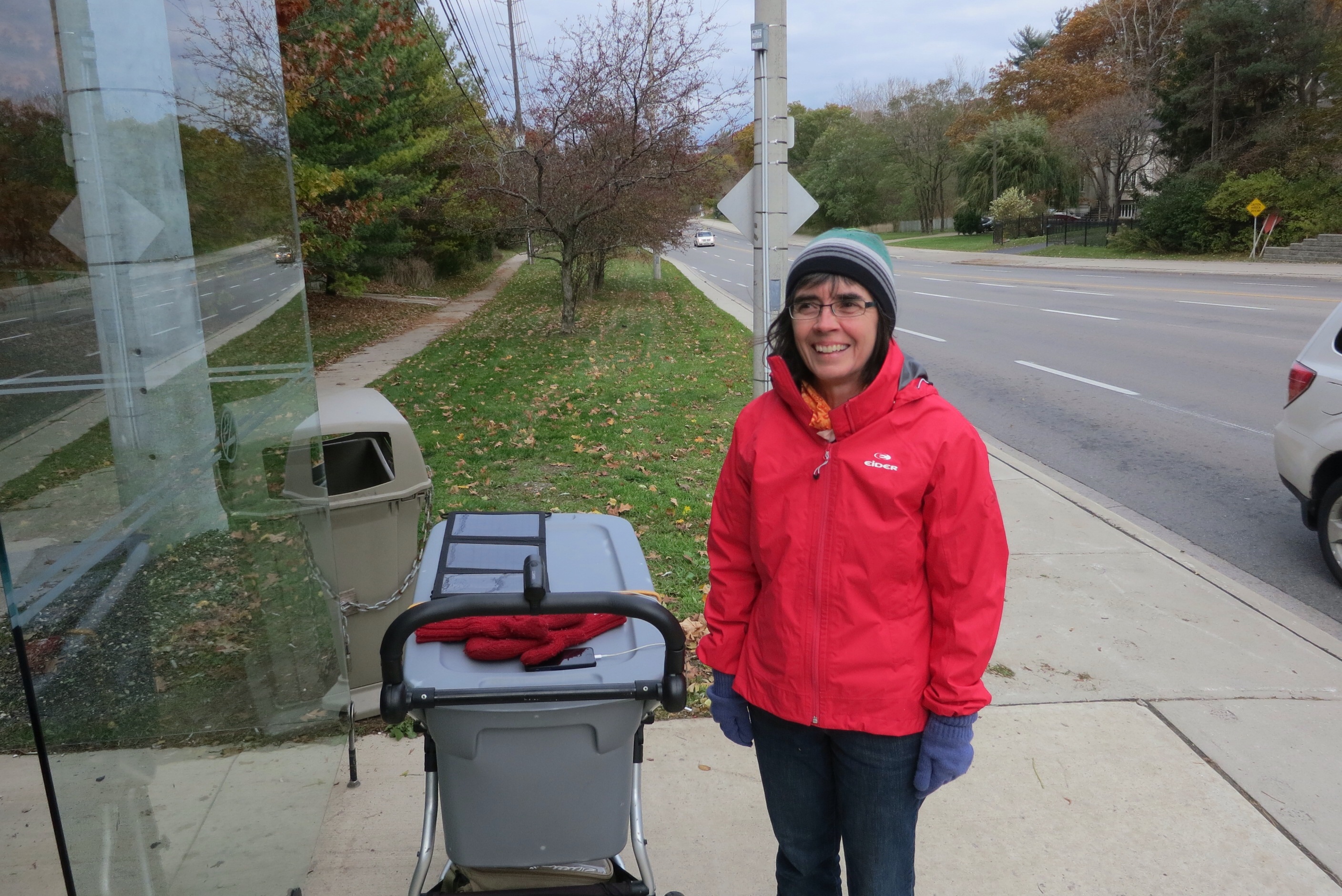 She lives in Ottawa, was in Toronto, and looked me up, again via the SIGHTINGS tab on the website. She had had a little trouble because I was in the gallery when she was looking, but eventually she found me. We started walking together and I heard ANOTHER shout from behind. It was the biggest surprise of all, my dear wife Fiona: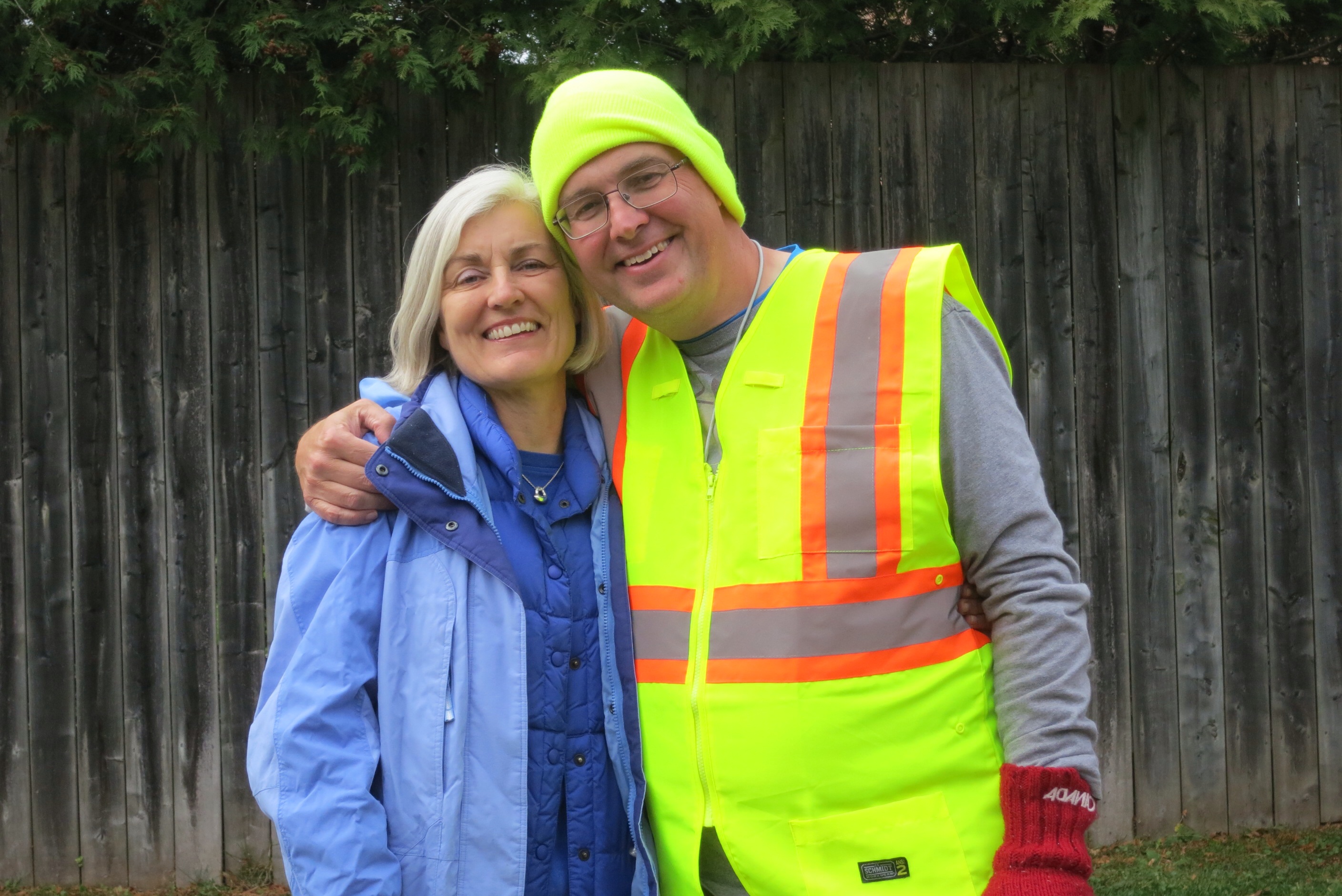 I knew she was driving up to Toronto today from New Jersey, but I thought she was headed for my son's house. She also had tracked me down. The three of us walked together for a while and the miles slipped away.
We saw a series of bicycles like this painted different colors: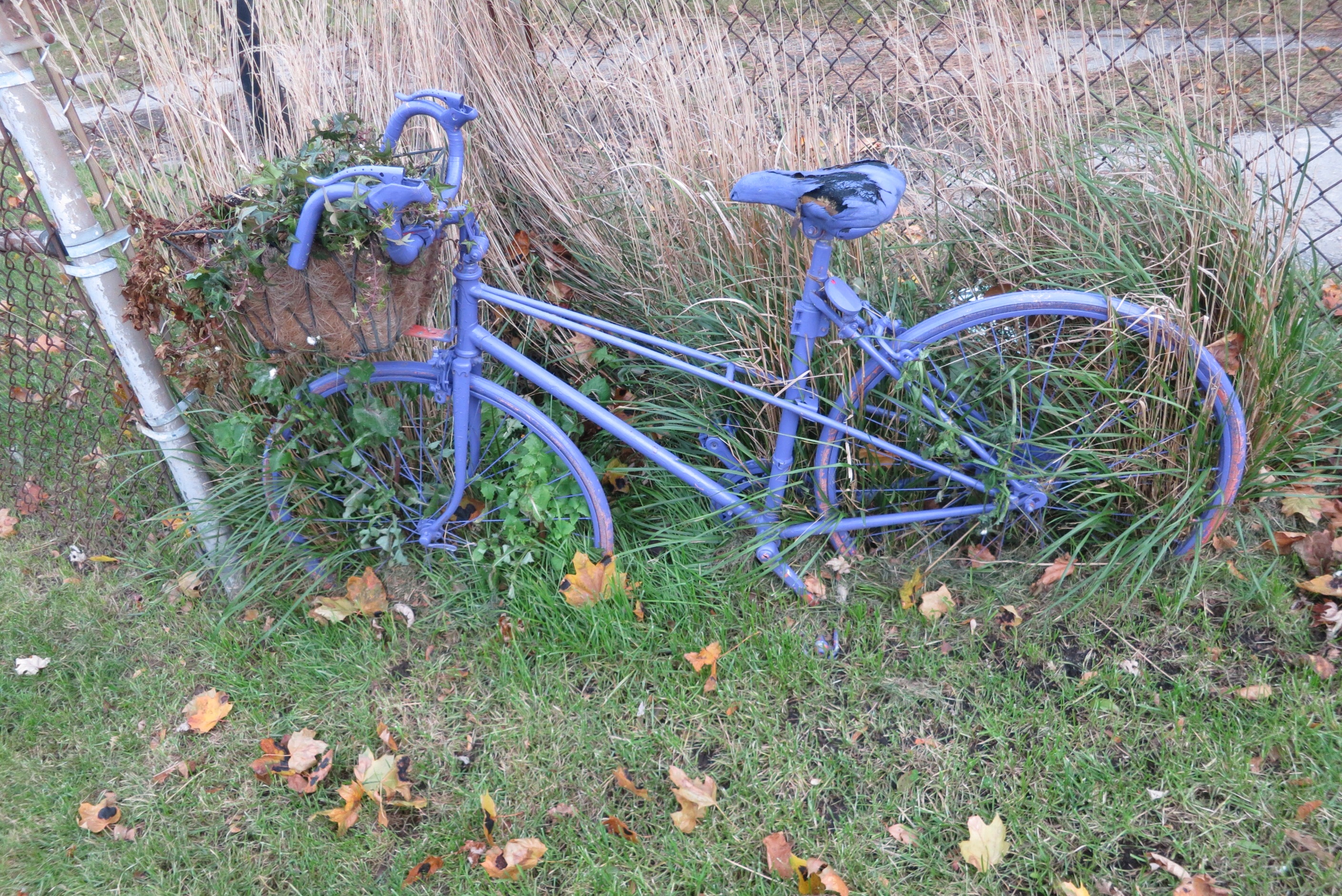 and a lovely rock garden: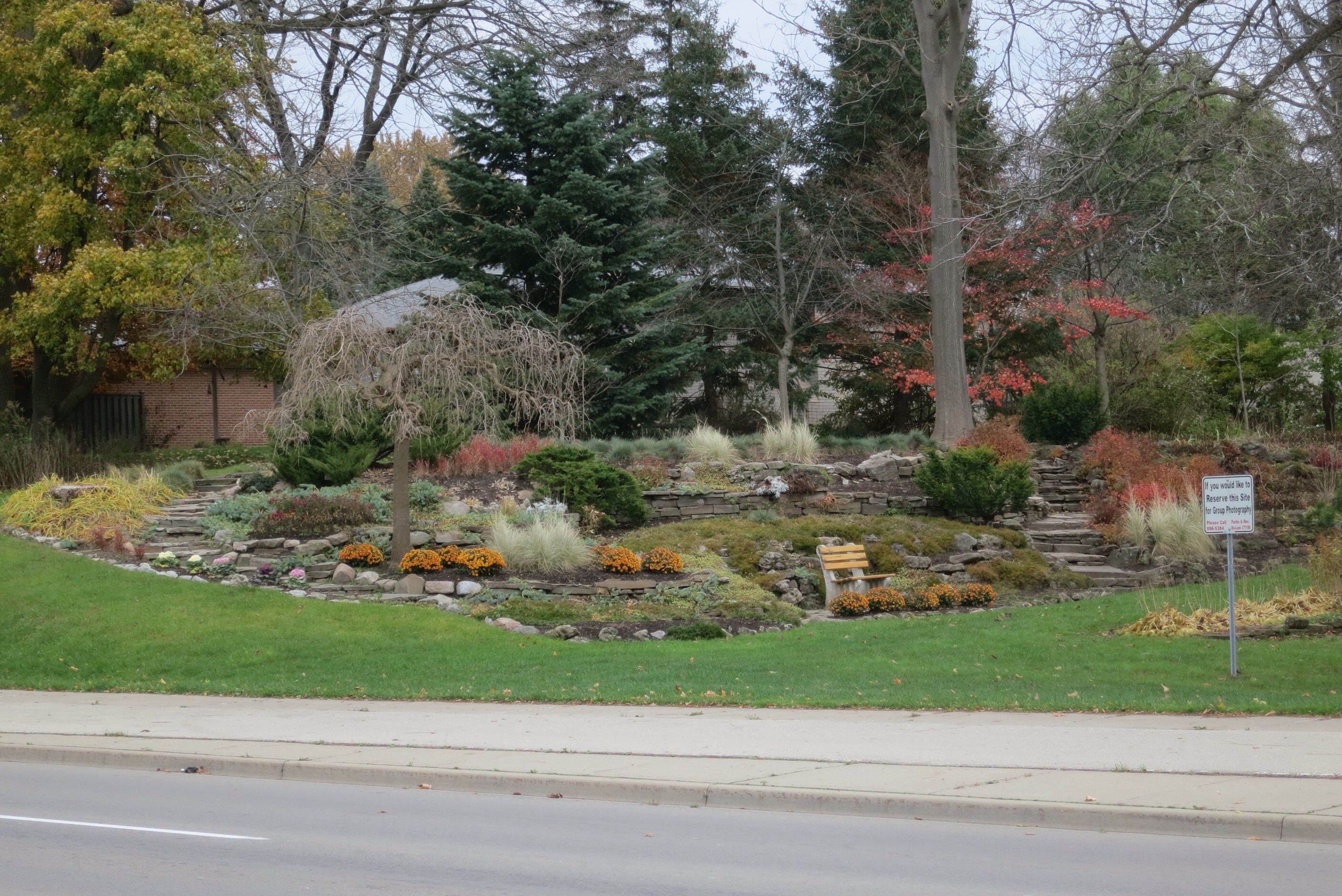 My goal for the day was to reach a motel I had booked in the morning. It didn't take much argument to convince Fiona that she ought to just stay with me tonight and then head on to Toronto tomorrow. She and Marnie left me to walk back to their cars and Fiona then drove on ahead to the hotel. The intervening distance flew by quickly for me.
I passed the Credit River. Upstream: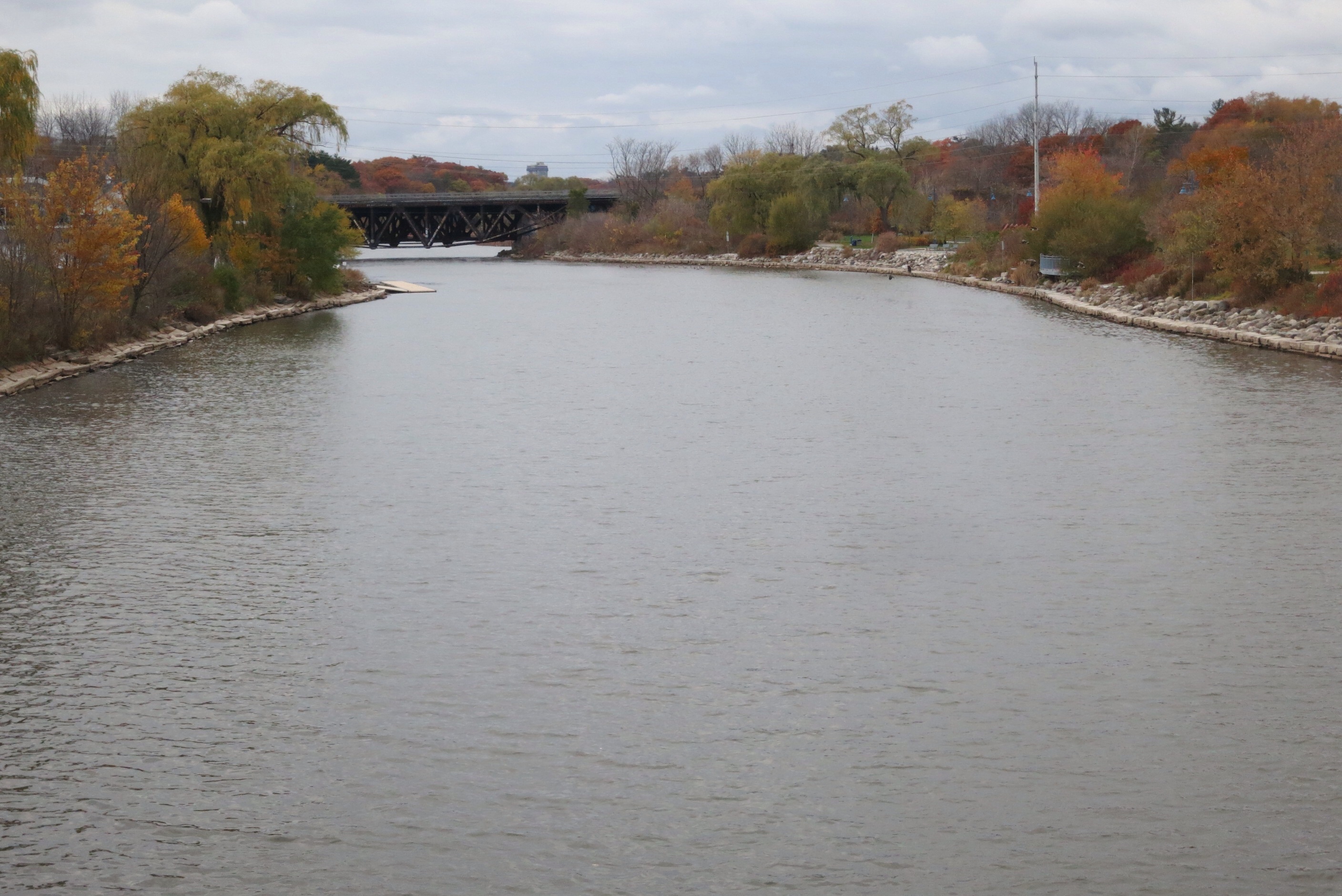 and downstream, emptying into the lake: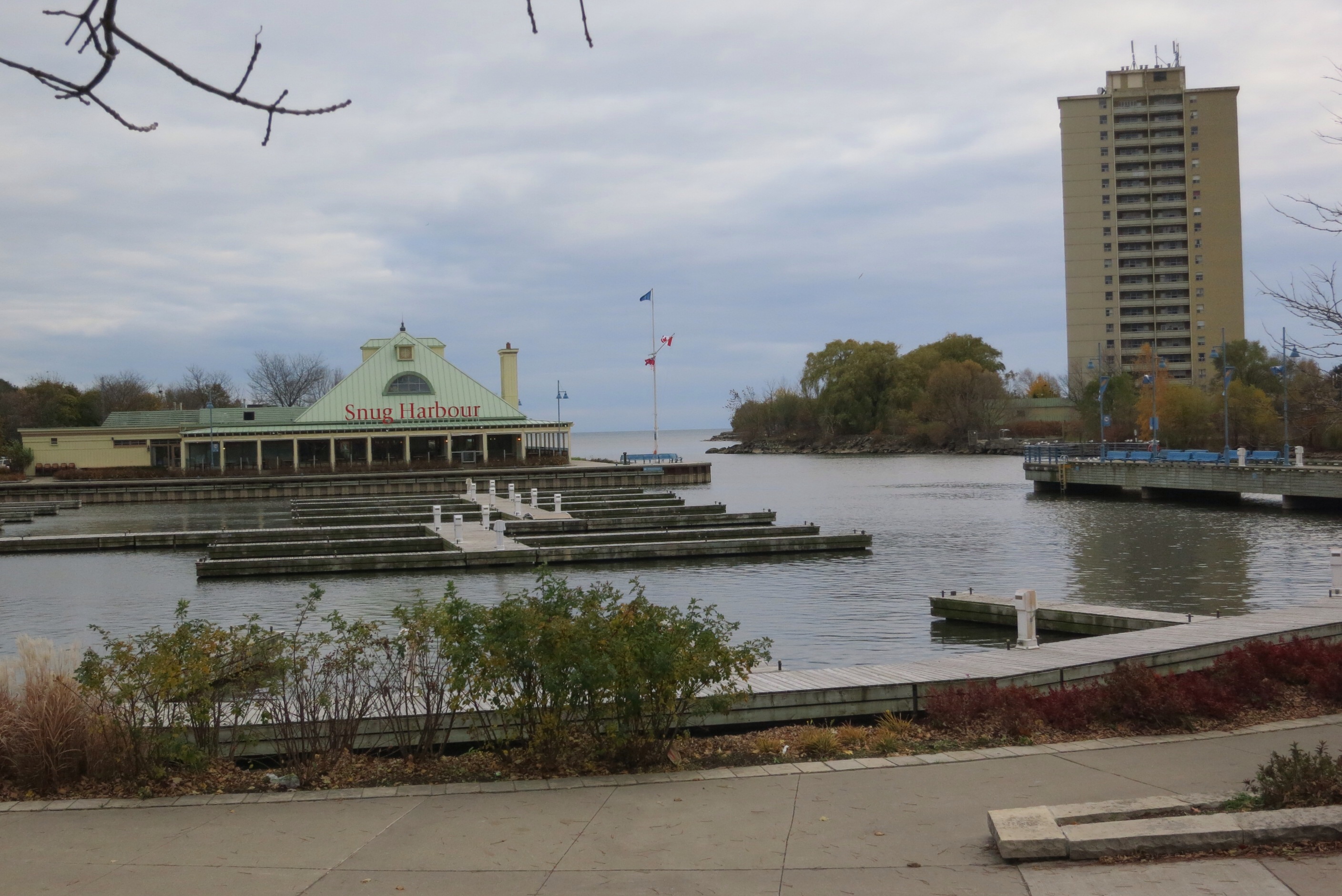 Here's a nice idea for a crosswalk: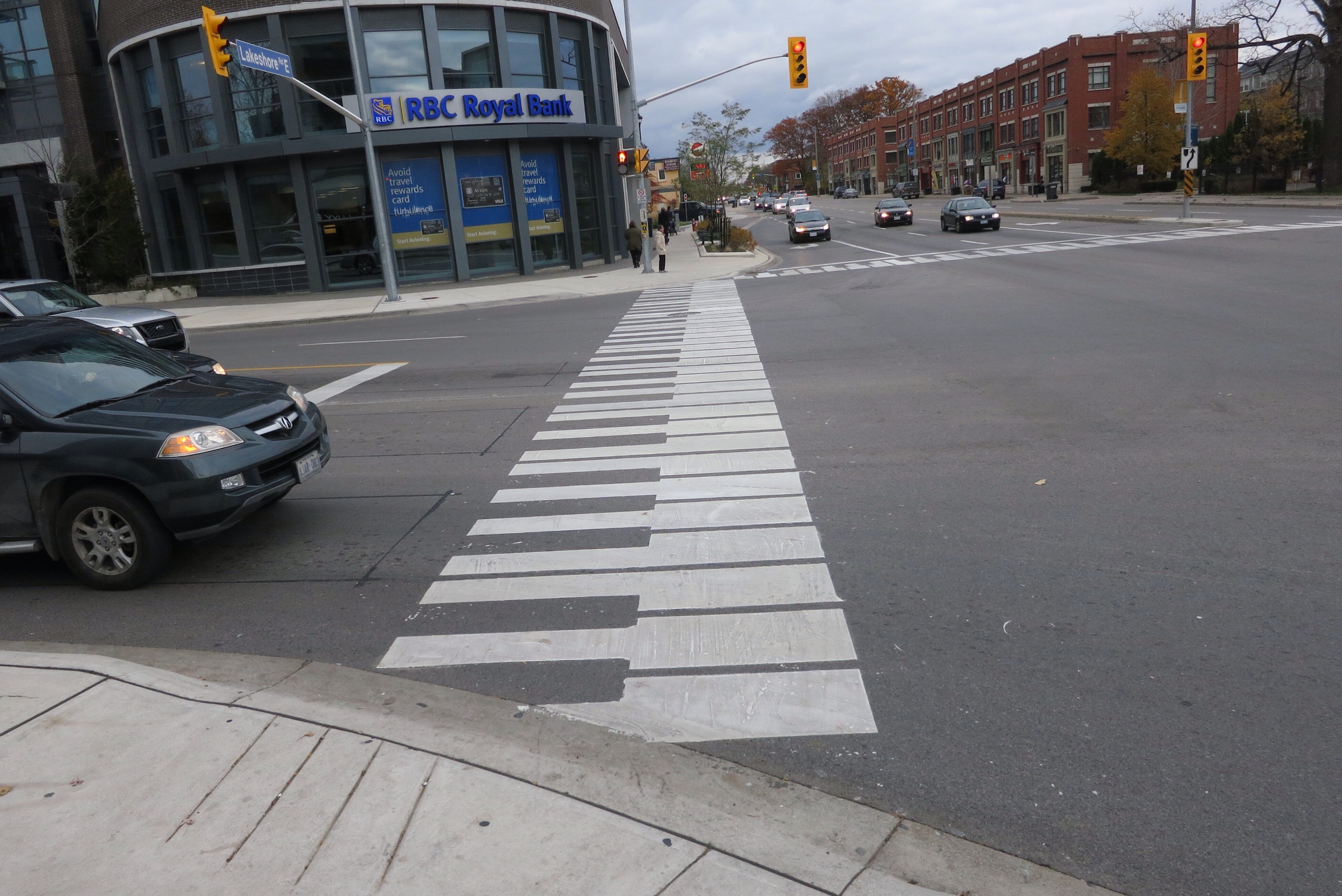 I met Fiona at the motel and once we were settled in we went out to a fine Greek restaurant, tucked away on Lakeshore Drive.
Tomorrow will be a special day, though not the last day. After going about six miles I will … well, that must wait for tomorrow's post. But it will be very special, so stay tuned!