I had my first mini-adventure today. But first a couple of pictures from earlier in the day. Is gas going down in price or is this just a Quick Chek loss leader?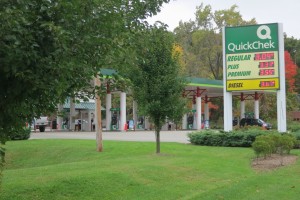 Tiny Hopatcong jail but crime must be on the increase — it seems they are adding on to it: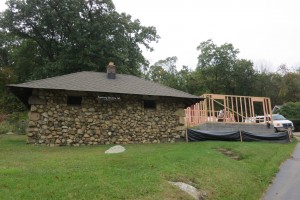 Roman ruins in Hopatcong?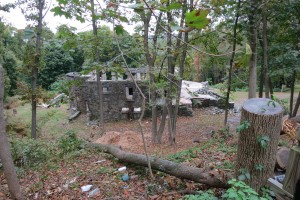 My mini-adventure started as I was walking along a twisty maze of roads just to the west of Lake Hopatcong. Here is a shot of the lovely setting: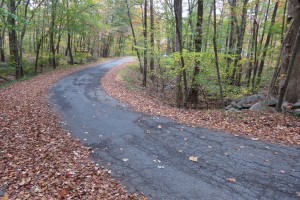 If you look at this little map segment you will see that Brooklyn Mountain Road enters a section about half way up the map where it's all by itself — no connecting roads until it hits County Road 605: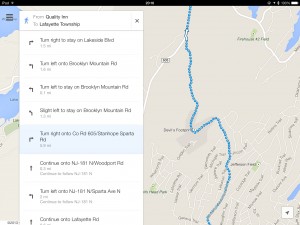 Well, it's not actually a road in that section; it's just a rocky path in the woods. This became apparent at the moment captured here — end of road marked by a row of big rocks: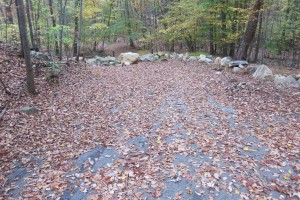 A quick glance at the road context here revealed to me that it would be a LONG way out of this twisty maze so I had to make a decision — chance a walk through the woods or lose a few miles backtracking. With some trepidation, I chose the former. Unfortunately Google Maps doesn't distinguish between a stroller (like me) and a stroller (like mine), because the path, though eminently walkable, was very stroller unfriendly.
It was pretty hairy getting through this section and the further I went the more I worried about reaching some barrier that would force me to go back. Three times I encountered trees across the path and had to carry the tote and stroller independently around the blockage: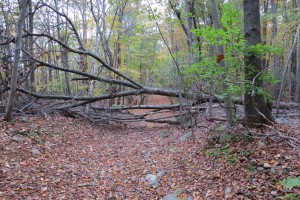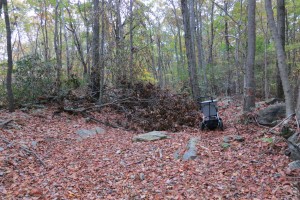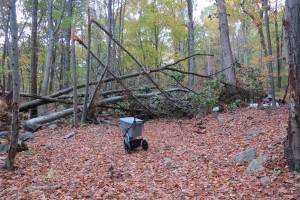 The point marked "Devil's Footprint" in the map above was this massive rock formation (with beer cans strewn about):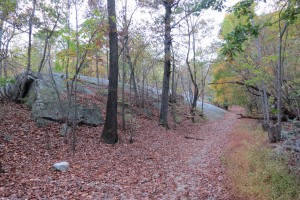 I was greatly relieved to make it out to the County Road; here is a shot showing the exit point: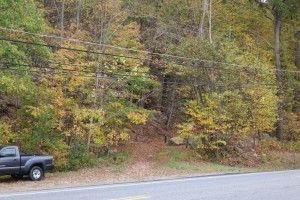 After that it was happy trails again; here is today's "enticing road" shot — note the nice smooth wide shoulders: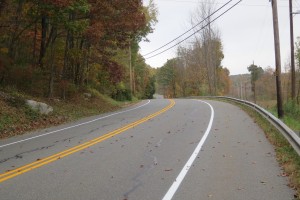 So does Sparta Township want guests or not?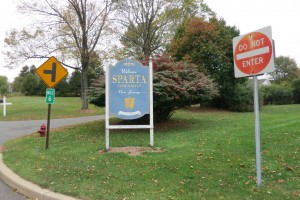 There were lots of moments of beauty like this leaf cluster and this pumpkin field: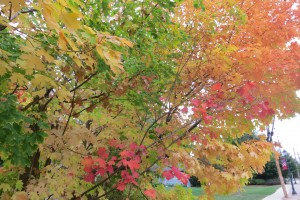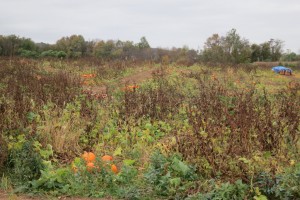 My goal for today was Lafayette. Chris and Christine have friends, David and Wen-Ling that live in Augusta. Chris contacted them and they graciously offered to put me up for the night. Augusta was a bit too far for me to go in one day so we agreed on Lafayette as a pick-up point. David will drop me back there tomorrow.
David and Wen-Ling live in a beautiful setting next to to the United Methodist Church in which he is the senior pastor. Here is his office, which is one of the very few remaining octagonal (formerly) one-room schoolhouses in New Jersey: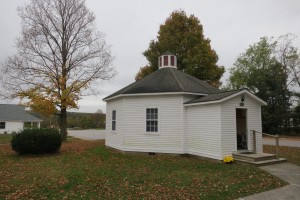 They had to make a trip to Lebanon, New Jersey this evening, but they very graciously let me stay here at their home while they were out. David has also arranged for me to stay in the parsonage of the second of the two churches he pastors, conveniently about 14 miles from where he picked me up earlier today! Before leaving tomorrow morning, a chiropractor friend of David and Wen-Ling has offered to give me a free adjustment. This may well help in the days to come.
I'm going to cross the Delaware the day after tomorrow at Milford rather than my previous plan of Dingman's Ferry. David did a little research and found out that due to the narrowness of the bridge at Dingman's Ferry, pedestrians are not allowed. We tried to make up some schemes for going really early in the morning, or David giving me a lift across the bridge (only a little cheating!), but abandonded those in favor of the altogether better plan of Milford.
The Trail's End campground in Pennsylvania is conveniently about 14 miles from tomorrow night's stay so I will head there on Sunday.
I end with this photo of David and Wen-Ling, salt of the earth: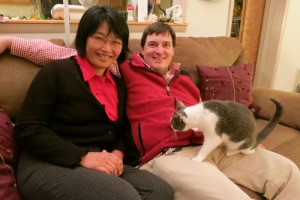 Total distance for Day 3: 17.34 miles (2.32 miles "in the bank" so far!)