For a couple of days now there has been rain predicted for today and since I have been essentially rain-free so far I was dreading it a little. In fact, if it was bad enough I was prepared to hunker down for a while (and thankfully Rich and Beth would have graciously let me do so at their home). But when it came to it I decided that I would make some progress regardless of the rain. So here's how I prepared myself (notice that it was still dark when we left):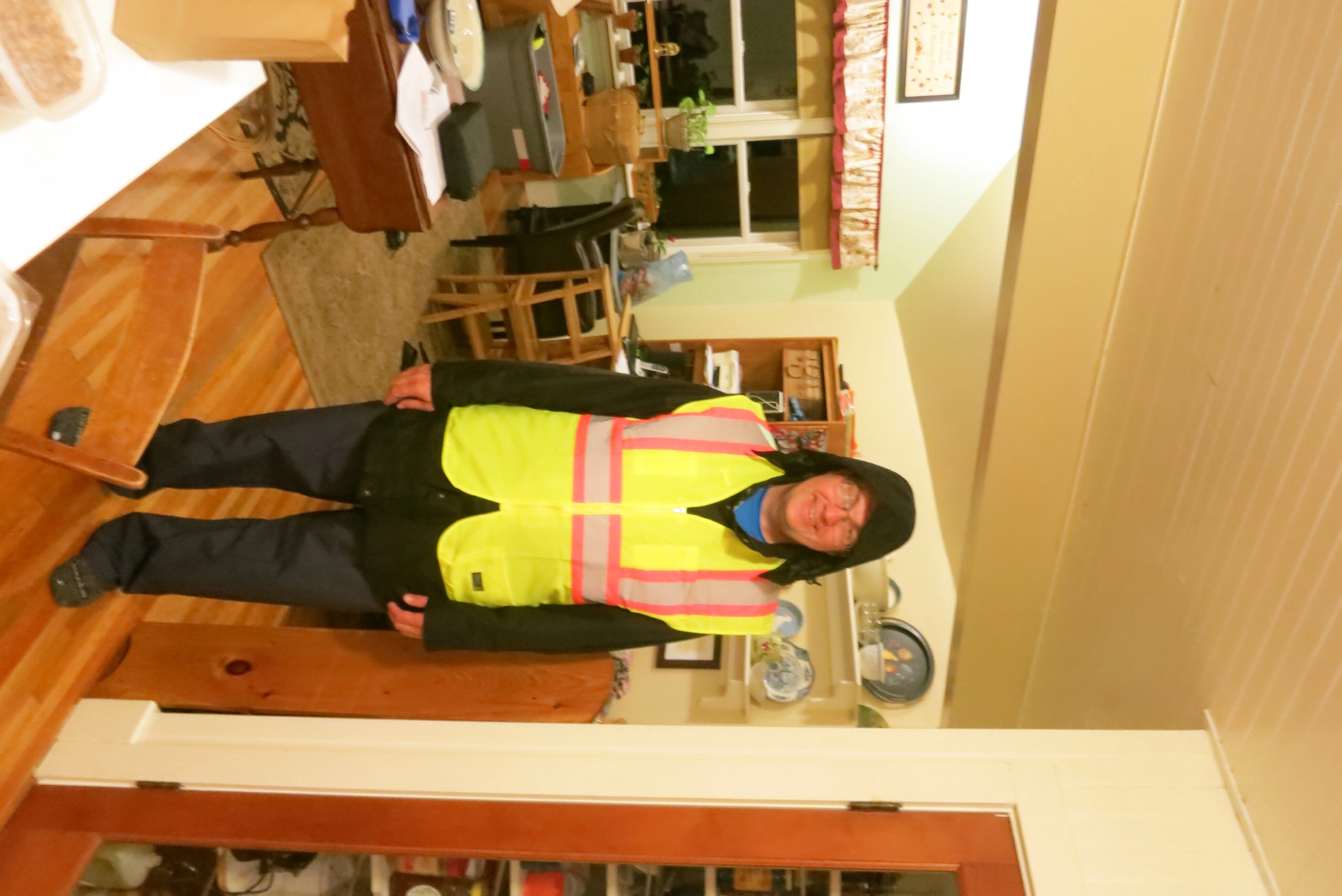 I have a shell on top with two layers underneath and rain pants over my pants. Here's what it looked like as I got started: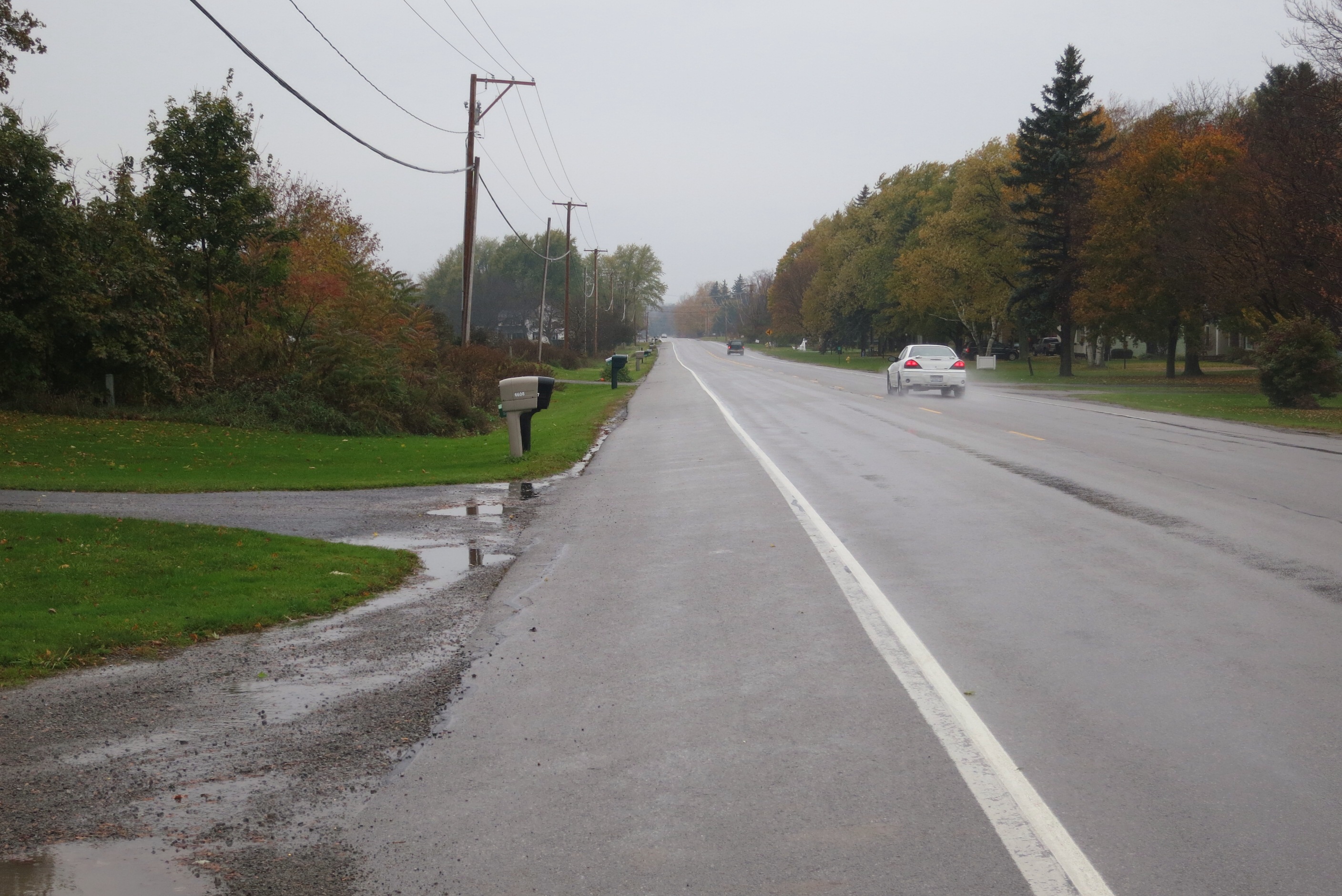 It wasn't raining very hard and the wind was blowing from my left so that the spray from cars wasn't hitting me.
Here's some Halloween humor: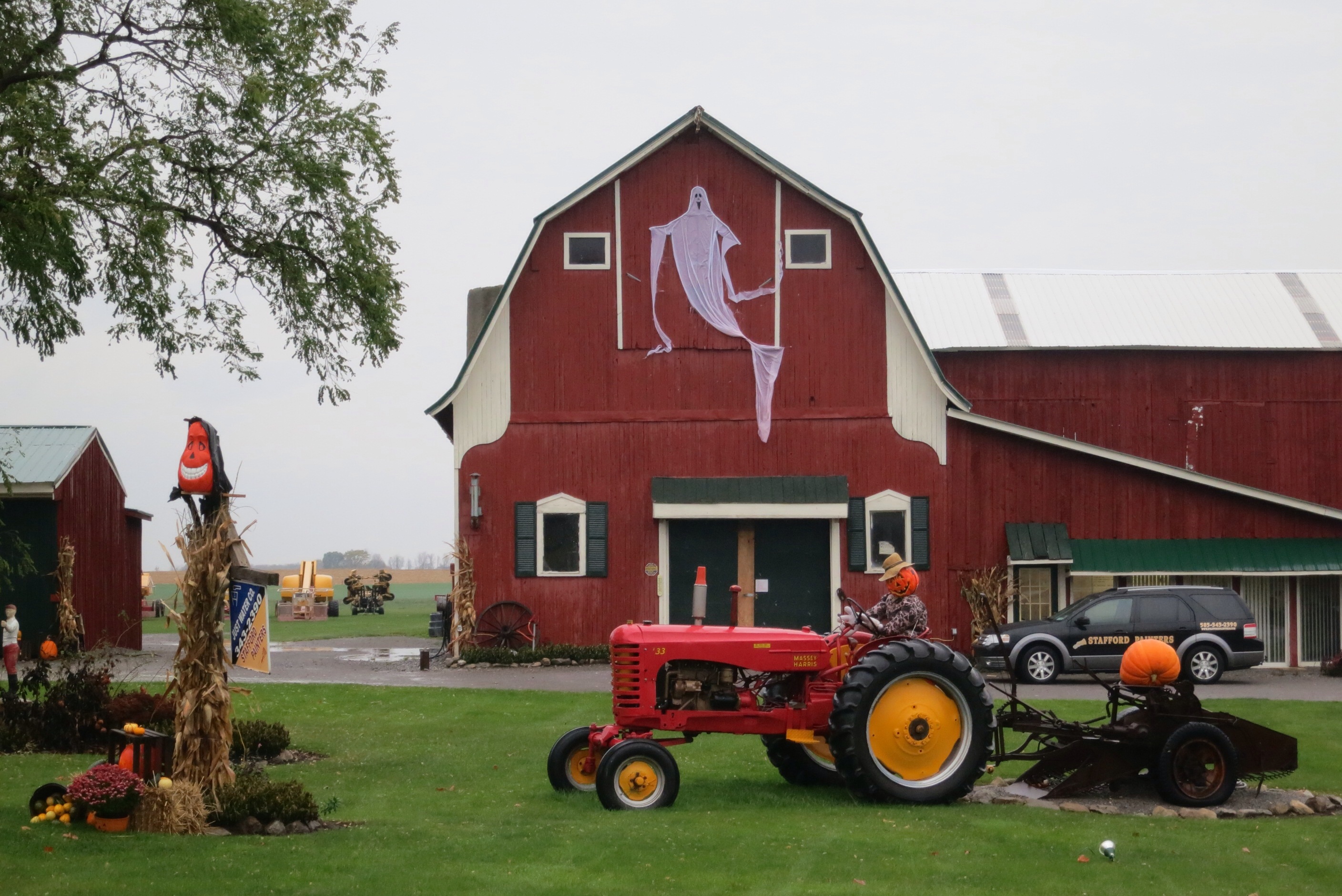 A little stream as I was coming into the minuscule town of Stafford: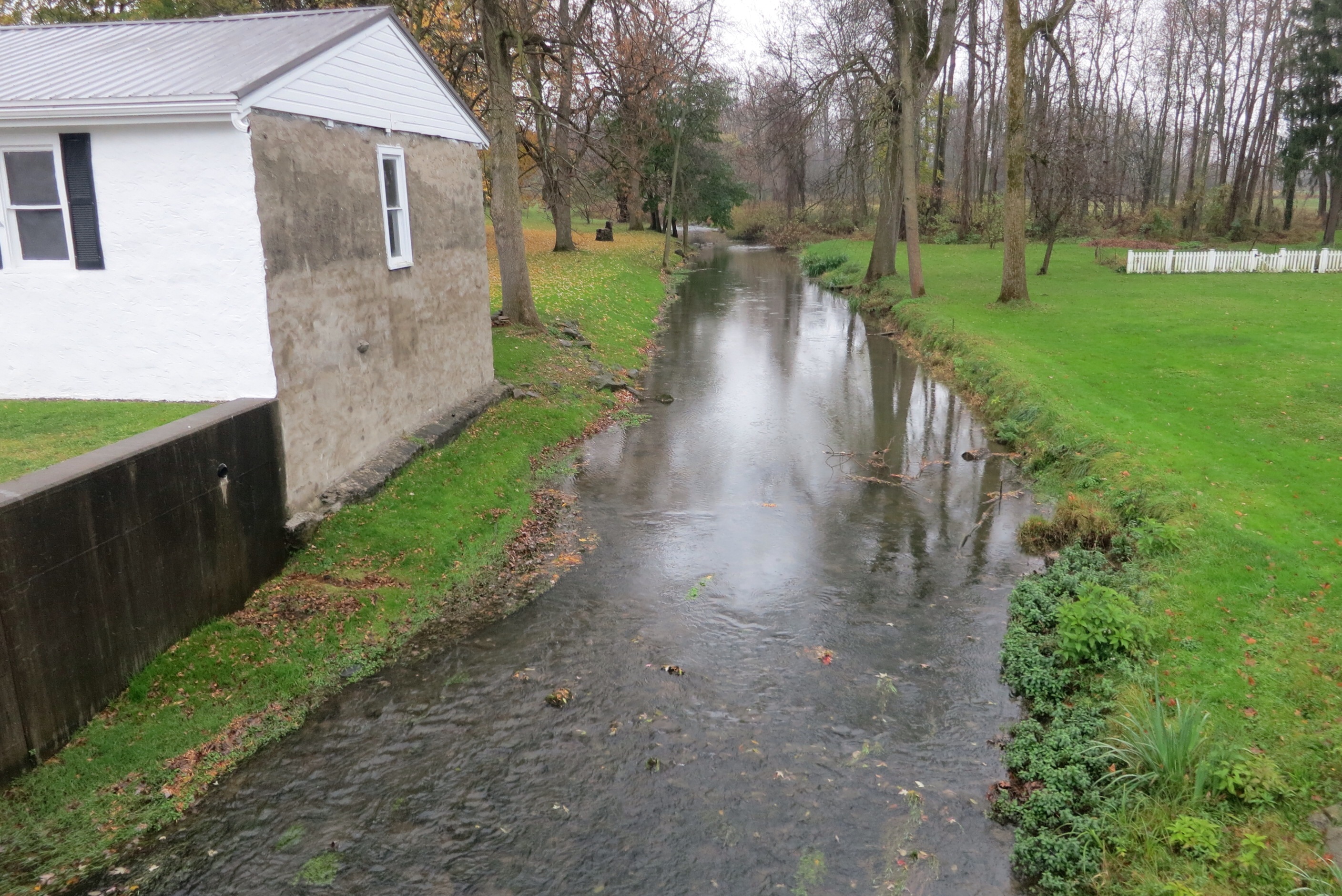 but presumably the Stafford volunteer firepersons serve more than their little town: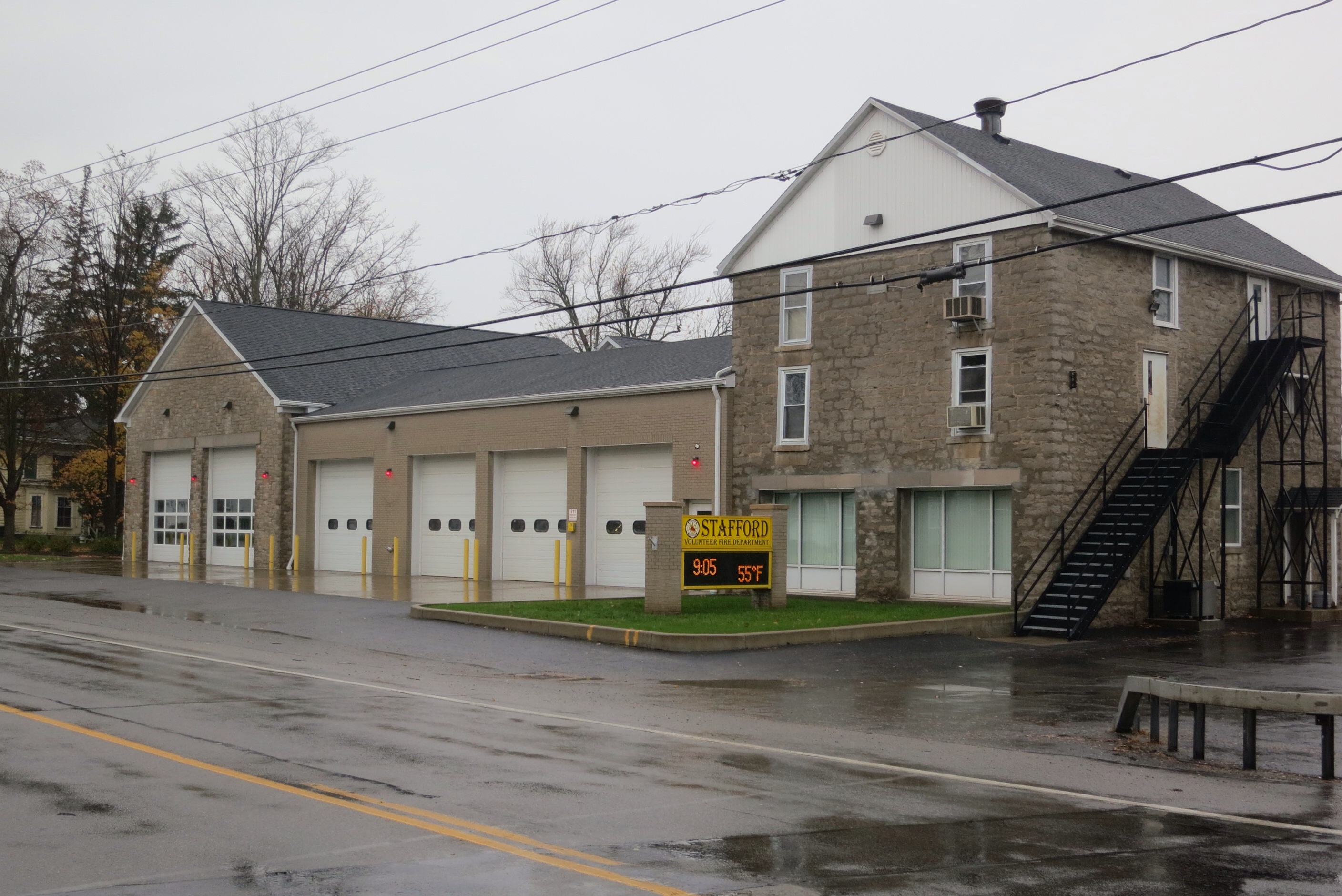 Notice by the way that according to the Stafford Fire Department, the temperature at that point was 55. I was sweating in my rain gear.
Here's a spot that I stopped under a tree to update my location and turned out to be worthy of a picture: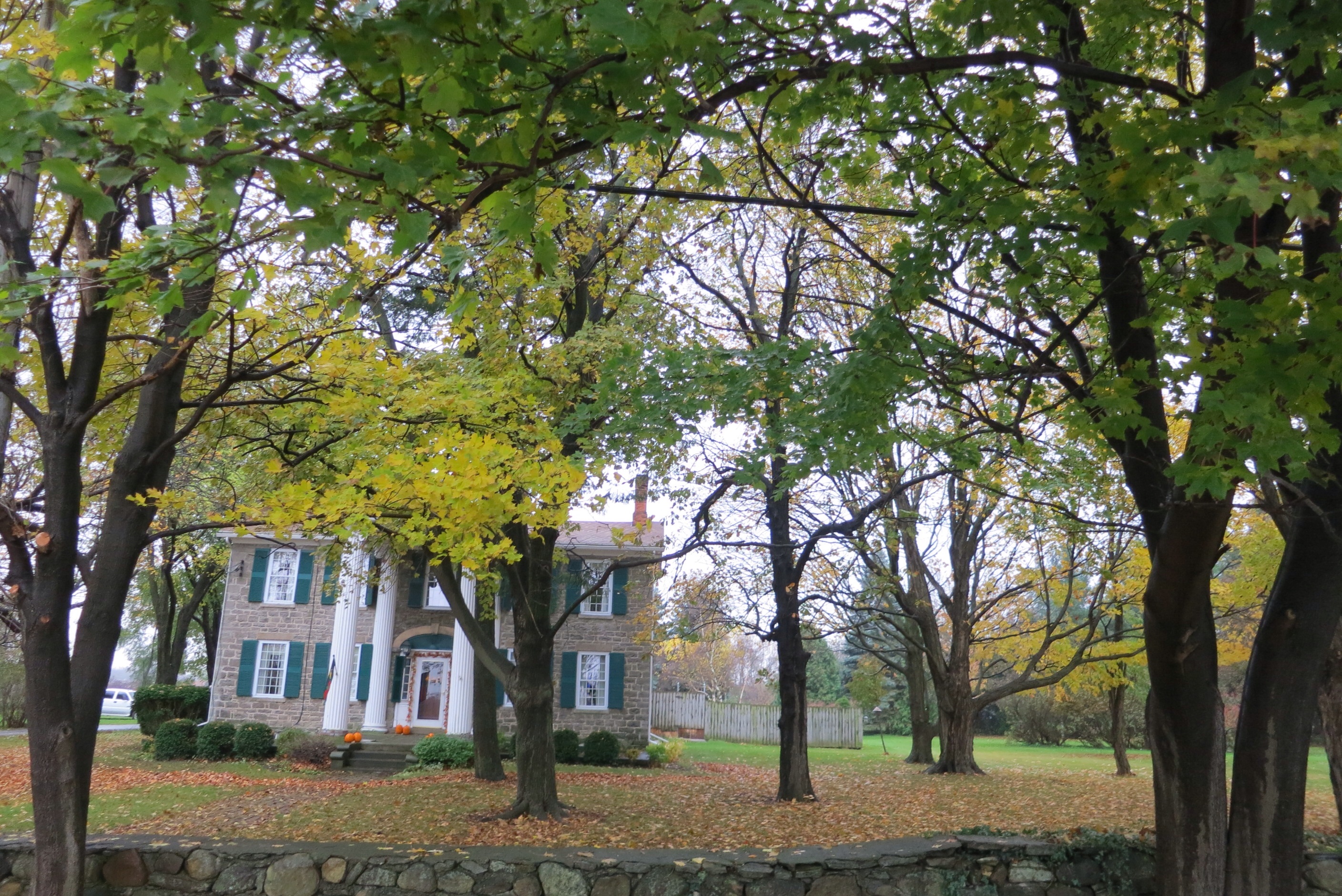 Kreative Spelling Kitchen & Bath: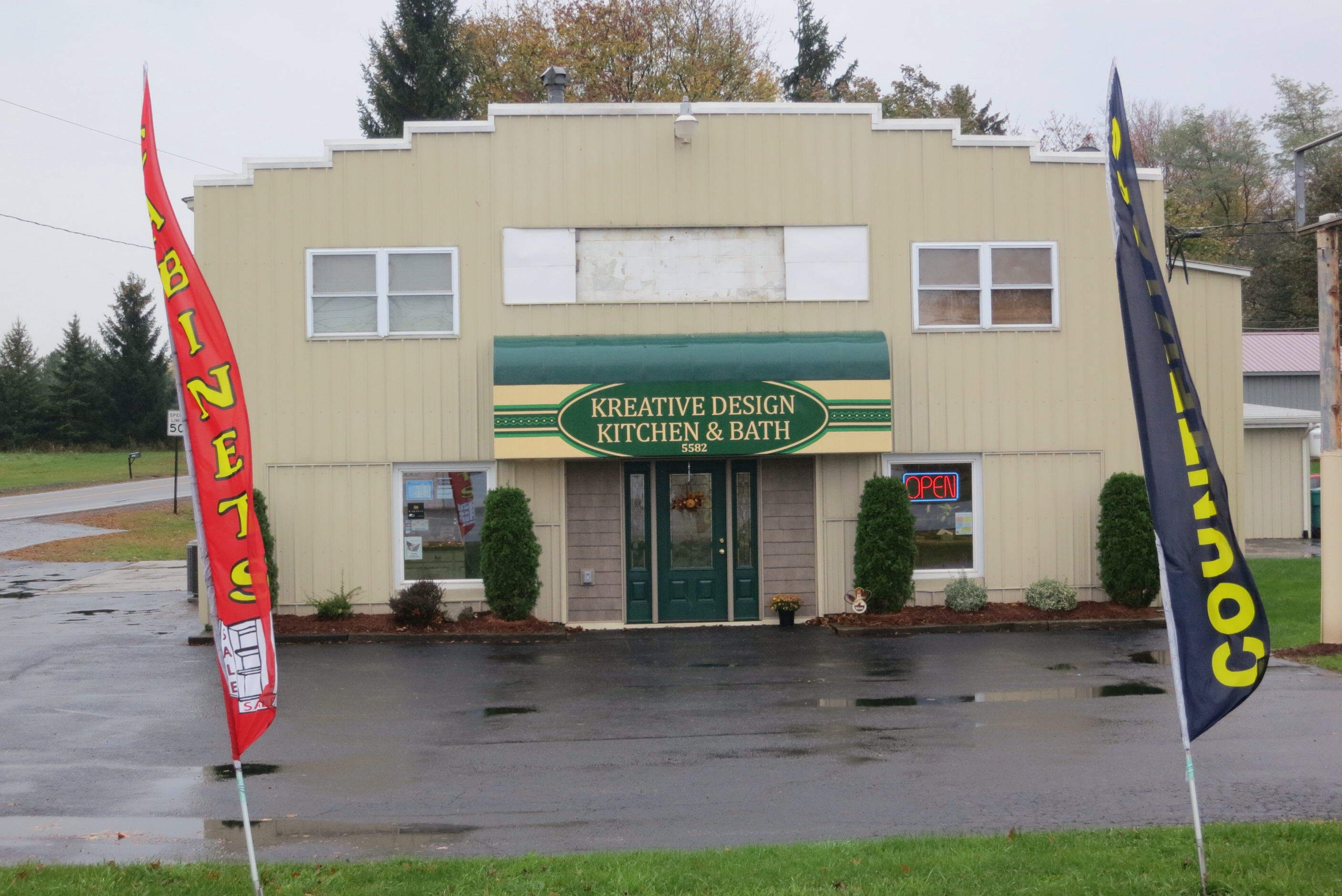 Hardcor Spelling: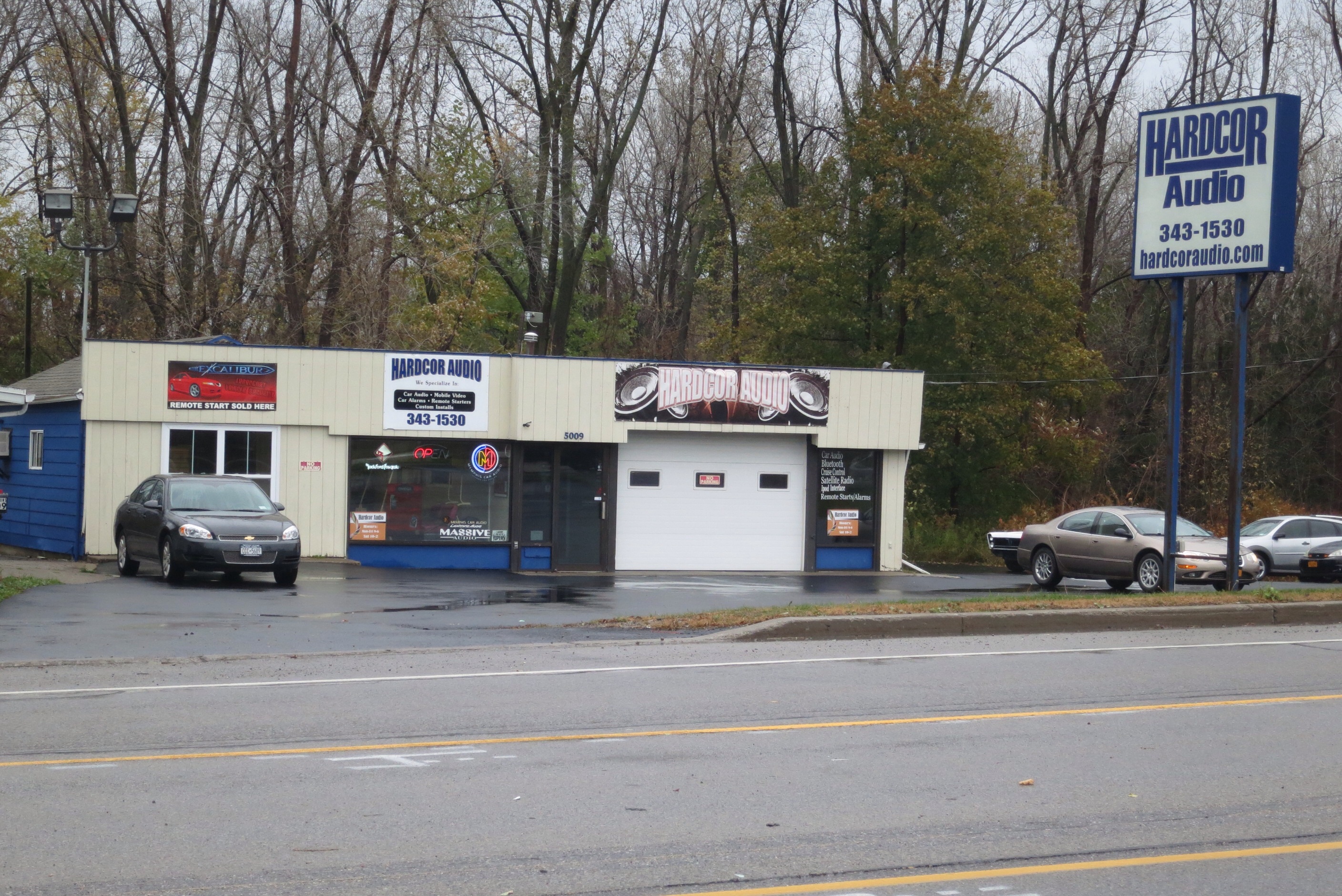 Start of a long stretch of sidewalk in Batavia — nice:
Birthplace of western NY — hmmmm: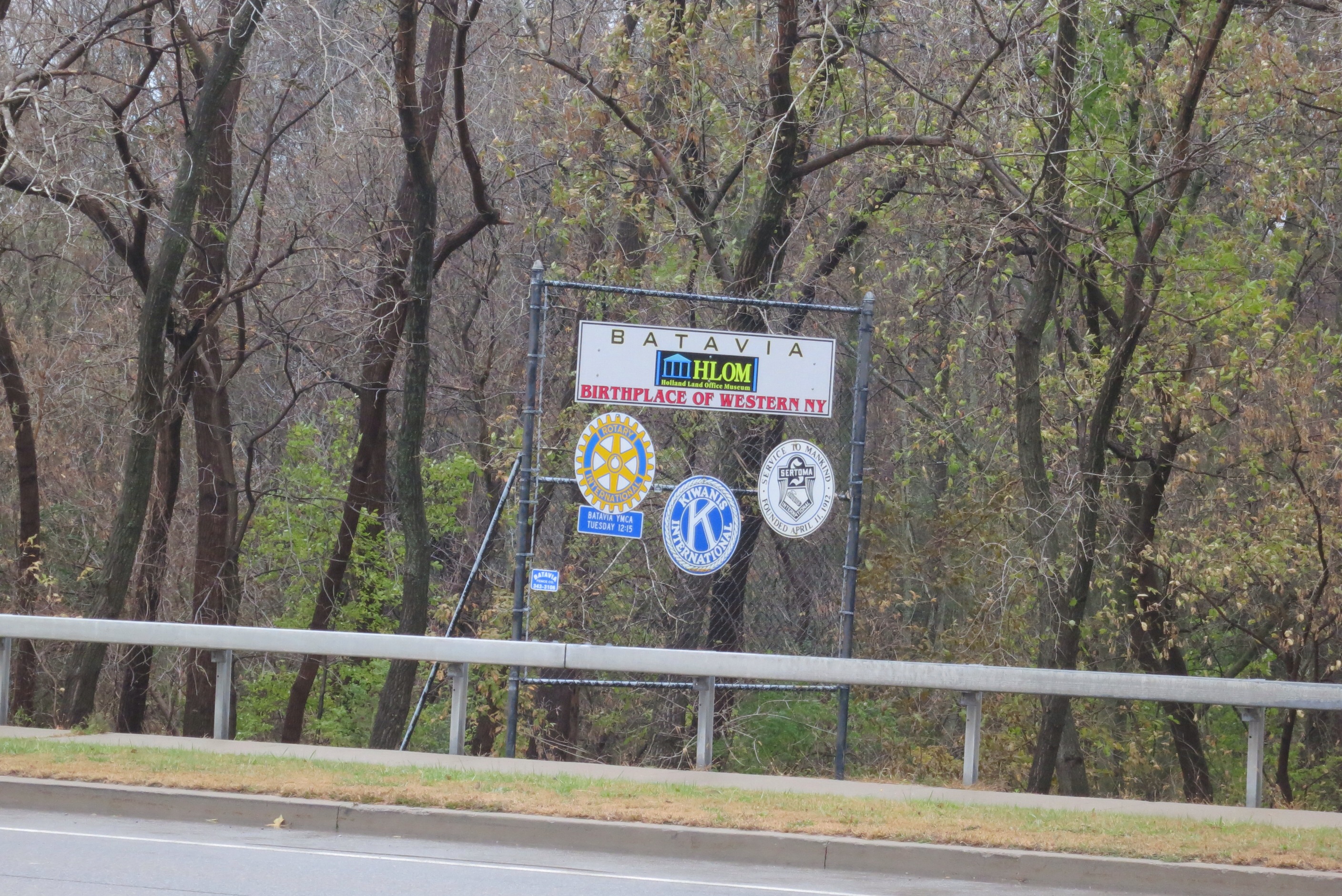 If I hadn't recently got some money out of the bank, I would have stopped here. Think of the advantages: lighter money that isn't toxic!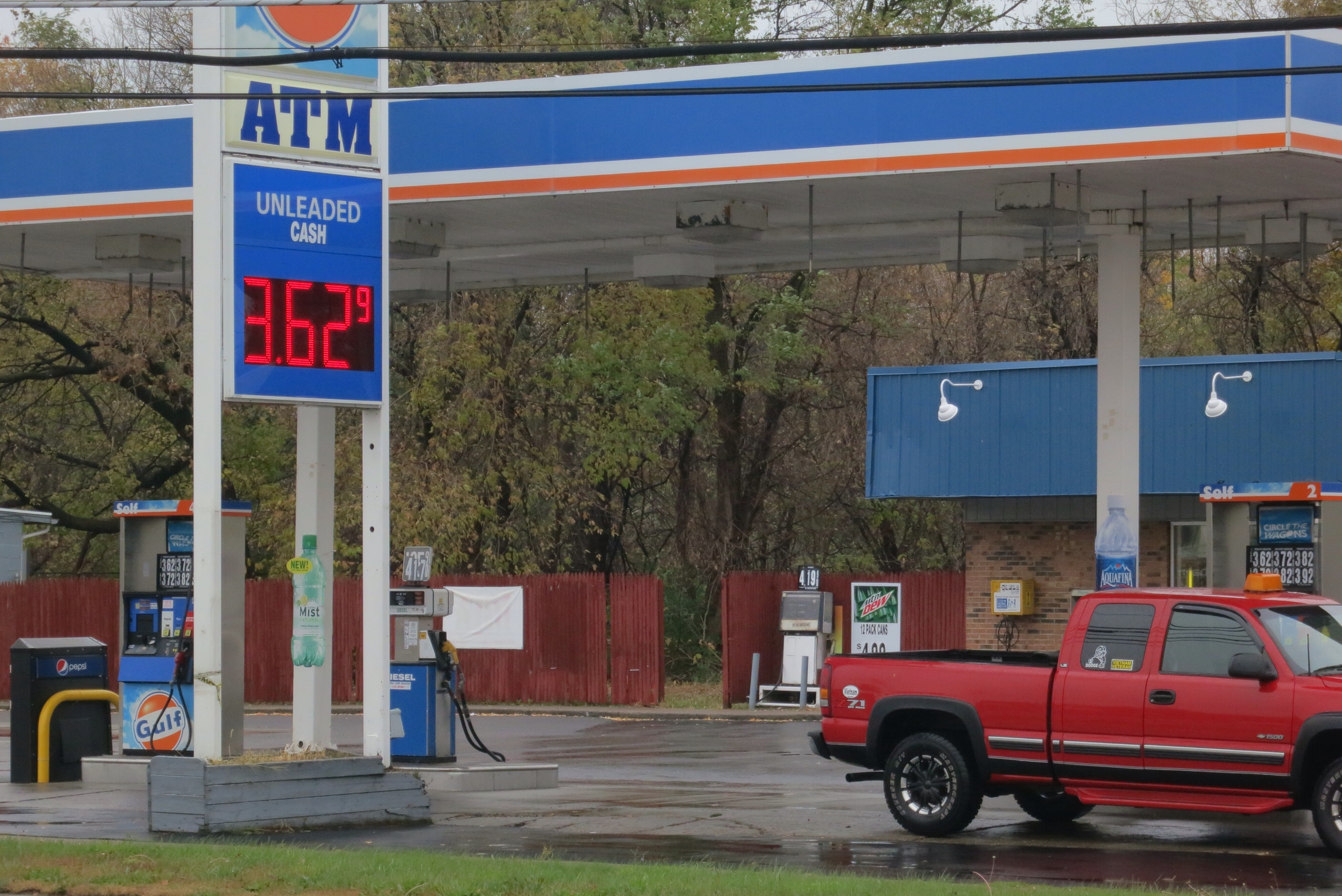 No need to move these monuments indoors at the end of the day; they wouldn't fit anyway: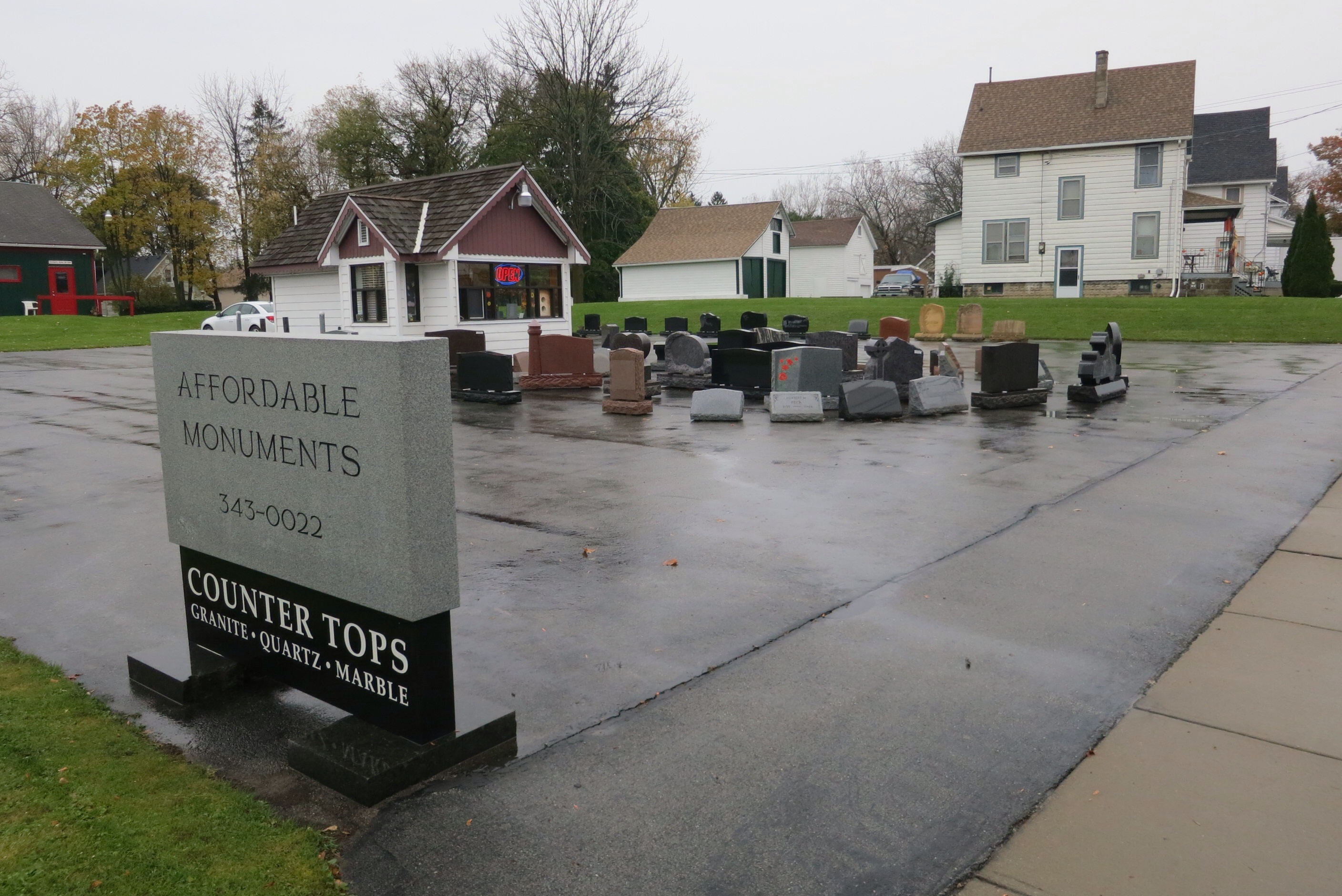 Rats, I should have got some of that unleaded cash out of the ATM machine — then I could have had one of those incredibly expensive ribeye melts: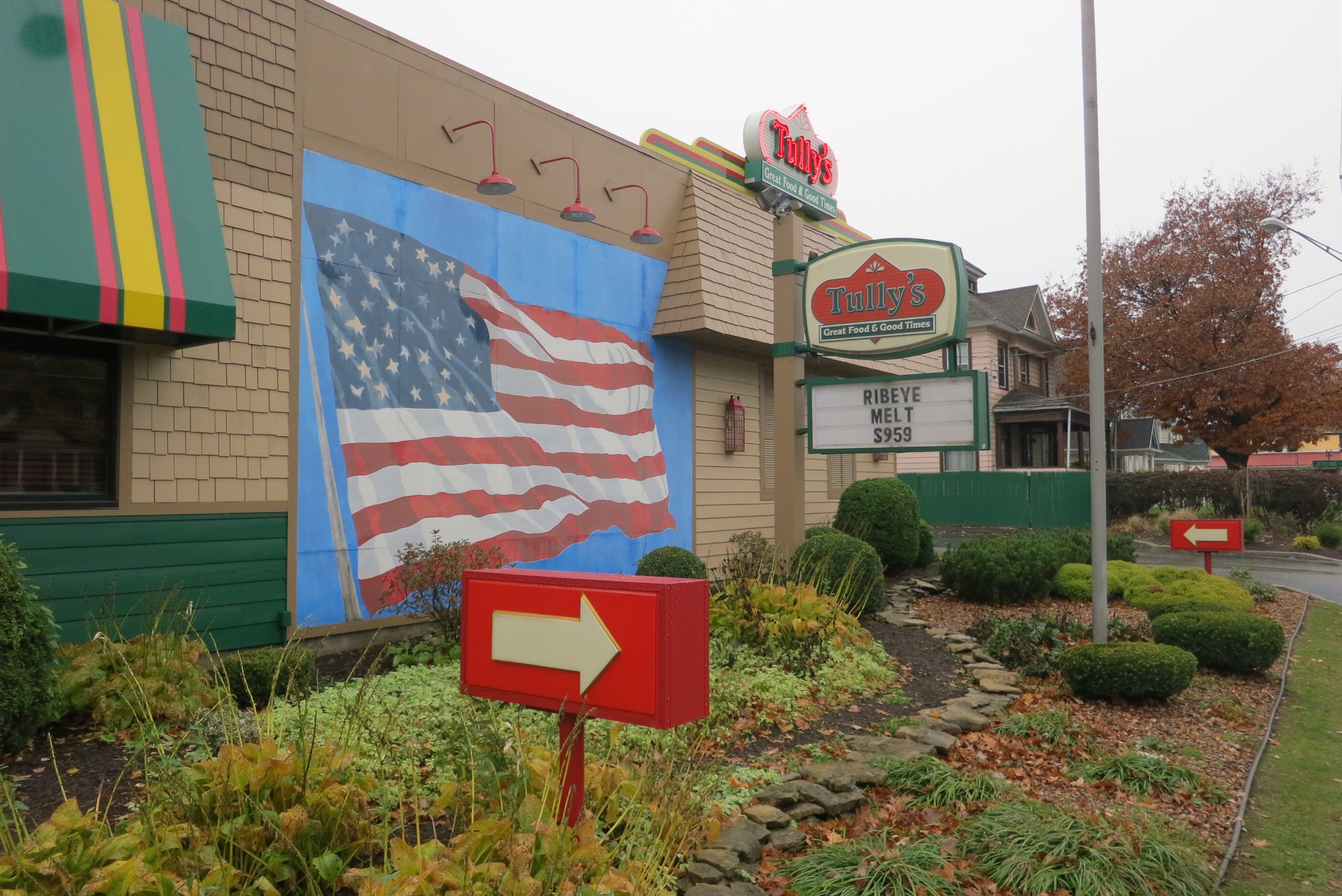 So I thought the App Store was only virtual — cool! And they are on sale!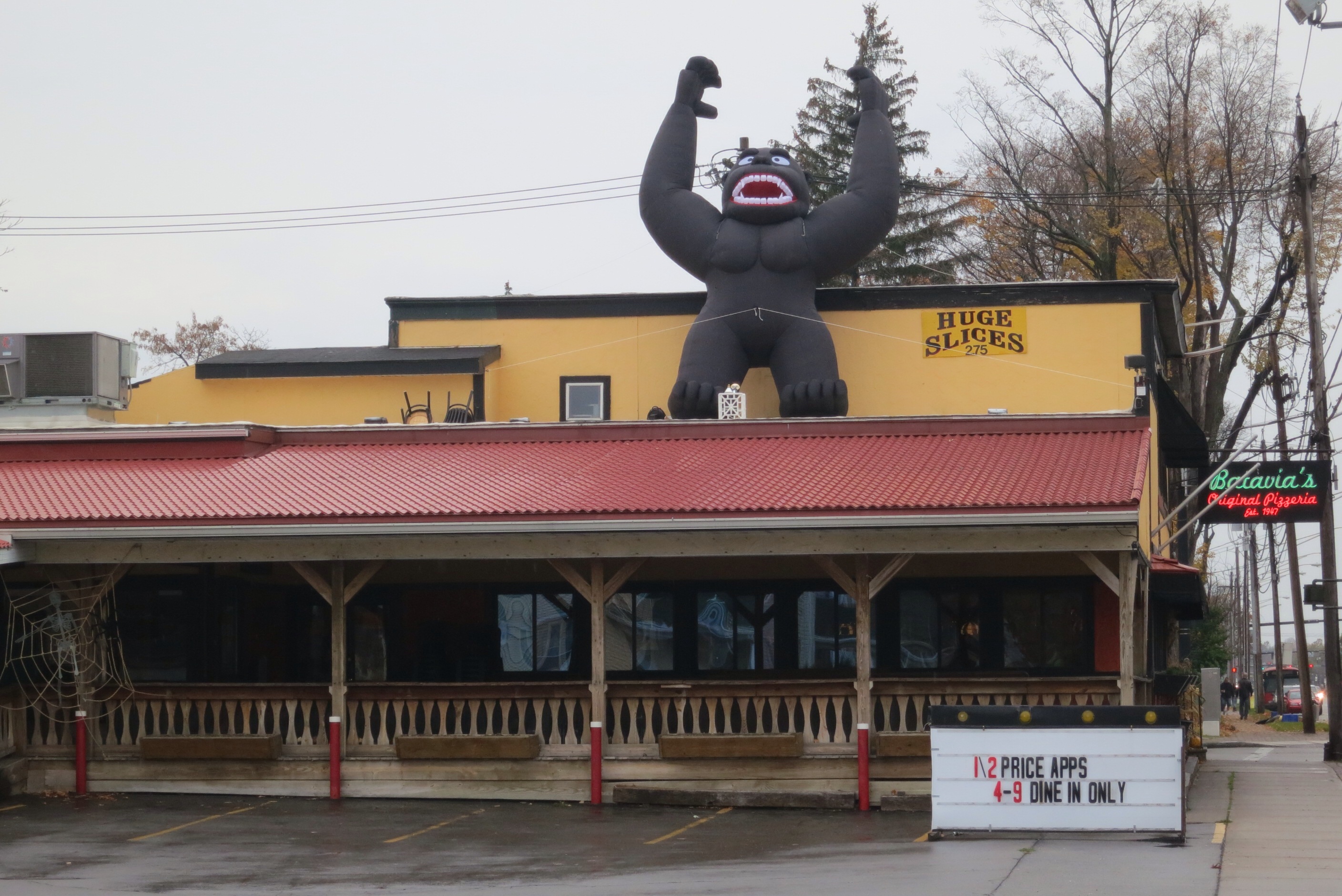 Google maps took me down this road and it looked at this point as if I would have to backtrack: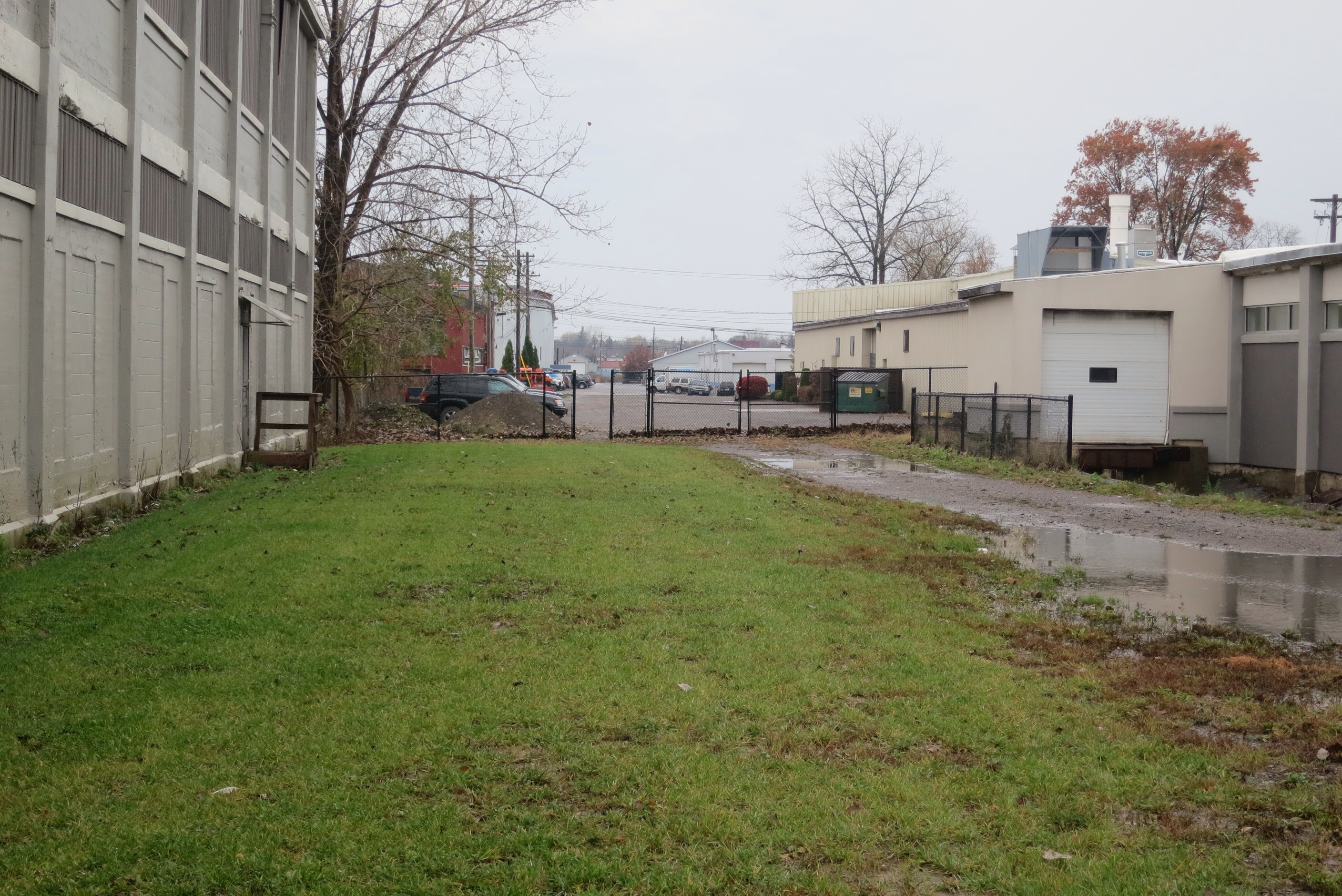 Well, if I had been driving I would have been out of luck, but …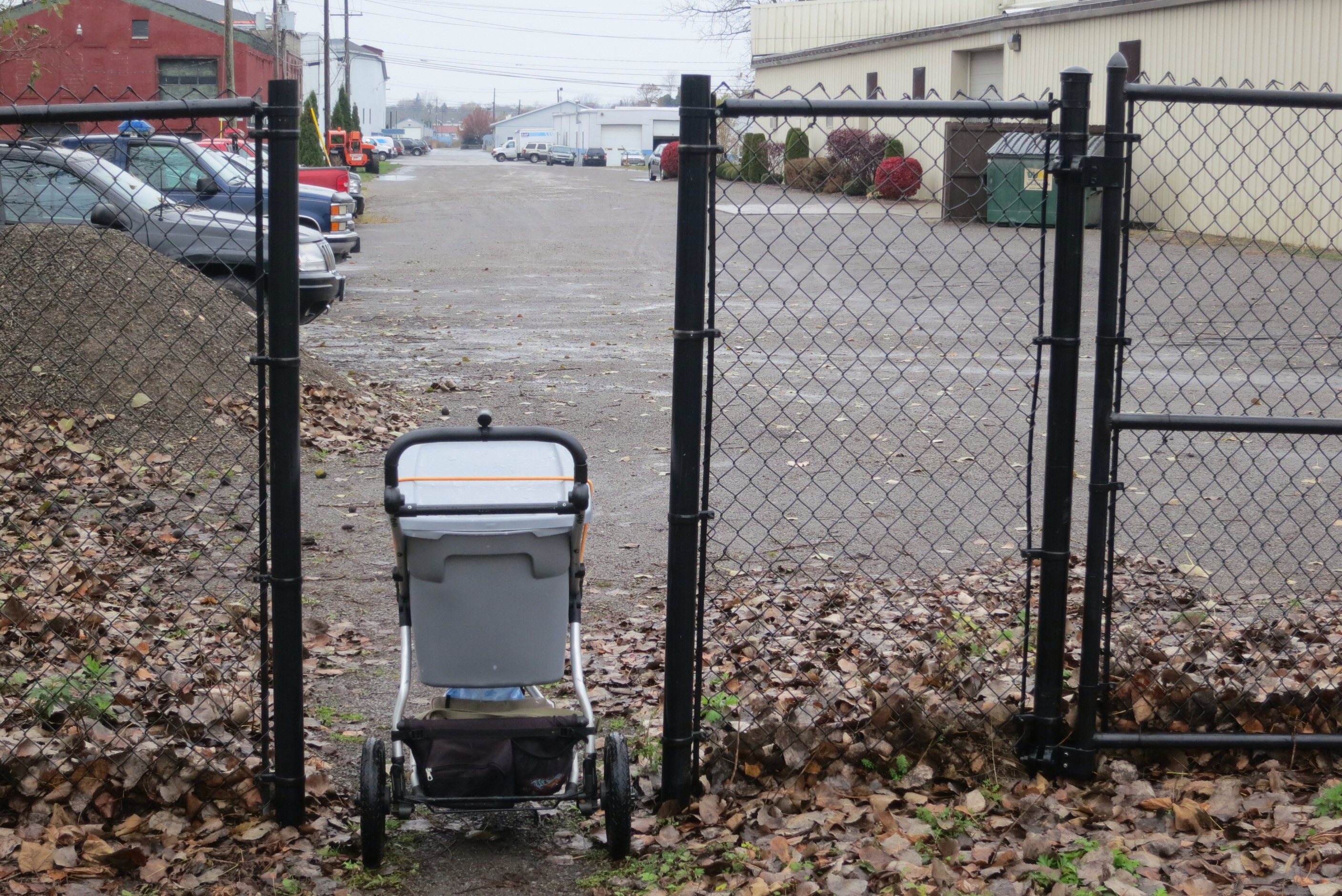 And so I arrived at the Pok-A-Dot diner in Batavia, a place Fiona and I pass every time we go to Toronto (and come home, of course).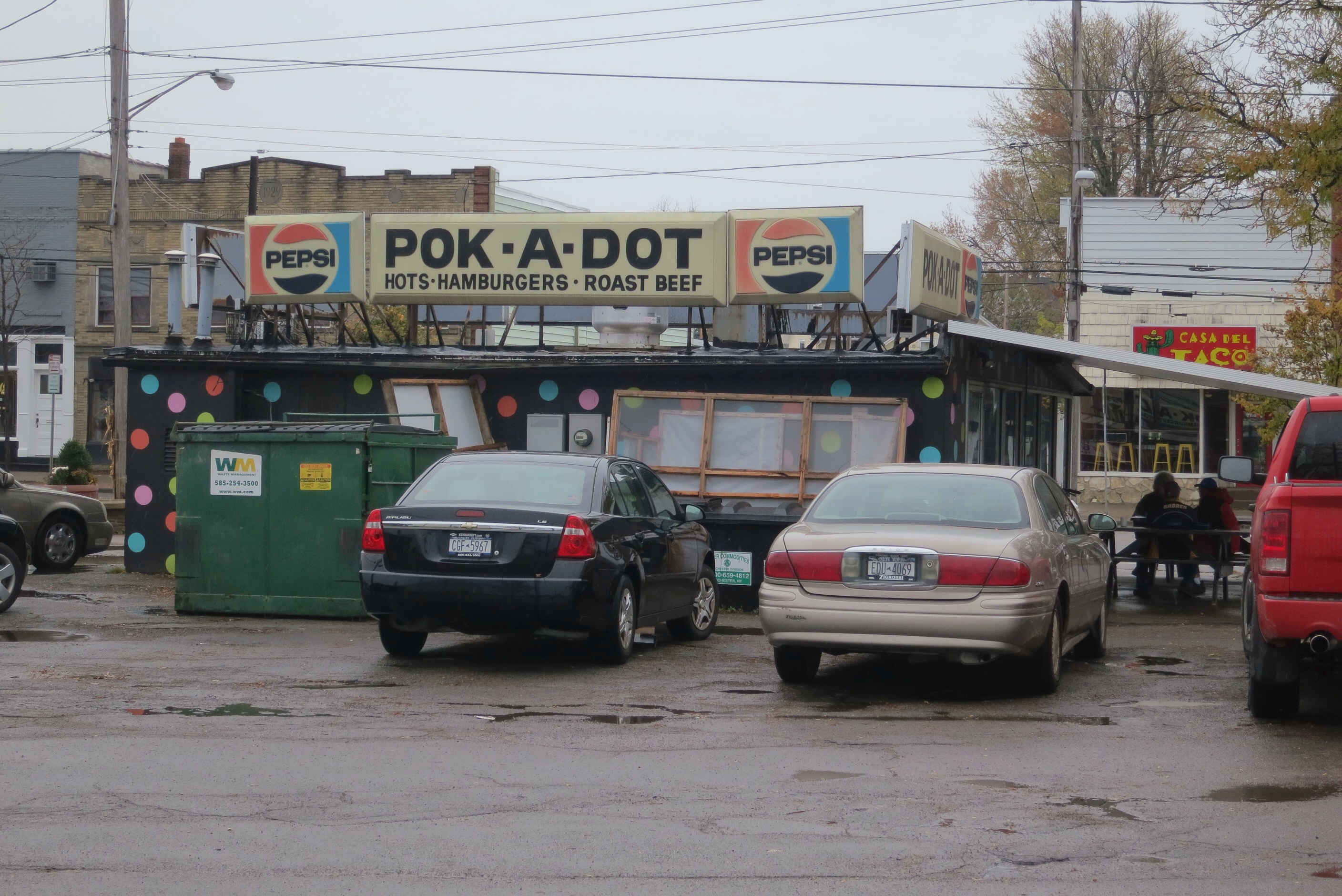 It's sits out on its own (I didn't really capture that in this photo) and looks like it was just thrown up. But in fact it's been there for 60 years and but for a little land dispute would be considered a historical site. It has been featured many times in the news. And it's just a tiny diner, but with great food and a dedicated local clientele. Here's a picture of the three women who so expertly managed the place while I was there: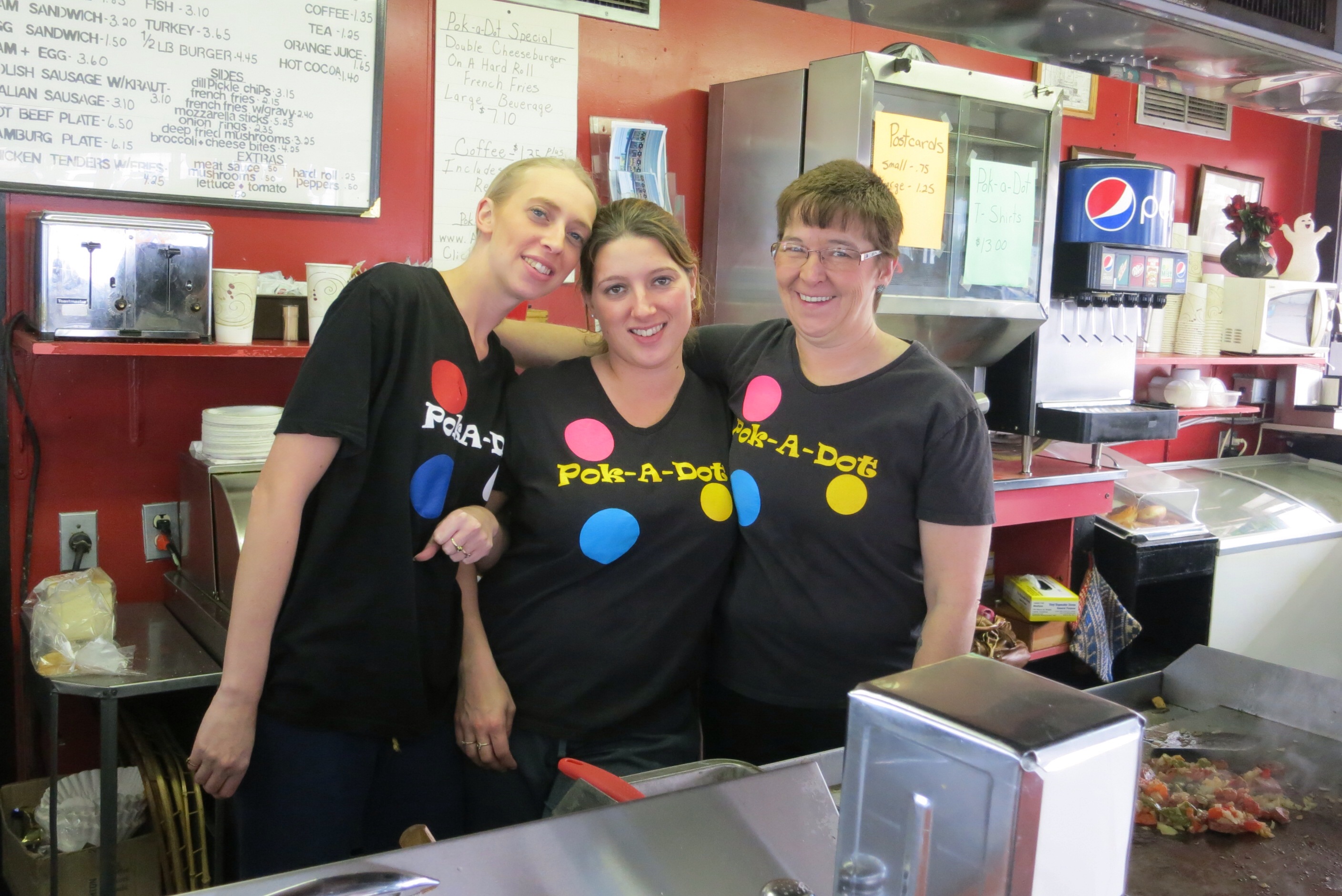 That's Nicole, Jenny and Joanne, from the left. Joanne says lots of people say they pass the place all the time but never go in, just like Fiona and me. So go there, if you are in Batavia — best local atmosphere I've experienced so far.
Next stop was just around the corner to see Michael at a bike shop — after fixing another flat last night I was losing air again. I brought two of the three wheels in (the ones I had had flats in so far) and just bought two new inner tubes. Michael also found a really tiny piece of something on the inside surface of one of the tires and removed it — it was hard even to see — and this may have been the cause of a few of my pinprick leaks — hard to say: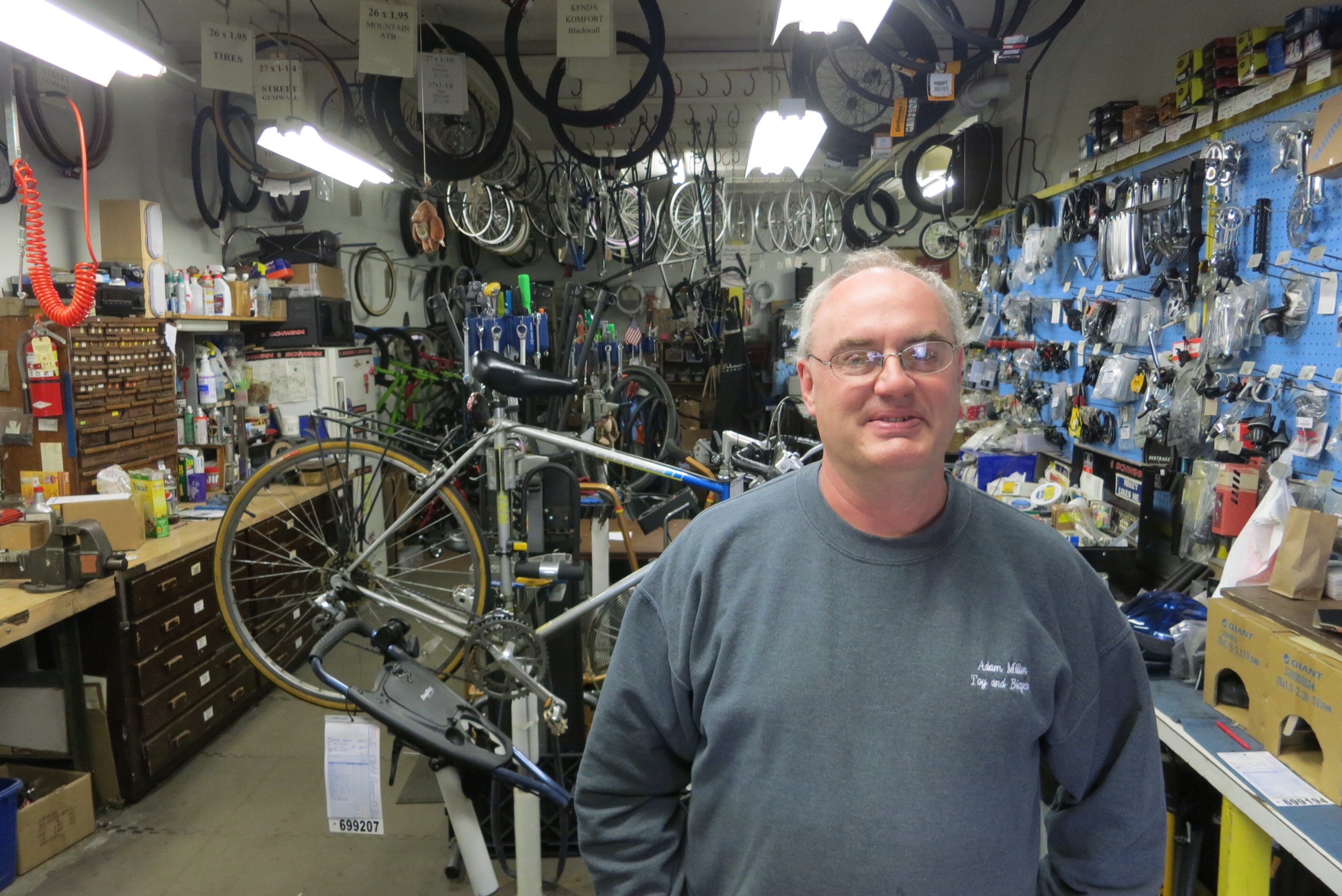 Stream on the way out of Batavia: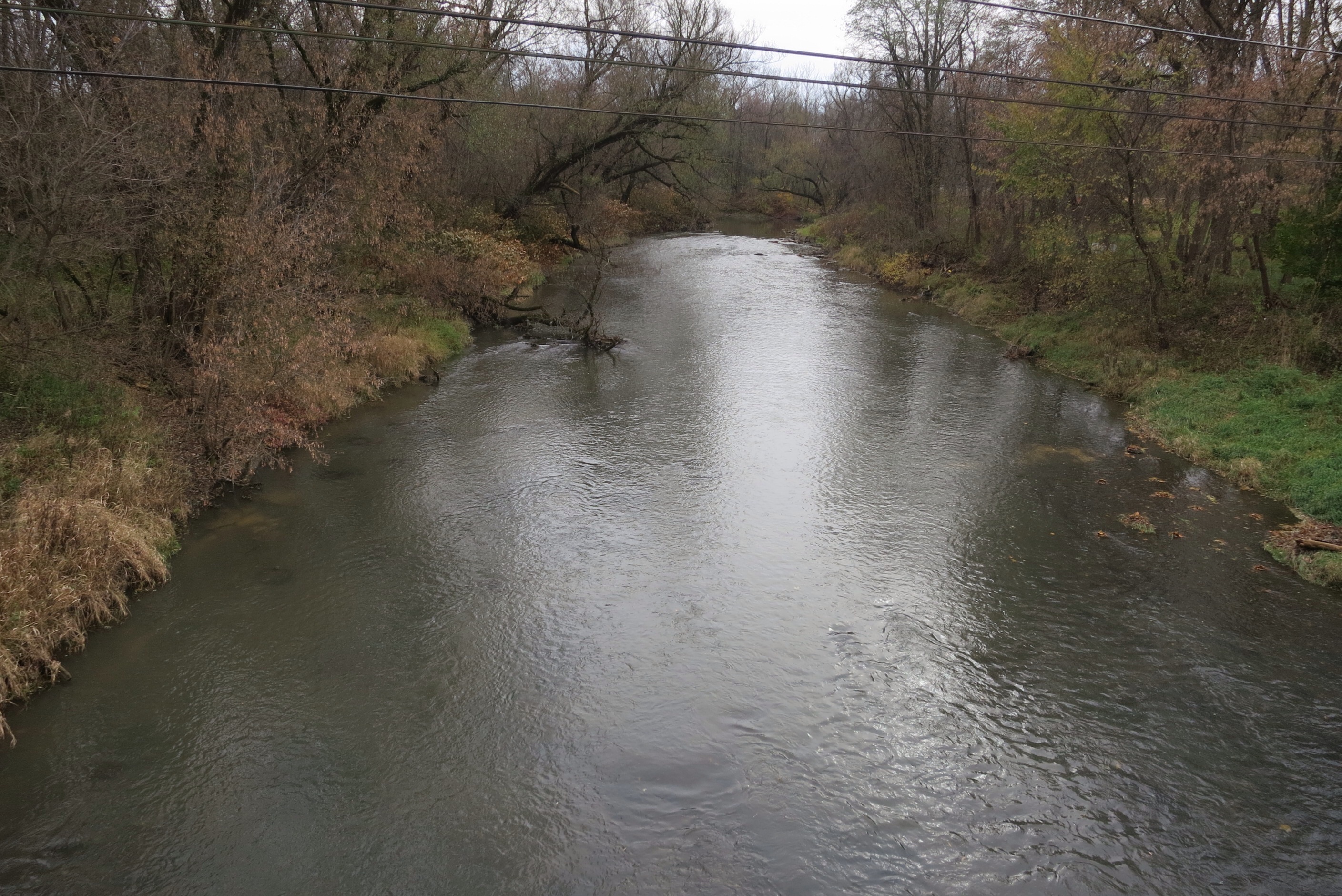 Notice that there are no drops on the water surface — it had stopped raining by this time and it was quite warm so I had just one layer on top, and no rain pants.
When we worked on those tires we noticed that one bit of one of the tire beads was damaged (this could have been from the first time I changed a flat). We pumped them to around 28, even though 20 is recommended (my idea), and here's what happened to that damaged bead: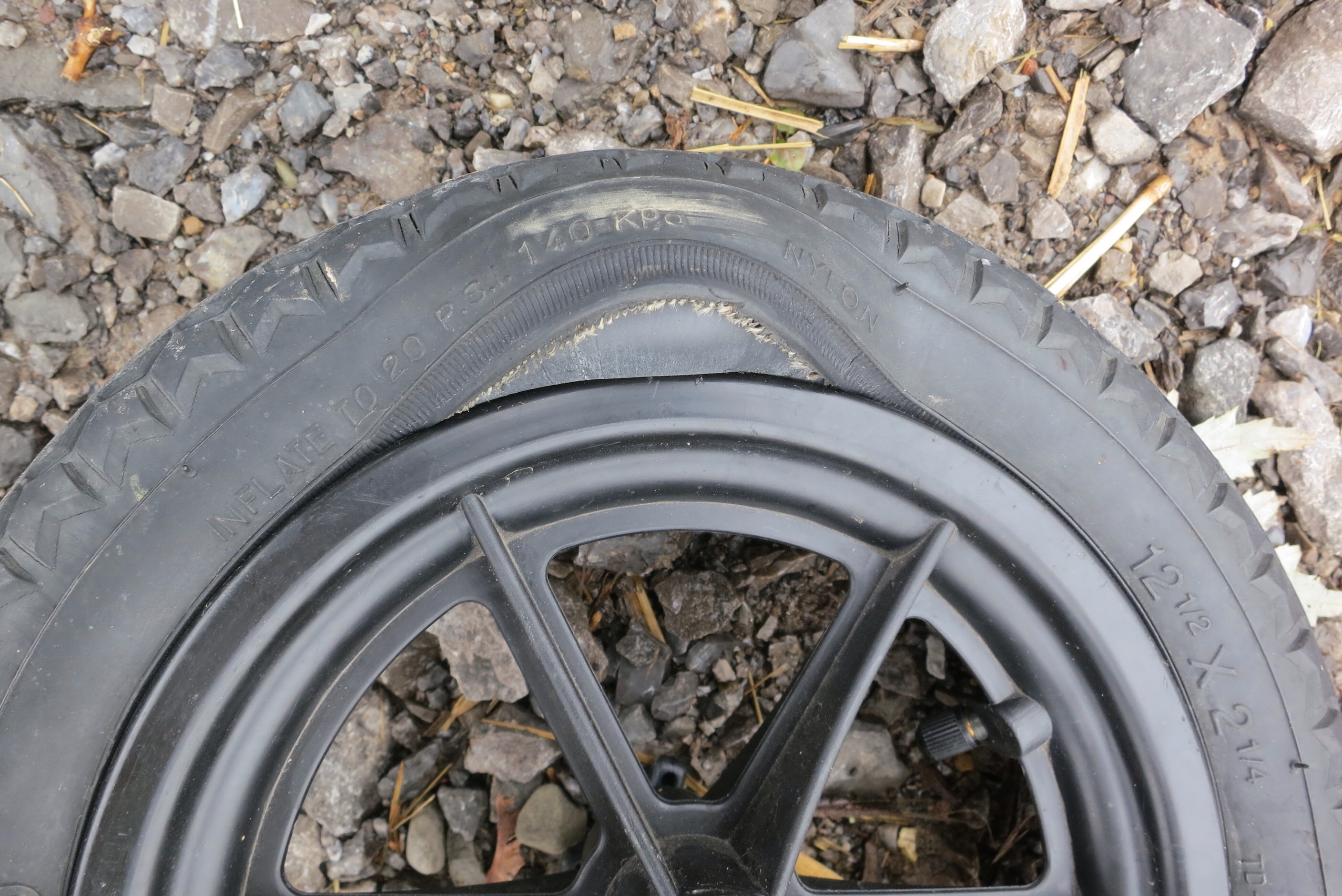 I let some air out, pushed the bead back in and re-inflated to 20. It seemed to be OK for the rest of the day. I should probably get a new tire; Michael didn't have one.
Trying to figure out what to do with those old bales of hay and CDs?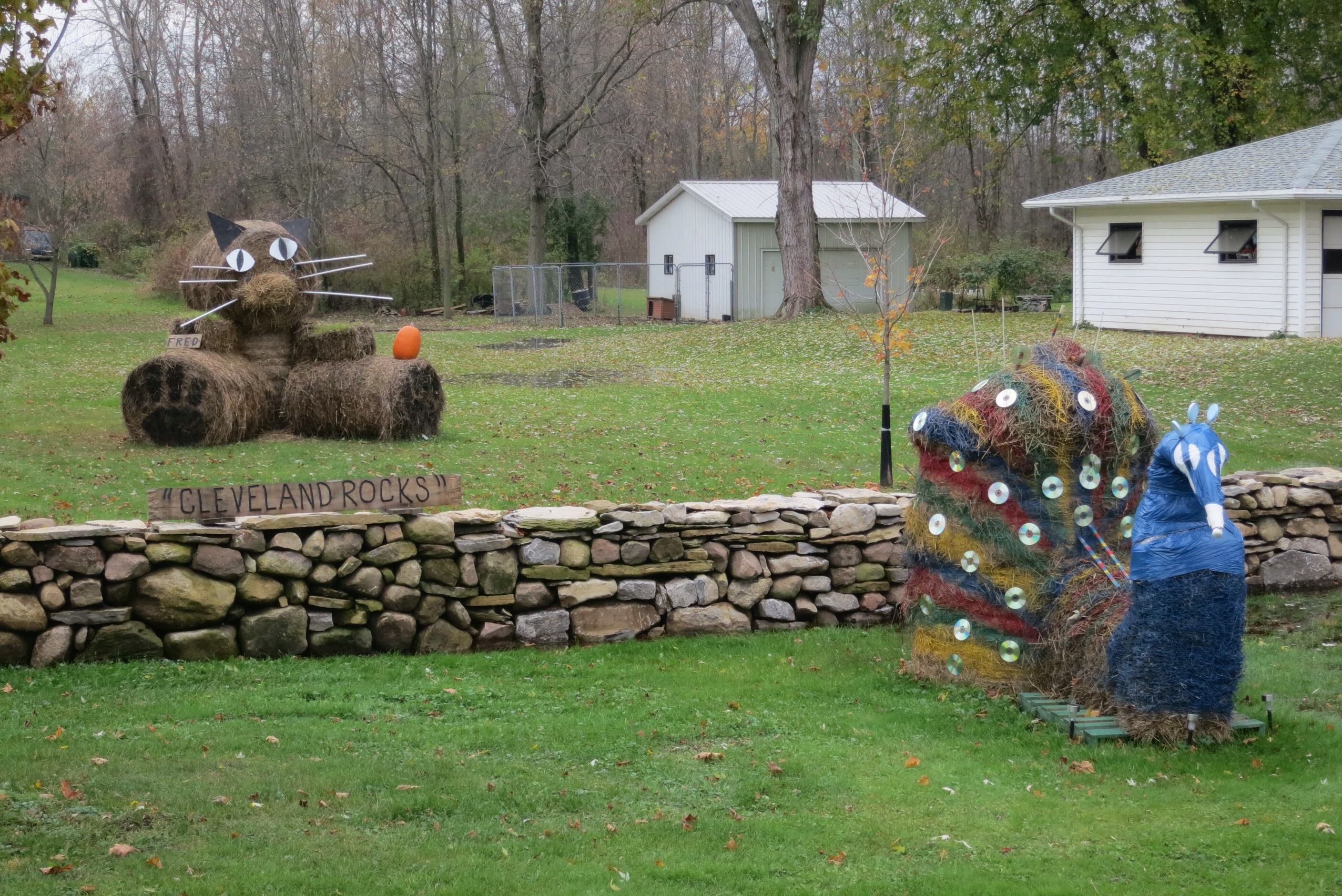 The scenery was much less dramatic than I've been experiencing up to now, and the rain certainly didn't help: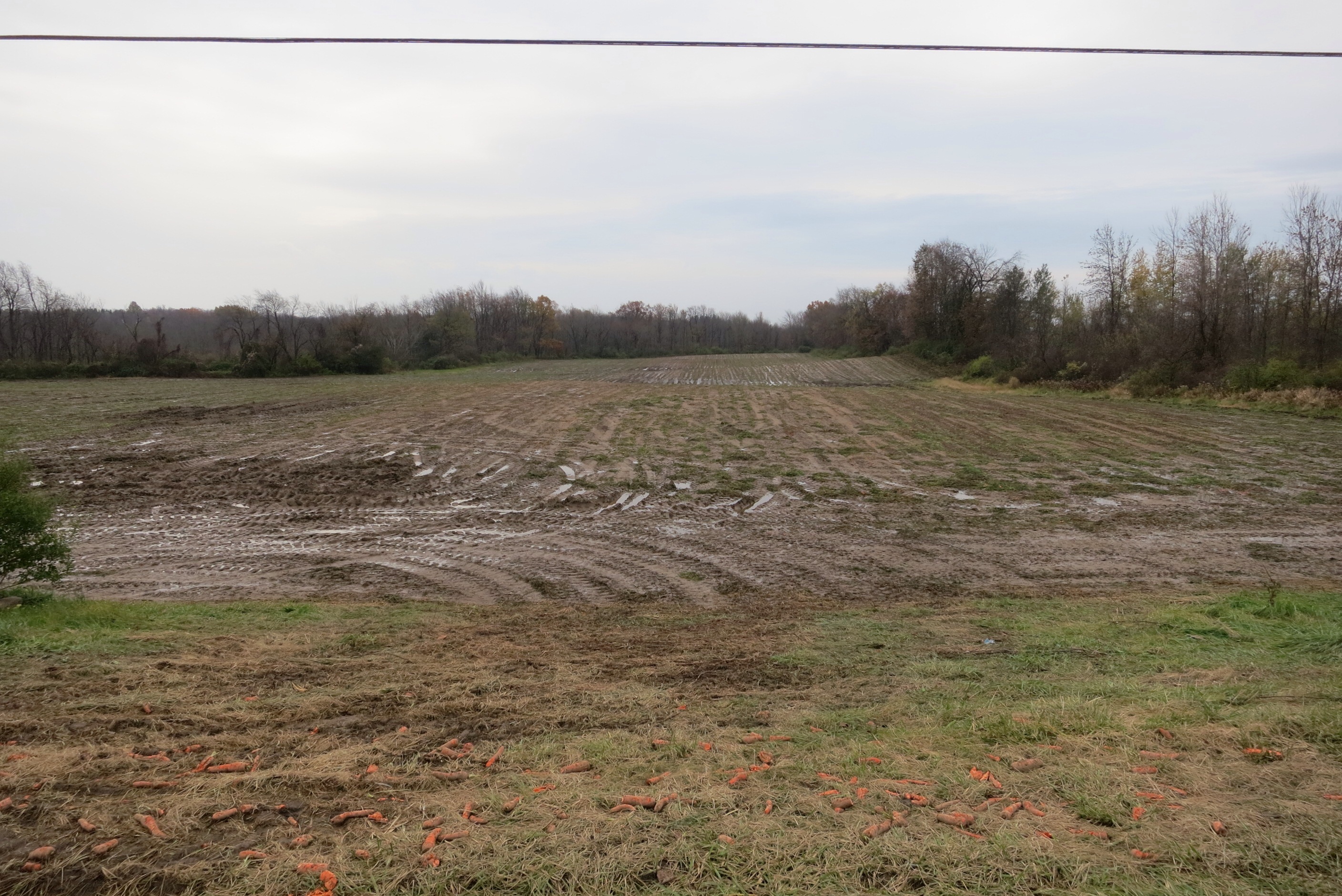 But there were some notable exceptions: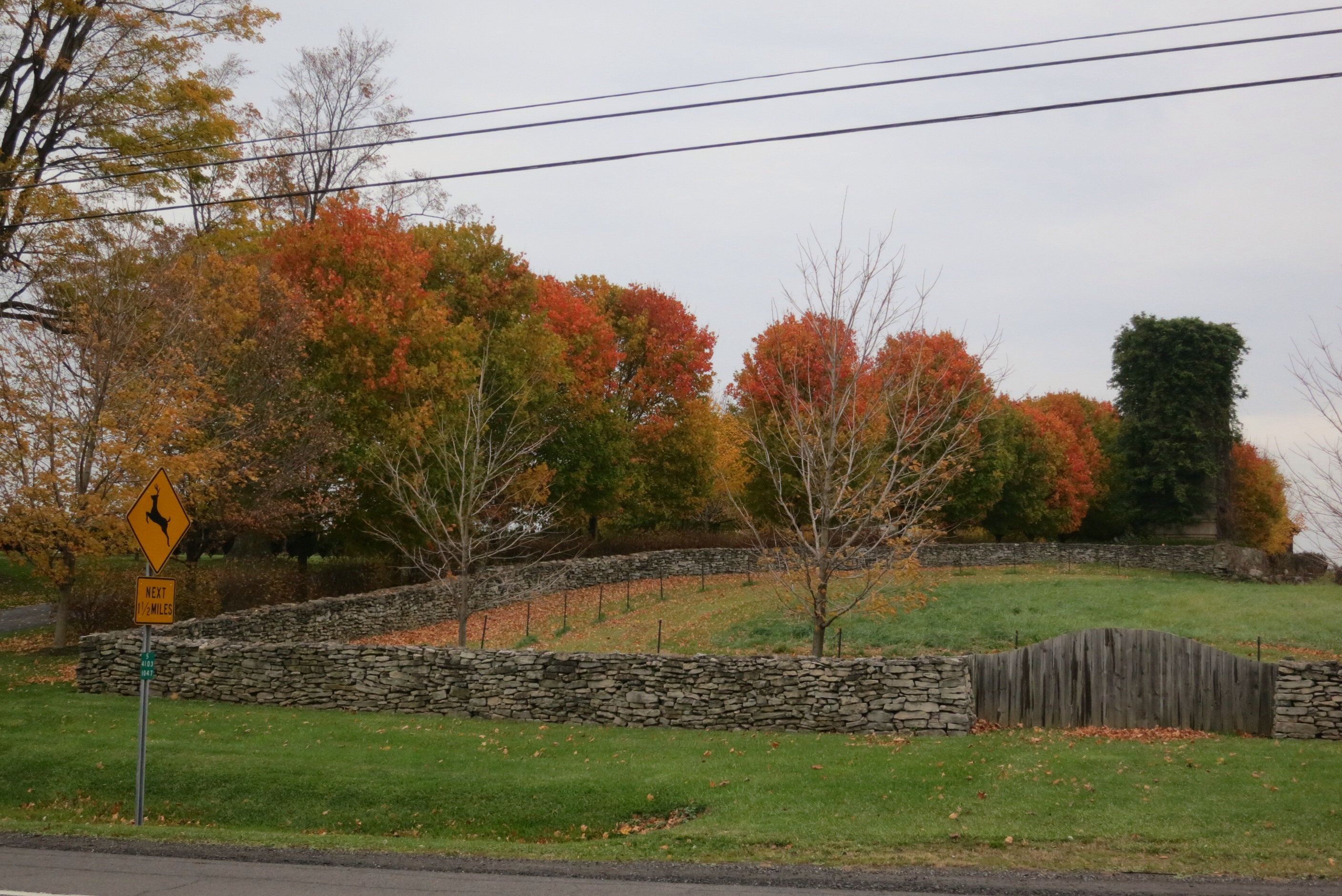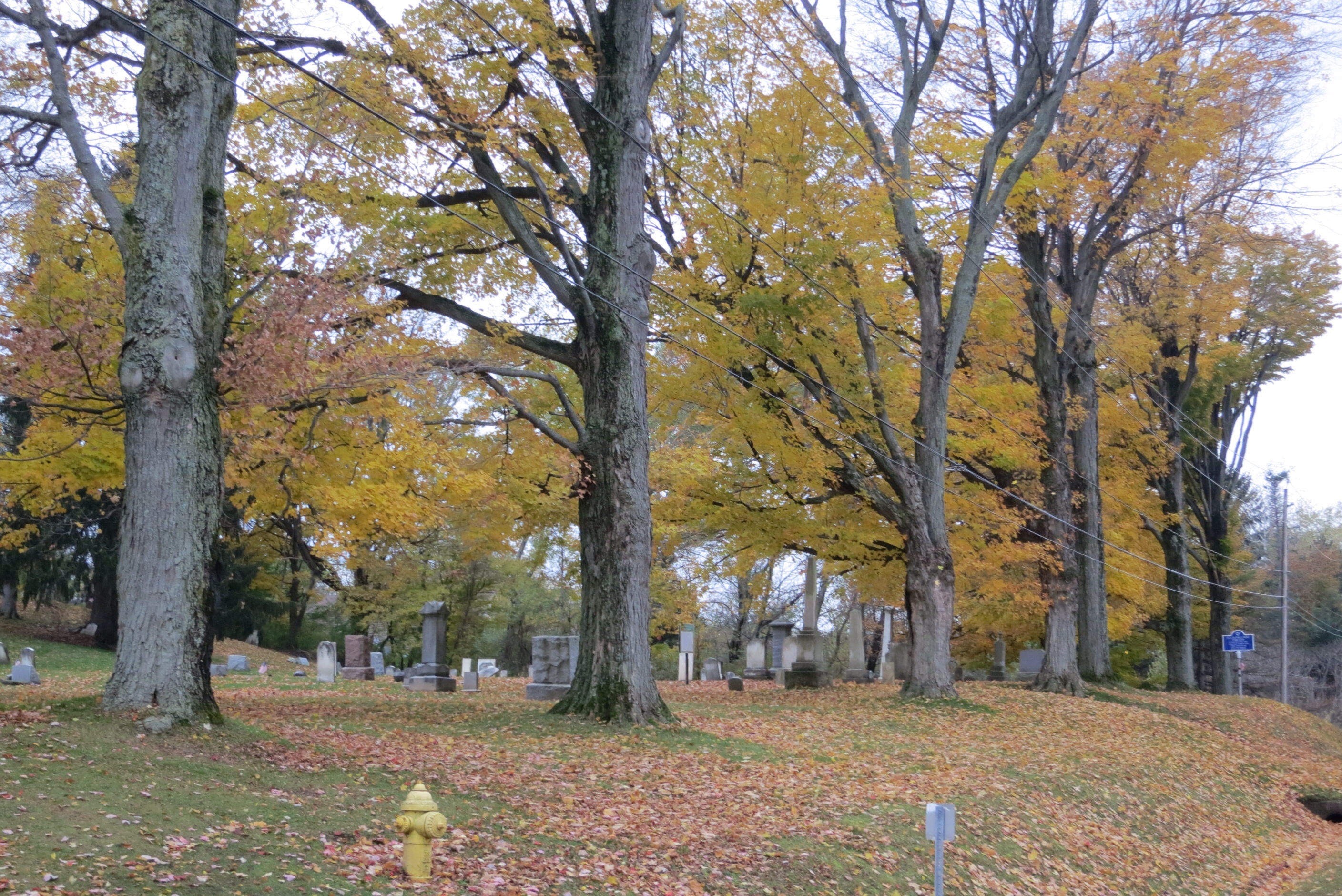 I ended the day at an Econo Lodge very close to where Route 5 crosses south to north across I-90. I'm close enough to the border now that I'm going to try to reach it by Saturday at the end of that day's walk — two long days ahead.